Christmas Cookies Part 4: Walnuts (Oriešky)
Christmas in Slovakia is the time for baking. We make so many different types of cookies, cakes, and pastries that you could fill an entire recipe site with nothing but sweet Slovak treats. Few weeks ago, my mom and I did a batch of Christmas cookies; we made three different kinds: jam-filled hearts, striped cookie combs, and sugar wreaths.
Well, this past Thursday and Friday was round #2 for me. See, I started SlovakCooking.com about year and a half ago for a simple reason: to let people know about the delicious Slovak cuisine. And there is no better way than letting folks try our specialties (which are so hard to find here in the US).
So, I decided to run sweepstakes for Slovak Christmas cookies. Five winners were selected at random out of the 600 entries, with each receiving a dozen of assorted Slovak Christmas cookies. Congrats to them all – and off to the kitchen with me.
I ended up making quite an assortment, as you can see in the photos below. In all, I made the three cookies from before, along with my grandma's bear paws, and two new kinds, walnuts (oriešky) and chocolate šuhajdy. Here is the recipe for the walnuts.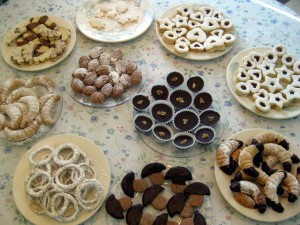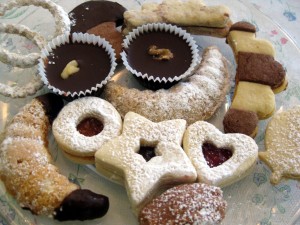 Variety of Christmas cookies I baked for the sweepstakes winners.
These nut cookies are very popular in Slovakia. They consist of two shells joined together by a sweet cream. The shells should be in the form of walnuts (oriešky), but since I couldn't find such a form anywhere, I used the Madeleine mold. I bought mine in Williams & Sonoma, but you can buy a similar – albeit shorter – mold at Amazon (you'll also support the site by making the purchase through that link).
This recipe comes from mimibazar.sk, my favorite Slovak cooking site. Making these cookies consists of three steps: baking the shells, making the cream, and joining them together. Ingredients below are as given in the orignal recipe, I used roughly half of everything.
Dough: 150g ground walnuts, 600g flour, 300g butter, 1-2 eggs, 200g granulated sugar, 2 tablespoons cocoa
Cream: 4 eggs, 200g powdered sugar, 1 packet vanilla sugar, 250g butter
Prep Time: 2.5 hours
Baking the walnut (or Madeleine) shells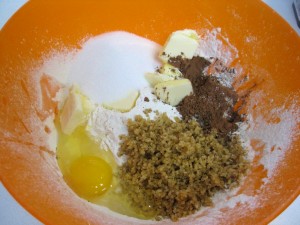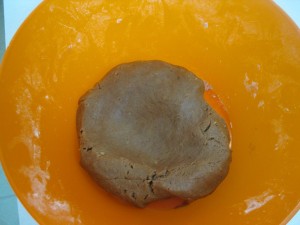 Place all the dough ingredients in a bowl and mix together until you get smooth dough having consistency of play-doh (plastelína). Wrap the dough in parchment paper and place in the fridge for few minutes, while you go about greasing the molds.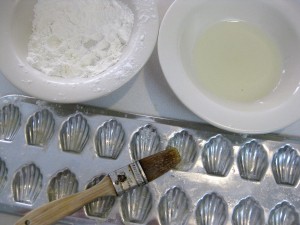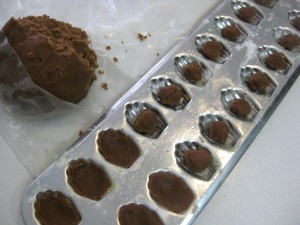 It's important to grease the molds with oil so that the finished cookies don't get stuck. Just take a pastry brush and apply a thin coat of oil to all the molds. Make sure to get the edges too. Then sprinkle bit of flour into each mold and rub it around with your fingers. To fill the molds, take a small ball of dough, place in the middle, and squeeze out to the sides. You want to make a dip in the center to leave room for the cream.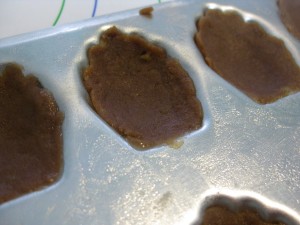 Here is a close up of how I was filling the molds. Check out the bowl shape to hold the cream.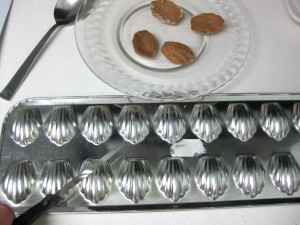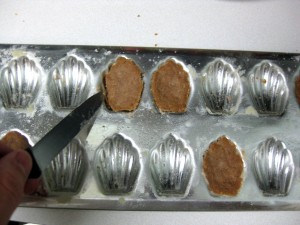 Bake the cookies for about 8 minutes at 375F. They are done when they stop looking gooey. Let them cool a bit, and then carefully flip the mold over. If you get lucky, the cookies will fall out. More likely, they won't. So, next grab a knife or a spoon, and start banging on the underside of the sheet. Do this while holding the mold as closely to your counter top as possible. Most of cookies will fall out, but there will be few stranglers. For these, use a sharp knife and carefully cut around the edges. Just a tiny poke is all that is often needed; often these cookies get stuck along the edge of the mold. Then carefully push them out by pressing the knife alone one edge, the bottom flat section worked the best. The cookies will slide out.
Making the sweet cream filling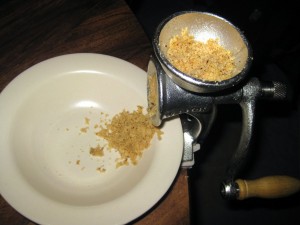 Hard part done, next comes the cream. I improvised here, and added ground walnuts to the mix. I figured, heck, these are nut cookies, may as well make the filling nut flavored too. Grinding nuts in a food processor is a good way to get started, but to get the really creamy texture, you will need either a more powerful chopper than what I have, or one of these old fashioned disc seed and nut grinders (I bought this one from Amazon, it gets the job done, but the tin coating started peeling off after just two uses).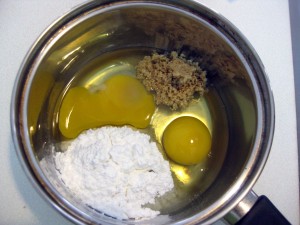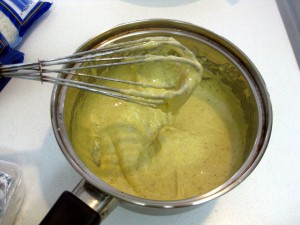 Combine eggs, nuts, vanilla sugar (or vanilla extract), and half of powdered sugar together in a double boiler. This is just a fancy word for smaller pot sitting in a larger one filled with boiling water. This assures that the mixture heats up at the boiling temperature of water (100C or 212F) instead of the temperature of the metal pot heated by natural gas flame, which can reach temperatures as high as 1500C or 3000F. As you keep whisking, you will notice the mixture will start thickening. Keep whisking until it reaches consistency of honey.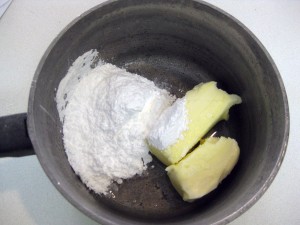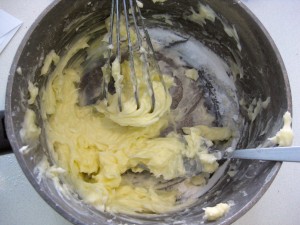 Let the mixture cool, and in the mean time, combine butter and the second half of powdered sugar in a pot or a bowl. Using a fork (the whisk didn't work too well, the butter is too sticky), blend everything together. Whisk to get creamy consistency. Don't heat the butter when doing this.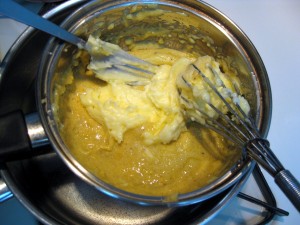 Finally, work the butter into the cream. I placed the cream pot back in the warm water bath to soften-up the cream. That's it. It may look complicated, but making cream is actually quite easy!
Putting it all together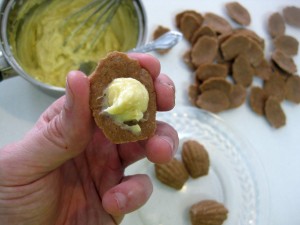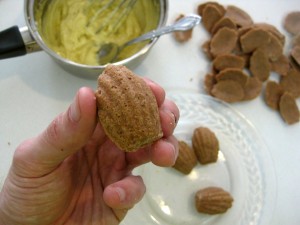 The last part is fun. Find two shells of approximately equal size (they will vary in size somewhat based on how much dough you put in), and top one side with cream. Press the second half on it to make the walnut.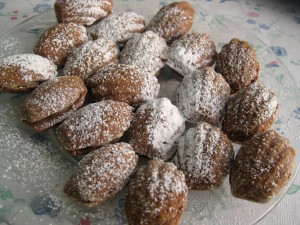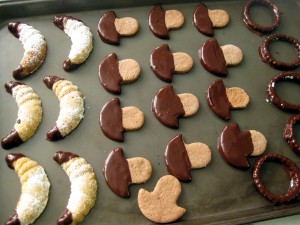 Sprinkle with powdered sugar and you are done! You can also get creative with the dough. I had these mushroom molds, so I made some chocolate summer ceps (dubák).
Subscribe to the newsletter.