Bear Paws (Medvedie Labky)
Ingredients: 1 yolk, 280g flour (about 2 cups), 220g margarine, 100g ground walnuts, 100g powdered sugar, 1 packet of vanilla sugar (about 20g), chocolate for cover (optional)
Prep Time: 1 hour
Bear paws (medvedie labky) is a cookie that is an integral part of any Christmas table in Slovakia. Although Slovakia is known for its kolache (koláče), elaborate sweet deserts found in cukráreň, the pastry shop, this type of a sweet is called krehké pečivo, meaning fragile baked good. It's quite simple to make, however you'll need baking molds. The form most commonly used is in the shape of a crescent moon, which may also be the shape of a rožok, or a bread roll. For this reason, this desert is sometimes also known as vanilkové rožky or vanilla rolls. I am not sure where the name bear paw comes from. Perhaps the original molds had such a shape?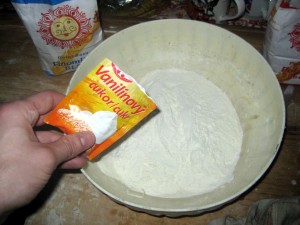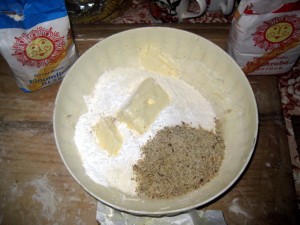 Combine 280g of flour (múka, slightly more than 2 cups) and one 20g packet of vanilla sugar (vanilkový cukor). Also add 220g of margarine (margarín), 100g of powdered sugar (práškový cukor) and 100g of ground walnuts (mleté orechy). You should also add one yolk (žĺtko), but we were out of eggs. So we substituted by adding little bit of milk (mlieko).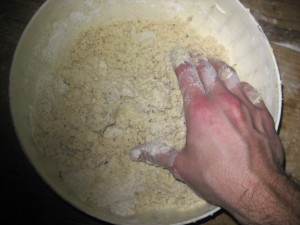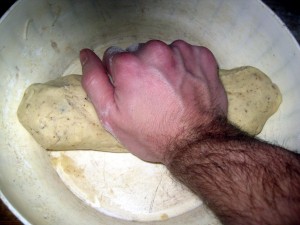 Without adding water, mix the ingredients together to make dough. The margarine should be sufficient to emulsify everything, but if not, add just a hint of water or milk.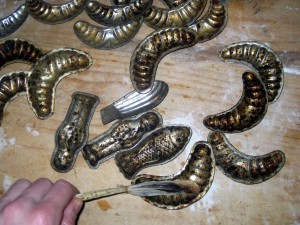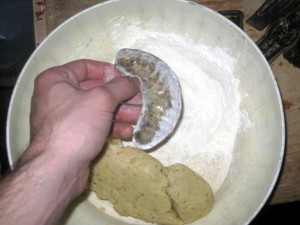 Take your baking forms and grease them lightly with oil (olej). One dip of the pastry brush in oil will be sufficient for at least half a dozen forms. Then dip each in a bowl containing flour. Shake off the excess flour – you want to coat them just lightly.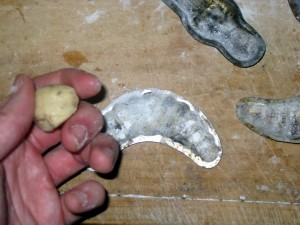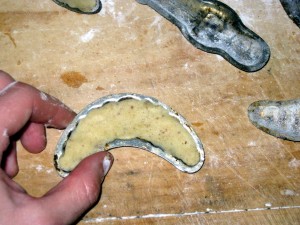 Take a small chunk of the sticky dough and spread it evenly in the form. It's better not to fill all the way to the rim.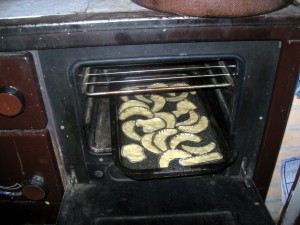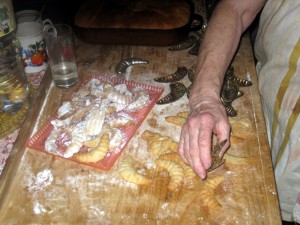 Bake on the bottom rack of an oven preheated to some 375F. Bake for about 15 minutes, turning around half way. They are done when they start turning brown. The picture on the right shows my grandma removing the cookies from the metal forms right after they came out of the hot oven! She must have major calluses on her fingers from all these years of cooking and baking that keep her from getting burned. Please wait for the forms to cool before removing the cookies.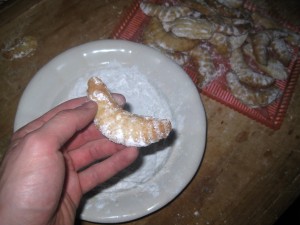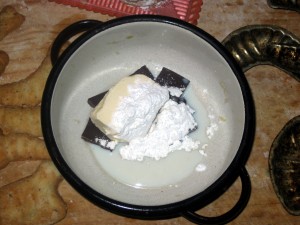 Lightly coat each rožok in powdered sugar. Shake off any excess sugar. This is optional, but you can dip the ends in melted chocolate. To prepare the sauce, melt butter, powdered sugar and baking chocolate in a pot submerged in another pot containing water. This double pot technique is used to keep the chocolate from getting burned.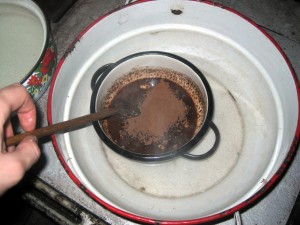 If you need more chocolate, you can add ground cocoa (kakao).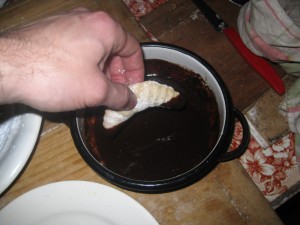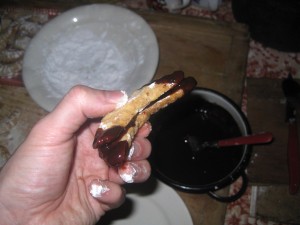 Then dip the ends and place in a cool place to allow the chocolate to set. You can also combine two pieces together. Sometimes two pieces are joined with a cream made out of milk (200mL), flour (3 tablespoons), yolk, vanilla sugar (1 packet), margarine (200g) and powdered sugar (200g). We did not bother with this step, since these guys are tasty even without the filling. But I did make one piece filled with chocolate. If you decide to prepare the cream filling, mix the margarine and the powdered sugar into the cooled mixture of the other ingredients.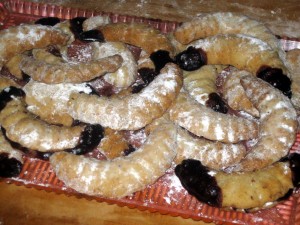 And that's it. Quite easy, isn't it? This is one of my favorite Slovak sweet treats.
Subscribe to the newsletter.