Tvaroh Slices with Fruit and Jelly (Tvarohové Rezy s Ovocím a Želé)
Dough: 200g flour, 2 spoons of baking powder, 80g powdered sugar, 1 yolk, 100 g butter
Filling: raspberry jam, 1.5L whisked cream, 500g farmer's cheese, 1 lemon, 20g gelatin, 20g vanilla sugar, 140g powdered sugar, fresh or canned fruit
Prep Time: about 90 minutes, plus overnight for the jelly to set
The greatest thing to come out of Slovakia (besides the beautiful girls) are the amazing sweets, or kolache (koláče). Just about every town has a pastry shop, cukráreň (derived from cukor, sugar). One of my favorites are these fruit and jelly slices. My dad's friend Janka prepared them yesterday. They are made out of dough called krehké cesto meaning fragile dough. It's made without any yeast or water.
Prepare the dough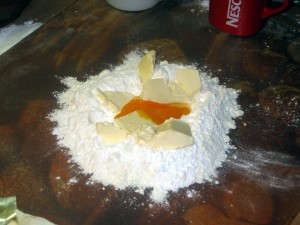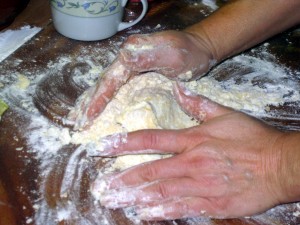 Start by preparing the dough. Mix flour (múka), baking powder (prášok do pečiva), powdered sugar (práškový cukor, the yolk (žĺtok) and 100g of butter (maslo). Work into dough.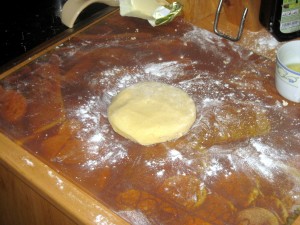 Place in the fridge for 30 minutes. This will cool the dough and make it easier to work with.
Make the filling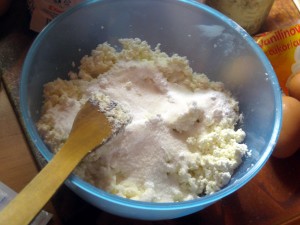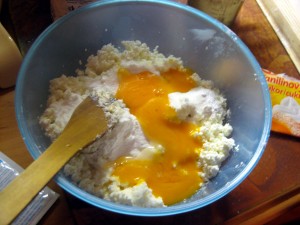 In the mean time, prepare the filling (plnka). Combine farmer's cheese (tvaroh) and vanilla sugar (vanilký cukor). Janka also added two yolks, but this is not required.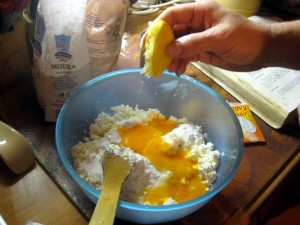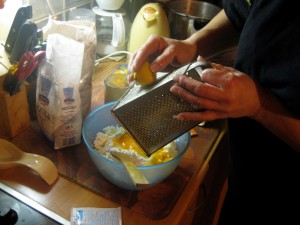 Add juice and zest from one lemon (citrón). Also dissolve 20g of gelatin in 0.5 boiling water. Add to the filling.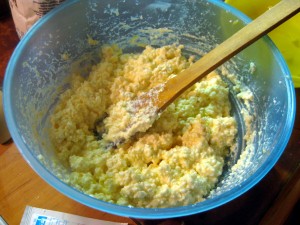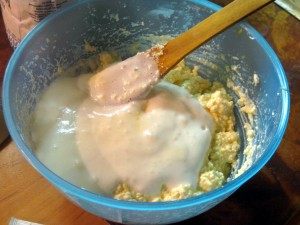 Mix well. Also add the whisked cream. We didn't have cream, so Janka made snow (sneh) by beating egg whites.
Top and bake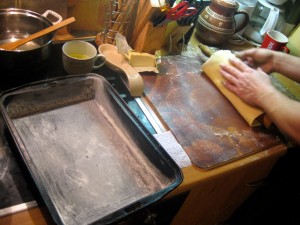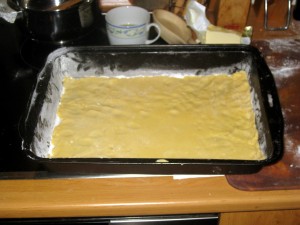 Carefully roll out the dough to match the size of your baking pan. Then, with the help of the rolling pin, transfer the dough to the pan.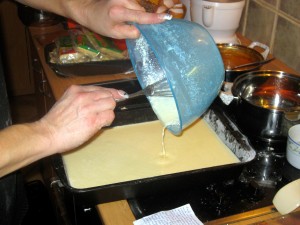 The original recipe calls for the dough to be baked by itself. However, since we used eggs, Janka topped the dough with the filling and baked it together. Bake at 375F for about 30 minutes.
Add fruit and jelly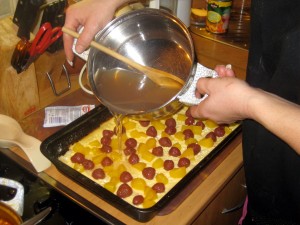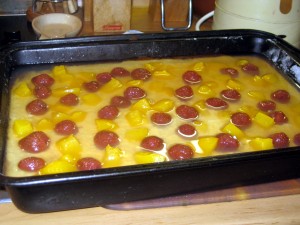 If you baked the dough first, you would now smear on a layer of raspberry jam (malinový lekvár) and then pour on the farmer's cheese filling (tvarohová plnka). Top with fresh fruit, or if you don't have any, with canned fruit. Strawberries and blackberries are very popular, but strawberries and apricots work great as well. Then prepare more jelly by dissolving gelatin in boiling water. Our fruit came from a can so Janka cooked the gelatin in the fruit juice mixed with water. This will give the topping bit of color; omit this step if you desire clear tops. Then simply let sit in a fridge for a while to let the jelly set.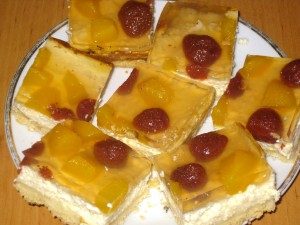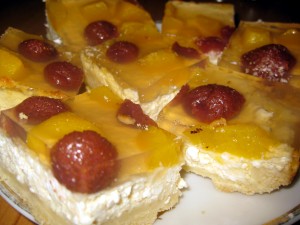 And that's it. It's hard to believe that Slovak people are so skinny with goodies like these!
Subscribe to the newsletter.