Jam Turnovers (Lekvárove Taštičky)
Ingredients: frozen puff pastry sheet, 1 yolk, plum or blueberry jam
Prep Time: 30 minutes
Lekvárove taštičky means "jam sachets", but these are basically identical to turnovers. This pastry is amazingly simple to make, assuming you start off with frozen puff pastry sheets. This is another item that was prepared by my dad's friend Janka. We made them from the same frozen dough that was used for the salt sticks.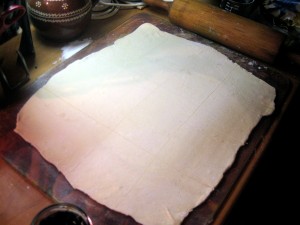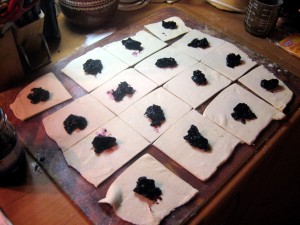 Take the puff pastry (lístkové cesto) sheet and roll it out on a floured surface until you have a sheet few millimeters thick. Take a sharp a knife and first lightly mark the squares you want to cut out. Then cut out pieces about 2 by 2 inches. Then place about a teaspoon of jam in each piece. We used blueberry jam (čučoriedkový lekvár) but supposedly plum jam (slivkový lekvár) works the best.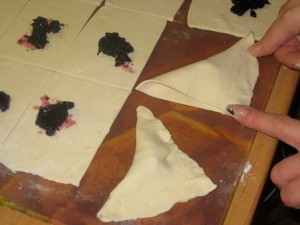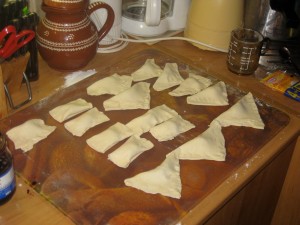 Then make the sachets, or "little bags", taštičky. Fold the square over to make a triangle and push shut with your finger. Or, fold one third of the square over and the fold over again to make the rectangular pieces.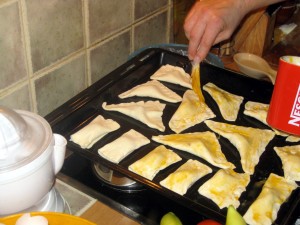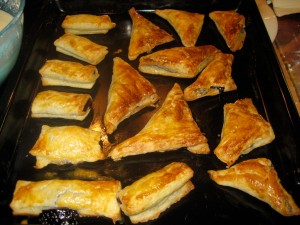 Take a pastry brush, and brush on whisked yolk onto each. You want to use just the yolk, since the whites would dry up the dough. Bake at 400F for 15-20 minutes.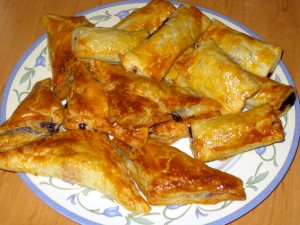 Hardest thing about making these jam turnovers was resisting the temptation to eat them all. I still managed to finish about 10 before dinner. And don't forget to check out the recipe for poppy and walnut roll, as prepared by my grandmother.
Subscribe to the newsletter.