Christmas Cookies Sweepstakes!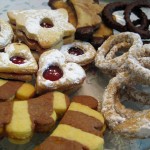 What would Christmas in Slovakia be without a table full of Christmas cookies? Definitely not the same! And now you can experience this part of Slovak Christmas by entering the latest Slovak Cooking sweepstakes!
At least FIVE winners will be chosen at random and will receive a dozen of assorted home-baked cookies – like those shown on the left. No purchase necessary and no strings attached. All you have to do to sign up is enter your email address below.
Sweepstakes ends December 15th, 2010 at noon 4pm 8pm ET and is open only to residents of the United States 18 years of age and older. The cookies contain nuts, flour, eggs, and other ingredients. By entering the sweepstakes, you agree not hold Slovak Cooking liable for any damages or medical issues that may arise from consuming the cookies. The winners will be notified by email immediately after the conclusion of the sweepstakes. Good luck!
Update Dec 15th, 2010 @ 8:30pm : This sweepstakes is now over.
Over 600 people entered this sweepstakes. Quite a good turnout, I say. The five winners selected at random are Jen T., Kim T., Rebecca S., Jodi K., and Ivana. Check your email if you think this could be you. And if you didn't win, no worries, there will be more giveaways coming up for you to try your luck in.
Thank you all for entering and Veselé Vianoce to all!
Update Dec 19th, 2010 (Sunday)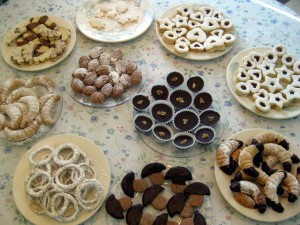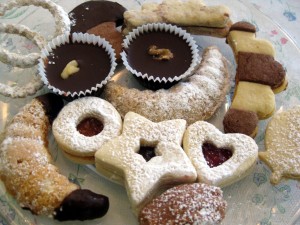 I hope Santa is good to me this year – I spent the entire Thursday and half of Friday baking cookies.
The cookies were mailed out Friday afternoon, and should be arriving before Christmas Eve. If you are one of the five winners, please leave a comment when you get them. I would like to hear from you, especially if you liked them 🙂 And if you would like to make any of the cookies at home, here are the links to the recipes:
Another typical Slovak Christmas treat are rum balls. I didn't make them for these sweepstakes since they are made with raw eggs, and should be eaten fresh.
Subscribe to the newsletter.