Christmas Cookies Part 2: Striped Combs (Dvojfarebné Hrebienky)
Here is the second type of Christmas cookies that we baked along with the jam-filled hearts. This particular recipe comes from a Czech collection of Christmas cookie recipes. My family did not make anything like this, but this recipe looked interesting so we decided to give it a shot.
We ended up using 1/2 of the ingredients listed below.
Ingredients: 300g flour, 180g butter or margarine, 90g powdered sugar, tiny bit of salt, half a spoon of lemon zest, 3 yolks, half a bag of vanilla sugar, 1 spoon cocoa, jam for filling
Prep Time: About 2 hours, plus 15 minutes for baking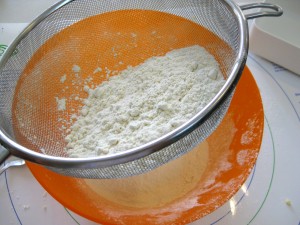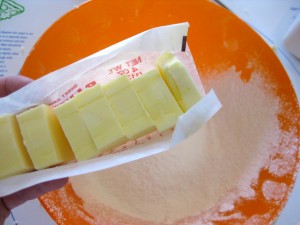 Start by sifting the flour and add the butter.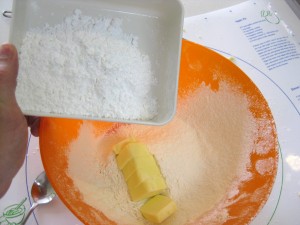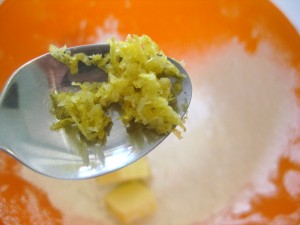 Then add the powdered sugar and the lemon zest. This came from quarter of a lemon, grated using a box grater.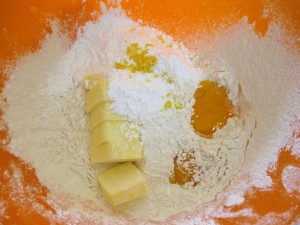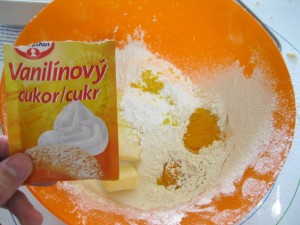 Then add the yolks and half bag of Dr. Oetker (or similar) vanilla sugar. You can find these in German or Russian gourmet stores. Or just use a dash of vanilla extract.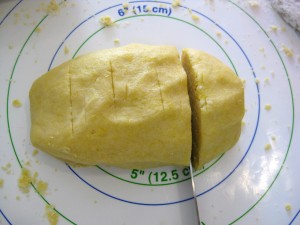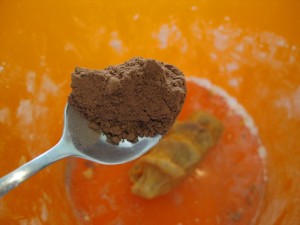 Knead everything together until you get smooth dough. Then form it into a loaf and cut off one fifth. Mix one spoonful of cocoa into this smaller section to turn it brown.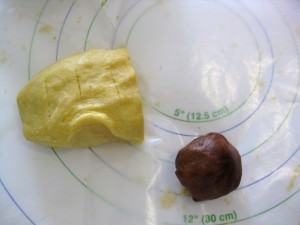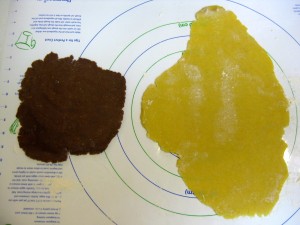 Roll into balls, and let refrigerate for 30 minutes to solidify the butter. Then carefully roll the dough out on a mat dusted with flour. Roll out the yellow dough only slightly, you will roll it out again later. Make the brown dough about 2 mm thick.
Making the striped dough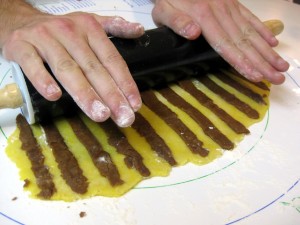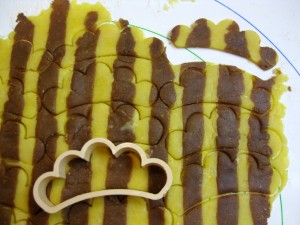 Here is where the fun begins. Cut stripes out of the brown dough and assemble them on top of the yellow dough. Try to leave about the same spacing between the stripes as the brown stripes are thick. Push these down, and then use the rolling pin to fuse them into the yellow dough. This part is bit tricky. The stripes kept getting stuck to the pin. Mom helped out by pulling off the pieces that stuck. Try to get someone to help out, it really helps having that second person around for this step.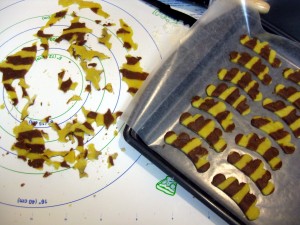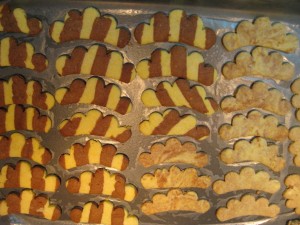 Mix the remaining dough into a ball and roll out again. These guys will turn into marble cookies, since the two colors will mix together. Again, cut them out using the cookie cutter. If you don't have this comb (as in rooster) shape, use whatever you can find handy. Bake the cookies on a baking paper for some 15 minutes at 350F.
Filling the cookies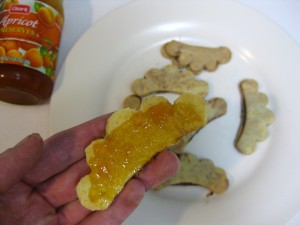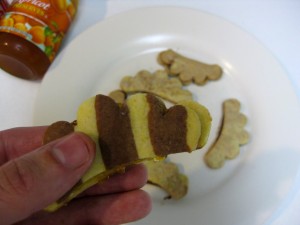 After they cool off, fill the zebra cookies with apricot jam.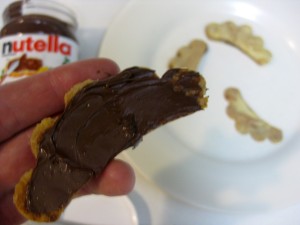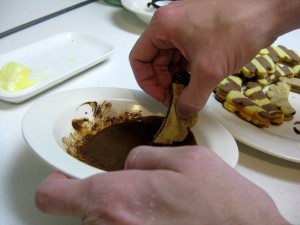 The marble cookies go well with Nutella. You can also dip their ends in chocolate. To make the chocolate spread, melt one cube of baking chocolate with 1/3 the chocolate amount in butter in the microwave.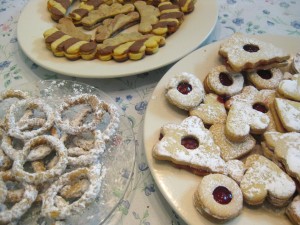 And that's it. Enjoy!
Don't forget to check out Parts 1 and 3, jam-filled hearts and sugar rings.
Tweet
On Twitter or Facebook? Connect with us. Prefer email? Subscribe to the newsletter.