Czech and Slovak restaurant in Washington D.C.: Capitol Prague Restaurant and Cafe
I am happy to report that there is now finally a place in the Washington D.C. area where you can try Czech and Slovak food: Capitol Prague Restaurant and Cafe in Georgetown.
We went there about a week ago for a friend's birthday (he is Czech) and I was not disappointed at all. The food was delicious, and quite authentic, given how hard it is sometimes to find the right ingredients.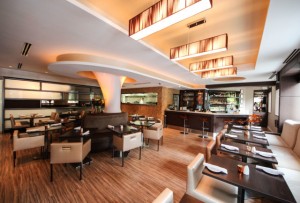 We had a fairly large group so we got to sample most of the dishes. All the typical specialties are on the menu: vepřo knedlo zelo, sviečková, goulash, schnitzel, halušky, strapačky, fried cheese (my friend's favorite dish in Slovakia), even crepes and apple strudel. But best of all, they have a great selection of beers and they serve them with the foam on top, they way a proper beer should look. The only thing missing: Kofola!
Unfortunately, I did not have a good camera with me but here are few photos from my cell phone. The interior photo above was provided by the management.

Czech Kout beer.
If you are in the area, make sure to stop by. The owners and servers are Czech and Slovak. And let me know if you know of other restaurants in the area, it's great that finally Czech and Slovak food is making an appearance in the US capital.
Subscribe to the newsletter.