Cheap Pancakes (Lacné Palacinky)
Ingredients: 2 cups water, 1.5 cups flour, bit of salt, one tablespoon of sugar, topping of your choice
Prep Time: 10 minutes to make the dough, about 2 minutes per pancake for frying
Few weeks ago I showed you how my grandma Pavka makes fancy fluffy apple pancakes. In this recipe I show you how my other grandma, Terka, makes pancakes. Her pancakes (or crepes, palacinky) are simple, easy and cheap to make. They require just a few ingredients and take just few minutes to prepare. And best of all, they are just as tasty.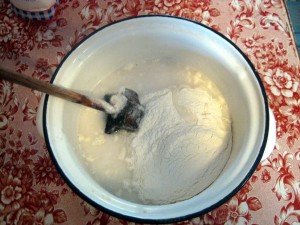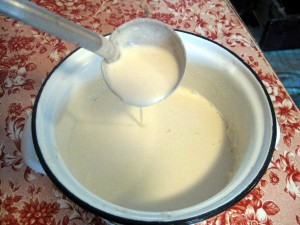 Start by combining 2 cups of water (voda) and 1.5 cups of flour (múka). Add one tablespoon of sugar (cukor) and a pinch of salt (soľ). Whisk well. The batter should be thin – just a tad thicker than milk.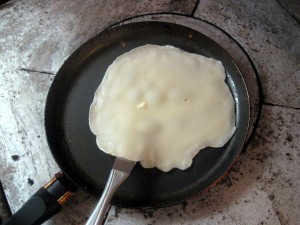 Preheat a frying pan with a flat bottom. Take it off the stove, and brush on bit of grease with a pastry brush. Pour on a small ladle's worth of batter onto the pan and let spread out evenly before placing back on the stove. Fry for about a minute and flip over with a knife. Take off just as the pancake starts turning brown.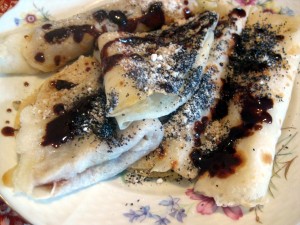 And that's it. Wait for the pancake to cool off before spreading on jam or sweetened cottage cheese. Roll into cylinder, or fold into a triangle. Top with chocolate (čokoláda), poppy seeds (mak), nuts (orechy) or whip cream (šlahačka). Enjoy!
Subscribe to the newsletter.