Baked Buns (Pečené Buchty)
Ingredients: leavened dough, thick jam or farmer's cheese, raisins
Prep Time: 10 minutes to make the buns, 20 minutes to let the dough rest, 20 minutes for baking
Pečené buchty are tasty baked buns filled with a sweet surprise. It may be plum jam (slivkovký lekvár), farmer's cheese (tvaroh), poppy seeds (mak) or even walnuts (orechy). Either way, they are delicious! They are somewhat analogous to the American cookies, in that they are something you can always count on when visiting grandparents.
I have tried baking buchty before. Although they ended up tasting great, the filling leaked out during baking. This happened for two reasons. First, I did not fill them correctly. I placed the filling in the middle and pinched the ends shut. In this recipe, I show you the proper way, as my grandma taught me. Secondly, the jam I used was too thin. It's best to use thicker jams, such as those made out of plums.
You can make buchty out of dough mixed with a lemon zest, as was done in the previous recipe. However, this is not necessary. They'll taste just fine if you use the same kysnuté cesto that is used in making of other sweet Slovak treats, such as a poppy seed roll, bobalky and buchty na pare. But, to get your buchty to come out soft, it's important to brush on oil on the dough and fold over few times before rolling out.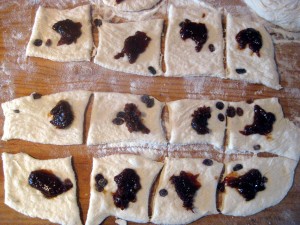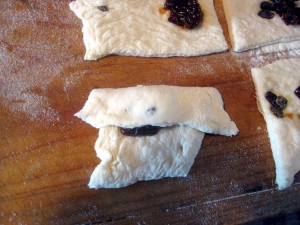 Start by rolling out the dough. Add raisins (hrozienka) if you like. Cut the dough into rectangles slightly smaller than your palm. Place the filling (we used plum jam) towards one end. Fold over the side containing the filing.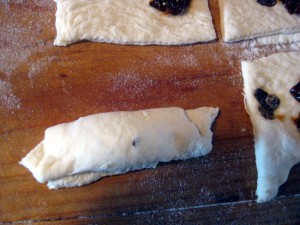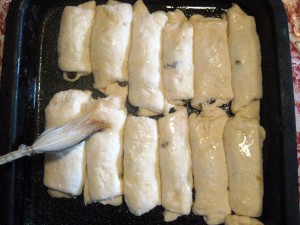 Fold over once again to complete the bun. That's it. This is much simpler than the pinching I tried previously. Place on a greased baking pan. Brush on more oil on top and let rest for 20 minutes.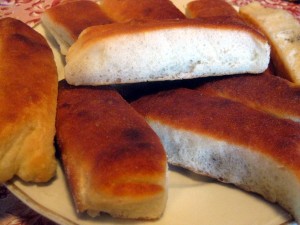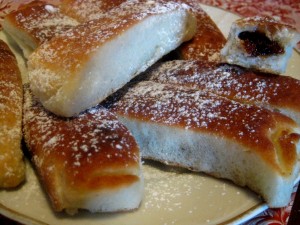 Bake in a preheated oven for about 20 minutes. This is a much shorter time than what I had last time, which makes me think my grandma's oven was burning quite hot. Basically, you want to bake them until the tops start turning brown. You can brush on little bit of oil or water on top after baking to soften the crust. Sprinkle with powdered sugar once they cool off. Enjoy with a cup of tea (čaj) or coffee (káva). But don't eat too many, or you may turn into buchta yourself. See, buchta (the singular form of buchty) is a Slovak slang word for a larger-than-average girl.
Subscribe to the newsletter.