Chrumky now available in the U.S.
Few years ago I posted an article about various famous Slovak snacks. Among my favorite are peanut puffs called chrumky. Turns out, you can now finally try them in the United States! A friend of mine from Virginia Tech, Dzelal M., recently started a business of importing peanut puffs to the United States. For now, you can order them on Amazon, but hopefully we'll start seeing them in grocery stores soon. Dzelal is originally from Bosnia, and these snacks are manufactured in Serbia, however, the taste is almost identical to Slovak chrumky. He labeled the snacks Choopko.
I asked Dzelal about how he got into the business, and this was his reponse:
To answer your question, in 2010 I was doing lot of traveling across Europe, 12 trips in 2 year time span. I fell in love and I found snack food that I liked very much, the peanut puffs. I recall eating them as a kid. I decided to bring better snack to US market. Choopko peanut puffs are nutritionally better than any other peanut puffs or any puffs. The product is design to be low calories, low fat, low salt, high fiber and protein without sacrificing much on the taste. Brand philosophies are 1) natural and non GMO ingredients, 2) only four easy to understand ingredients (corn, peanut, oil and salt) without preservatives, coloring, artificial flavoring and etc. 3) innovating – new taste for US market. That would be pretty much it, it is simple as that.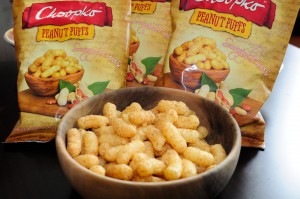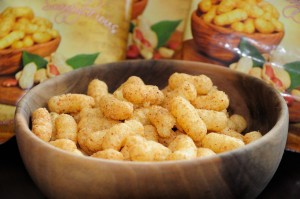 Dzelal was kind enough to send me a box to try, they were truly delicious! Order Choopko on Amazon.
Subscribe to the newsletter.