Tenderloin on Cream (Sviečková na Smotane)
Ingredients: about 2lb cut of beef (sirloin, tenderloin or eye round), bacon, 4 carrots, 1 parsley root, 1 onion, 1 stalk of celery, lemon, few caraway seeds, 1 bay leaf, 6 peppercorns, whipping cream, knedľa
Prep Time: The way I did, 3 days. Some 3 hours otherwise.
You may have noticed that there are not too many meaty dishes on this site. This is not because Slovaks don't eat meat. On the contrary, meaty foods are actually quite popular. The reason is instead different. It is I who is not a big meat eater. And because of this, I don't actually know much about cooking meat.
I figured it was time to change that. So I decided to learn how to make a really popular Slovak dish called sviečková na smotane, meaning tenderloin on cream. This is one dish you definitely must try on your travels to Slovakia. It is offered in just about every restaurant. Sviečková is also the single most complicated dish I have prepared to date. OK, perhaps complicated is not the right word. The most involved. Turns out, making this dish is actually pretty simple, but it requires quite a few steps.
In preparing this dinner, I followed a recipe from minibazar.sk, a strange combination of craigslist and a cooking site. But I love the recipes on minibazar. They are always completely authentic (submitted by regular people) and many have pictures – which I clearly find very useful in cooking. This particular recipe called for marinading the meat over the course of few days. Another recipe, one in the classic Czechoslovak Cookbook, tells instead to bake the meat while basting for some hour and a half in a 325F oven. Whatever you choose, this dish will not disappoint.
Instead of tenderloin (or sirloin), I used eye round, since that's what my supermarket had already packed up in a large enough quantity. Eye round is somewhat dryer than tenderloin, but since I marinated it, I figured it won't matter much. Having said that, let's start cooking!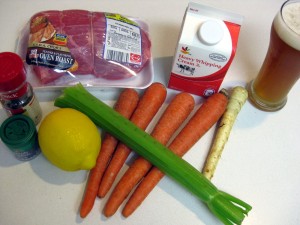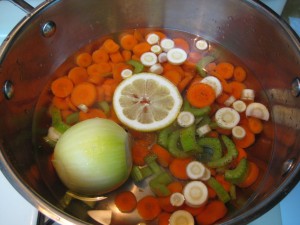 The left photo shows many, but not all, of the ingredients you'll need. The beer is not an ingredient, but I like to have a glass of a cold one while cooking. You should use a parsley root (petržlen) but those are pretty much impossible to find in America. So I used a parsnip instead. I figured that although it is not the same vegetable, it at least looks very much alike. Peel and cut the root vegetables. Also cut the celery (zeler) but keep the onion (cibuľa) whole. Cook, along with black pepper (čierne korenie), caraway (rasca), bay leaf (bobkový list) and a slice of lemon (koliesko citrónu), in 2 cups of water. Cook for about 2 minutes after the water comes to boil.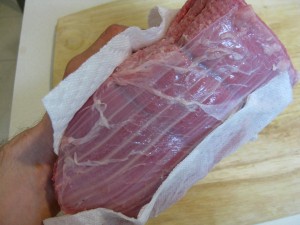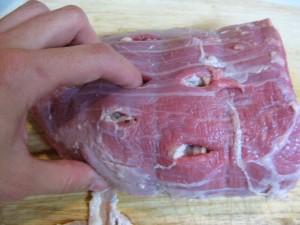 While the vegetable "soup" is cooling down, take the cut of meat (mäso) and rinse it off. Dry it off with paper towels and then use a sharp knife to cut slits in it all around. Place about inch wide cuts of bacon (slanina) into the slots. Really shove them in there. Doing this reminded me of my friend Patricia's visit to Slovakia in 2010. She is a vegetarian and commented that in Slovakia all vegetable dishes seem to have bacon in them. Turns out, in Slovakia even meat has bacon!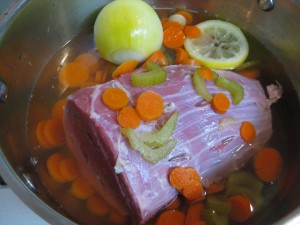 Place the meat in the vegetable mixture after it has cooled off completely. Add more water if needed so that at least half of the meat is underwater. Cover and place in the fridge at least overnight. Turn the meat periodically to get it marinated from both sides.
2 days later…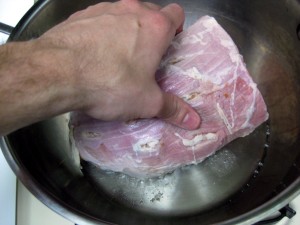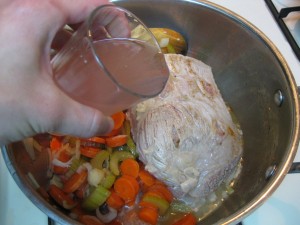 Take the marinated meat out and dry it off. This next step is pretty tricky so be careful. Heat up oil (olej) in a large pot (I used the same that had the vegetables in it, which I transferred to a different pot). Then lightly brown the meat on all sides. The tricky part is placing the meat in the oil and then flipping it. I used a large fork to pick it up and a knife to support it from the bottom. Chop up the onion (cibuľa) and fry in the oil until it starts turning yellow. Then add the rest of the vegetables and about a cup of the marinade water.
Also, start working on the knedľa.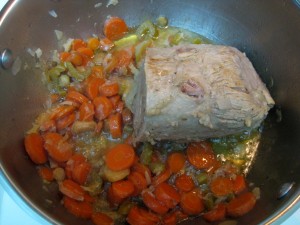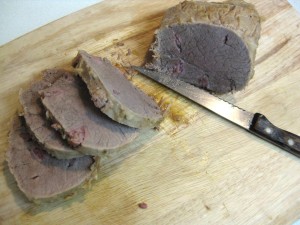 Cover and let steam for about hour and a half. Add more water as needed. You are done when the meat feels soft. Take the meat out and slice it. It will have this beautiful dark purple color on the inside. This was the first time I have ever prepared such a large hunk of meat and I was really pleased with the outcome!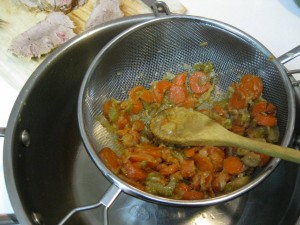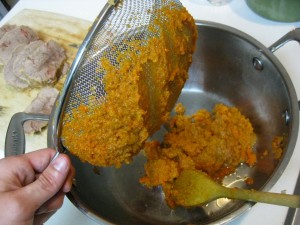 The next step involves liquefying the veggies. This would have been so much easier if had a hand-held mixer like the one shown in the original recipe. But since I didn't, I used the traditional method – a metal strainer. This worked, but boy, next time I am getting a blender! Make sure to scrape off the mushed up veggies from the bottom.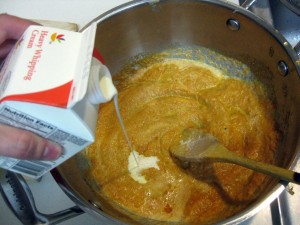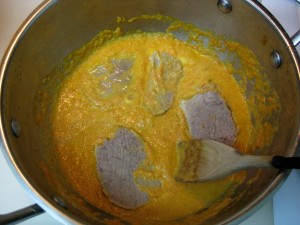 Use heavy whipping cream (smotana) to make the sauce (omáčka). I used about equal amounts of water and cream, and kept adding until I got something of fairly creamy consistency. Add salt and little bit of lemon, to taste. Cook for a minute or two and then add the meat to heat it up.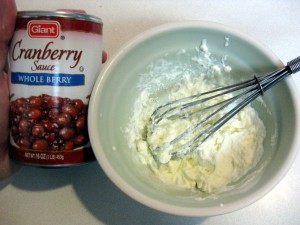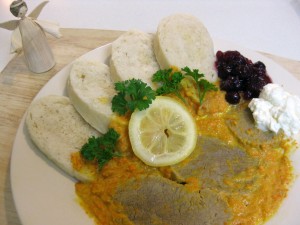 This dish is traditionally served with a side of whole-berry cranberry (brusnice) sauce, whipped cream (slahačka) and a slice of cooked lemon (citrón). To make the whipped cream, simply take the unused cream from making the sauce and beat it until it turns solid. This was the first time I had whipped cream like this. It's so much better than the spray kind. Serve with knedľa. Enjoy and dobrú chuť! That husk figurine in the picture on right is typical of traditional Slovak folk art. I wanted to put something Slovak in the picture, but the only thing I could find was this figurine from a larger advent set.
If you compare my sauce to the one served in Slovak restaurants (for instance, as shown here) you will see mine is much "chunkier". I guess this is that home-made, metal strainer, touch.
For other great meaty Slovak dishes, check out Segedin goulash, chicken baked on salt and stuffed peppers.
Subscribe to the newsletter.