Spanish Rolls (Španielske Vtáčky)
Ingredients: 8 beef steaks or chicken breast slices, 2 hot dog, 2 hard boiled eggs, 2 dill pickles, paprika, onion, black pepper, salt, mashed potatoes or rice
Prep Time: about an hour
Alena from Žiar nad Hronom sent me recipe and pictures of her mom preparing španielske vtáčky, a delicious dish consisting of meat steaks filled with egg, hot dog and pickle. I have to admit that for the longest time I thought the name of this dish was španielske vtáčiky (notice that extra i), which would mean "little spanish birds". But it's not. I have no clue what vtáčky means! I even tried Google Translate and the online Slovak dictionary at slovnik.sk but no luck. My best guess is that it is derived from zatáčat (vtáčat?) which means to roll up. Which makes sense, since these are rolls, spanish rolls.
Žiar nad Hronom is a town of about 20,000 inhabitants. It is located less than an hour from my home town of Banská Bystrica, on the way to the capital, Bratislava. Very near the city is thermal spa Sklené Teplice (Glass Thermals). I spent a really fun Valentine's Day weekend there (yes, Valentine's Day is now celebrated even in Slovakia). The most unique feature of this spa, and something definitely worth your visit, is the cave bath. You basically swim inside a cave with water temperature reaching almost 108F!
Here is Alena's recipe for spanish rolls. They look great!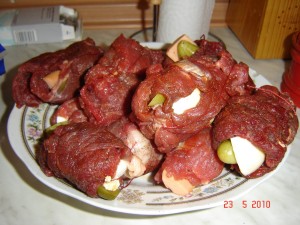 Start by tenderizing the meat (mäso) with a meat tenderizer (the hammer, not the chemicals!). Also hard boil the eggs (vajíčka). Salt (osoľ) and pepper (okoreň) the meat and then load it with hot dog (párok), pickle (kyslá uhorka) and egg (vajce) – a quarter of each, that is. Roll into a tube and tie closed with a string (niť).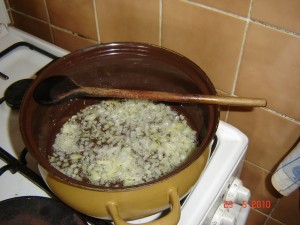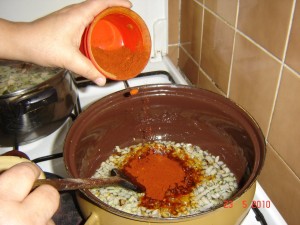 Then heat up oil (olej) in a pot and fry diced onion (cibuľa) until it turns golden. Add paprika.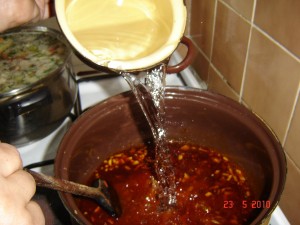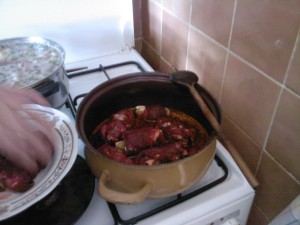 Also add little bit water. Then add the rolls, steam covered until the meat is done. Add more water as needed.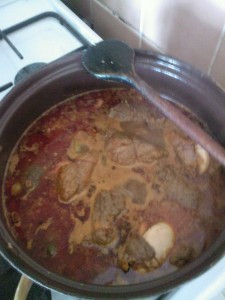 Take the rolls out once the meat is cooked and remove the strings. Add little bit of flour into the pot to thicken the sauce. Place the meat back in the sauce and boil for few minutes.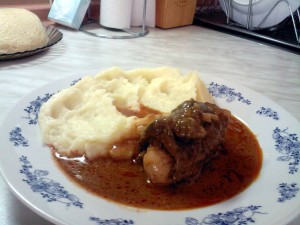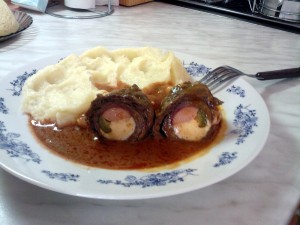 Serve with mashed potatoes (zemiakové pyré)or rice (ryža). Dobrú chuť!
By the way, I am always looking for more recipes. Feel free to send me your own step-by-step recipes and I'll gladly publish them here. I am especially looking for instructions for baking various koláče.
Subscribe to the newsletter.