Easter Bowties (Fánky)
Here you have another popular Easter recipe. This one is for fánky, little pieces of fried dough that resemble in taste American funnel cakes. But they look differently, they are usually made in the shape of bowties (mašličky). Fánky are somewhat similar to šišky (Slovak donuts). But since they are thinner, they come out flaky, pastry-like. Very delicious! The ingredients below are approximately half of what the original recipe in "Recepty Starej Mamy" called for. However, I kept the sugar as given. I've noticed that many Slovak treats made from the recipes in this old cookbook are not sweet enough for me. Perhaps it's because I've been living in the US for too long and got used to everything being so sweet. But also, I think that in Slovakia it used to be whole lot more common for the dough to be less sweet, and instead the additional sweetness was provided by a coating of powdered sugar. These ingredients yield about dozen bow ties.
Dough: 2 cups (250g) flour, 1/2 teaspoon baking powder, 1/2 teaspoon salt, 1-2 yolks, 2 tablespoons (60g) powdered sugar, half a stick (50g) unsalted butter, 4 tablespoons cream, 2 tablespoons white wine (or rum), 1/2 cup of milk
Topping: powdered sugar, half pocket vanilla sugar (optional)
Prep Time: 2 hours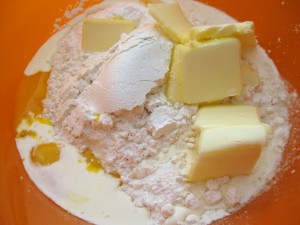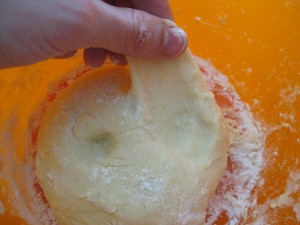 Start by combining flour, butter, sugar, yolks, cream, milk, baking powder, salt, and the wine (or rum if you prefer). Mix together for 10 minutes until you get smooth elastic dough. Add more milk if needed. Form into a ball, dust with flour, and let rest in the fridge for an hour.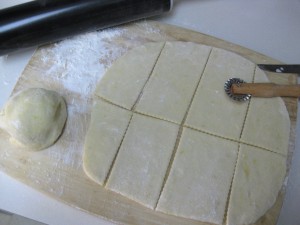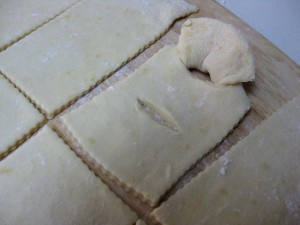 Roll the dough out to thickness of about 1/6th of an inch. It may help to cut the dough into two halves, especially if your board is on the smaller side. Using a dough cutting wheel or a knife, cut the dough into rectangles about 2×3 inches. Then cut two slots in each rectangle in direction parallel to the shorter edges. Loop one end piece through the slot closest to it.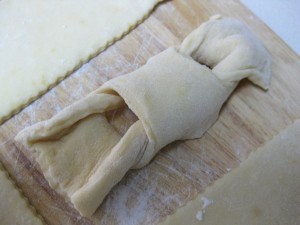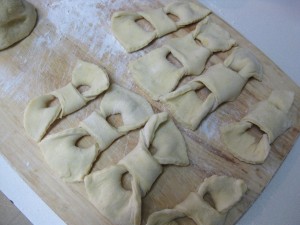 Then repeat with the other end to make a dough bowtie.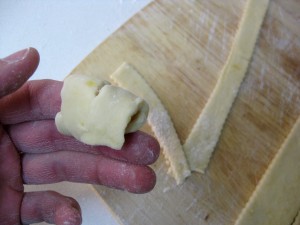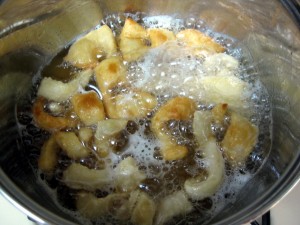 You can also just cut the dough into thin strips which you roll around your finger. Fry all this goodness in oil that is not too hot – I kept mine just a tiny turn past low. Fry on both sides until the dough gets pinkish light brown.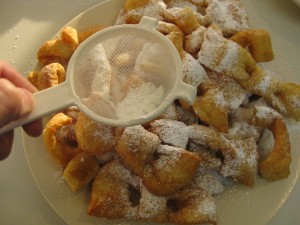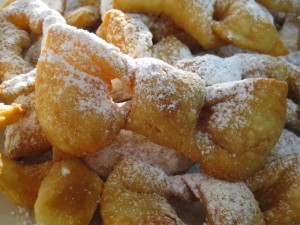 Scoop the fried fánky with spatula onto a plate covered with paper towels. Use another paper towel to pat dry off the oil from the top. Then coat the fried dough in powdered sugar (I also mixed in half packet of vanilla sugar), just like funnel cakes. Happy Easter!
Subscribe to the newsletter.