Open Face Sandwiches (Obložené Chlebíčky)
Sandwiches are a popular part of Slovak cuisine. But in Slovakia, sandwiches are eaten a bit differently than here in the States. First, sandwiches are a very valid option for breakfast. They can also be eaten for light dinner. Sandwiches are not so common for lunch; typical Slovak lunch consists of soup followed by a main meal that you eat with a fork and knife (like goulash and dumplings or schnitzel with potato salad or even rabbit on mushrooms). The other difference is that sandwiches in Slovakia are served open-face – that is, there is no bread on top.
These open face sandwiches are called obložené chlebíčky which means garnished small breads. And indeed, the bread pieces are much smaller, they are often made by slicing baguettes and topping them with a variety of meats, cheeses, vegetables, and hard boiled eggs. These sandwiches date back to the Middle Ages, times before plates and utensils became common. In those days, a piece of flat bread was used as a plate onto which various baked meats were placed. This bread/meat combination evolved into the modern open face sandwich…
Ingredients: French/Italian bread, butter, mustard, ham, sausage, hard boiled egg, smoked Gouda, Brie, red pepper toppers, pickles
Prep Time: 15 minutes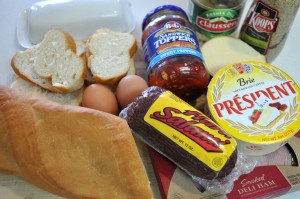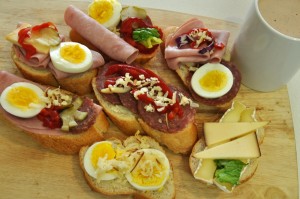 There is really not much to making chlebíčky. Just grab some bread, some spread such as butter and mustard, your favorite salami or ham, and toppings such as the red peppers in a jar. Also slices of hard-boiled egg. Feel free to make some meatless (butter, egg, and cheese is a great combination). Add hot chocolate and you got yourself a tasty Slovak breakfast!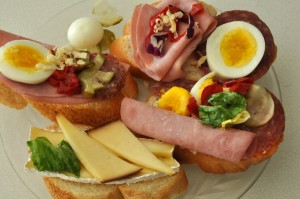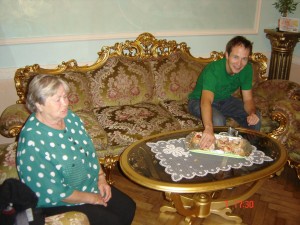 And just couple more photos. The one on the right is of me few years ago eating open face chlebíčky in Slovakia after finishing the Košice Marathon. They tasted great! The other person in the photo is my grandma who is a huge inspiration for many recipes on this site.
Subscribe to the newsletter.