Green Bean Soup (Polievka zo Zelenej Fazule)
Ingredients: 1lb of green beans, 1.5L (~6.5 cups) of water, 2 small potatoes, 40g flour (5 tablespoons), 40g butter (1/3 stick), 2dl (small 8oz tub) of sour cream, vinegar, 1g (teaspoon) of sugar, dill
Prep Time: 45 minutes
Here is a recipe for another popular soup, one made with green beans (zelená fazuľa) and potatoes (zemiaky). Green beans, the immature bean pods, are quite healthy. They are high in vitamin C, and also contain insoluble fibers which aid in digestion. The recipe comes from "Recepty starej mamy" (Grandmother's recipes), a classic cookbook from 1984 by M. Martišová and F. Martiš. You will find this book on many kitchen shelves in Slovakia. Note, the recipe calls for 1.5 L of water (about 6.5 cups). The resulting soup was slightly too thick for my taste – I prefer more liquid soups. If I were to prepare it again, I would increase water by at least a cup – or use less flour.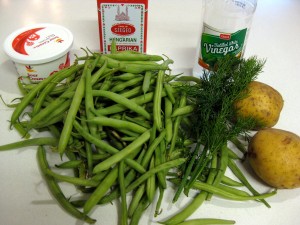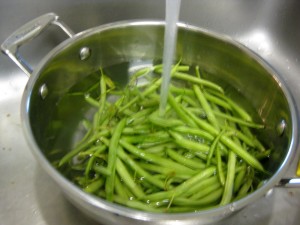 Ingredients for making green bean soup, except basics such as flour, sugar and salt. Start by washing the beans (fazuľa).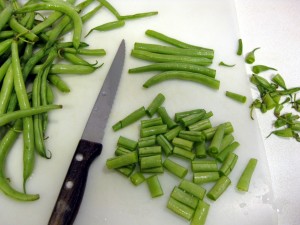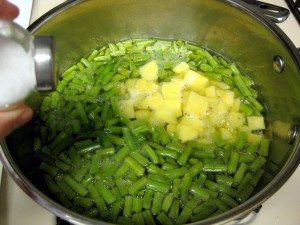 Then get chopping. Cut off the ends and then slice the beans into sections about half an inch long. Add to boiling salted water (slaná voda) along with the potatoes (zemiaky), peeled and cubed. Cover and cook until both potatoes and beans get soft. This will take about 20 minutes (dvadsať minút).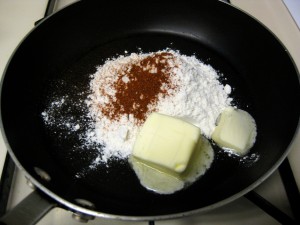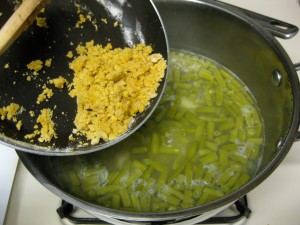 Then prepare the flour mixture to thicken the soup, zápraška. Brown about 4 tablespoons of flour (múka) on about a quarter of a butter (masľo) stick. Also add about a teaspoon worth of paprika (mletá červená paprika). Stir into the soup.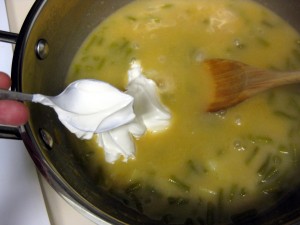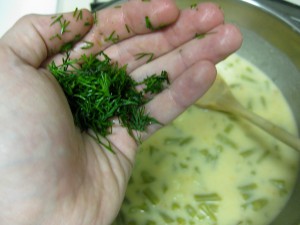 Once the flour mixture dissolves (break up large chunks by squishing them along the side of the pot), add sour cream (kyslá smotana). I used only about 3/4 of the tub, although the recipe called for more. Next add about a tablespoon of sugar (cukor) and about a teaspoon of vinegar (ocot), to taste. Let go through boil to allow the flavors to mix. Finally, top with about a handful of finely chopped dill (kôpor).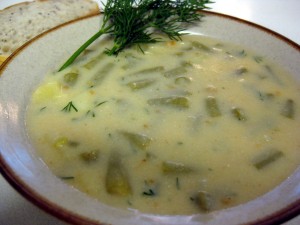 And that's it. Serve with a slice of good rye bread. Dobrú chuť!
Subscribe to the newsletter.