Vegetable Stew (Lečo)
Slovakcooking's note: I LOVE lečo! It's a simple meal that's great all day long. Make it for breakfast or for light dinner. So I was very happy when Lenka from Slovakmama sent in this illustrated recipe. Her way is very similar to how it's made in my family, except that we make this dish completely vegetarian – so no hot dogs. We also usually do not put in onions, or sour cream, so it's just eggs, tomatoes and peppers. Lenka also used Vegeta in her recipe. This is a very popular, all-purpose seasoning found in every Slovak kitchen. I don't like to use Vegeta since it contains MSGs – plus it's not traditional-enough for me. Anyway, here is Lenka's lečo recipe:
---
Ingredients: 6 tomatoes (I used cherry tomatoes from my garden, but you can buy whatever kind you like), 2 peppers (no dark green) yellow or red, 2 onions, 4 gloves of garlic (I used small heads of garlic grown in my garden), 2 eggs, 1 big sausage, polska kielbasa or some type of hot dog (i usually use what I have left over in fridge; also cooked ground beef or ham is fine too), 5 table spoon oil, sour cream, salt, vegeta, bread
Cut up all ingredients based on the pictures below. In pan, saute the onion and after 7 min add minced garlic, sausage and peppers. Cook about 10 min and add tomatoes. Cook until tomatoes are soft (I like them a little crunchy and not cooked all the way through). Taste for seasoning as the amount of salt depends on the saltiness of your meat. Use salt and vegeta to taste. Then add 2 mixed eggs and cook an additional 5 min. Now you are done!
I put sour cream on top of plate, mix it up, and eat with good bread. My American husband doesn't like sour cream, so you skip the last step. However, I sneak a little bit sour cream in the finished dish…just don't tell him. He thinks there is not sour cream in his plate.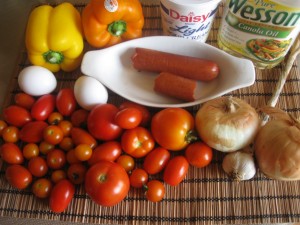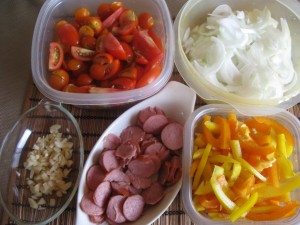 The ingredients for lečo, Slovak vegetable stew.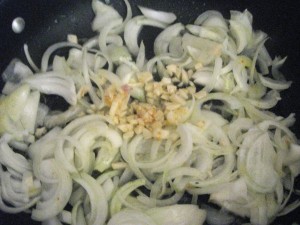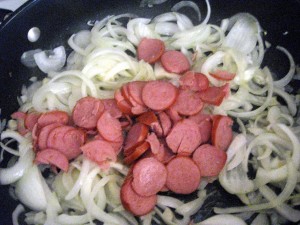 Saute the onion (cibuľa) and garlic (cesnak). Add sausages (klobásy).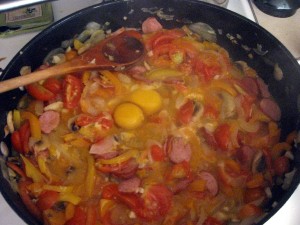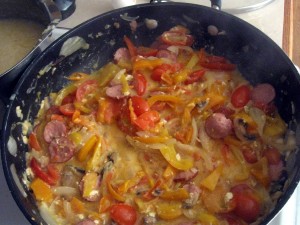 Also add the peppers (papriky) and tomatoes (paradajky). Stir in the eggs (vajcia) once the vegetables soften.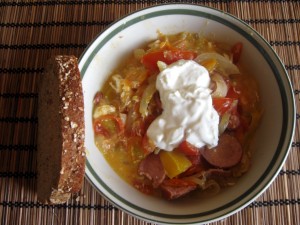 Enjoy with good bread (chlieb). Dobrú chuť!
Visit SlovakMama.com to see the original recipe. For another simple breakfast dish, check out hemendex.
Subscribe to the newsletter.