Pea Soup (Hrachová Polievka)
Ingredients: one 15oz can of peas (or fresh ones), half a large onion, 1 tablespoon flour, tablespoon butter, teaspoon ground black pepper, dough for dumplings, parsley leaves
Prep Time: 30 minutes
Here is an easy soup recipe. It's for hrachová polievka, pea soup. Peas are commonly grown in Slovakia. I remember as a kid going to my grandma's house and eating them fresh from her garden. You can use them in rice dishes (like risotto), to garnish meals, or, as shown here, in soups. This soup recipe is adapted from Slovenská Kuchárka, a Slovak culinary classic. There are few different varieties of this soup in the book, but they are all much different from the thick split pea soup so popular here in the United States. This soup is a watery broth, perfect to get your appetite ready for the main course.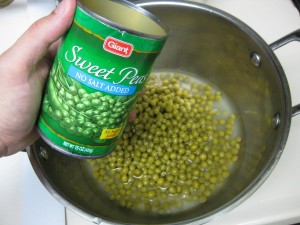 Start with a can of peas (hrach). Pour the contents into a pot and add enough water (5 cups worth). If you use fresh peas, first peel them, and then boil the peels. Then strain the broth, add the peas, and use it to finish the soup.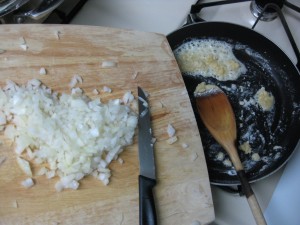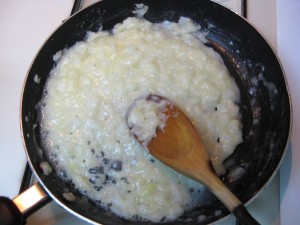 Then prepare the roux (zápražka) by browning the flour on melted butter (maslo). Add the onion (cibuľa) and little bit of water. It's better if the onion is grated – but I didn't read the recipe all that close until it was too late. To improve the consistency, I scooped out as many pieces as I could once the soup was done cooking, and ran them through the food processor.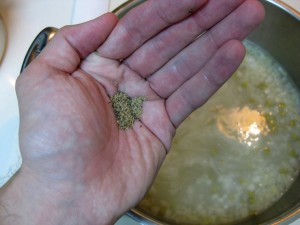 Also add ground black pepper (mleté čierne korenie). This is about 10 peppercorns ground up in a mortar and pestle. And of course, salt to taste. I used quite a bit, at least 2 tablespoons.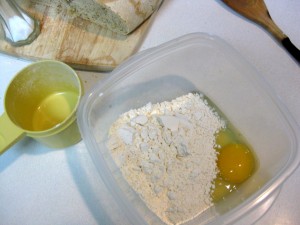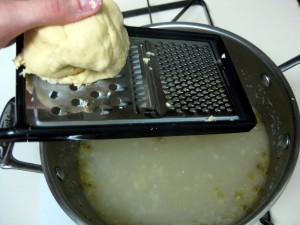 Finally, you can make something called rajbanička. I had actually no idea what this was, but I found the recipe on nazjedenie.sk. Rajbanička is basically stiff dough that you grate (rajbať) into the soup to make tiny dumplings. Combine about 2 cups flour, one egg and just a tad of water to make stiff dough. Then grate it, using the wide holes. It helps to let the dough sit for a while so it stiffens.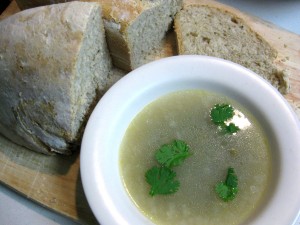 Top with few leaves of parsley and serve with good home baked bread.
Subscribe to the newsletter.