Sauerkraut Soup for Hundred (Kapustnica pre Sto)
For one 4-gallon batch (~50 servings)
Ingredients: 8 lb sauerkraut, 1 gallon water, 3 lb of pork neck, 16 peppercorns, 4 spoons caraway, 8 cloves garlic, 8 whole cloves, tablespoon crushed nutmeg, handful dried mushrooms, 7 onions, 7 apples, 3 lbs sausage and bacon, 4 tablespoons paprika, 4 tablespoons red pepper, 1.5lb tub of sour cream, few tablespoons flour
Prep Time: 4 hours
Regular Size (~12 servings)
Ingredients: 2 lb sauerkraut, 1 quart water, 0.8 lb of pork neck, 4 peppercorns, 1 spoons caraway, 2 cloves garlic, 2 whole cloves, bit of crushed nutmeg, smaller handful dried mushrooms, 2 onions, 2 apples, 0.8 lbs sausage and bacon, 1 tablespoons paprika, 1 tablespoons red pepper, small container of sour cream, tablespoon flour
Prep Time: 3 hours
Here is a recipe for the traditional Slovak Christmas sauerkraut soup kapustnica, for 100 people. This recipe will come in handy next time your 99 closest friends ask to come over for dinner…
Ok, you may be wondering why on Earth would I be posting a recipe for such a large quantity of soup. Well, the funny thing is that because of this website, I got asked if I could prepare a dish for the St. Nicholas Day celebration at the Slovak Embassy in Washington, D.C., hosted by the Slovak American Society of Washington. I had doubts about this, given that I had never before cooked so much food. But my friends persuaded me to take this great opportunity. The recipe posted here is more-or-less identical to the kapustnica recipe posted earlier. The difference is that photos are better (my new kitchen has much more light) and that this time I used the right kind of meat, krkovička (pork neck).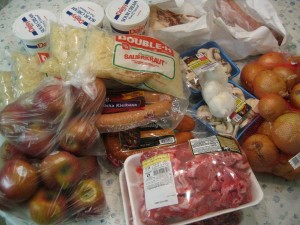 This is what the ingredients for a 100 person soup look like. Everything all together cost roughly 90 dollars.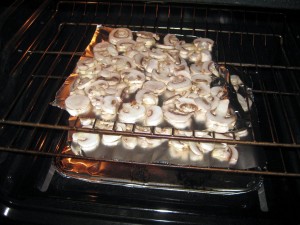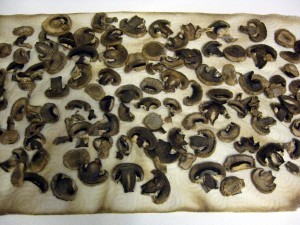 For this soup you will need dried mushrooms. Dried mushrooms taste bit different from fresh ones, since the flavor is more concentrated. If you don't find any in your grocery store, you can dehydrate mushrooms at home by leaving them uncovered on a paper towel for several days. Or you can lay them out, single-file, in an oven turned to low heat (warm or 200F). Dehydrated mushrooms will keep for a very long time. In Slovakia, it used to be common to go mushroom picking in the fall and then dry the mushrooms for use in winter soups. My family would dry them by hanging them from strings attached between beams in the kitchen. Kind of like drying laundry on a clothes line.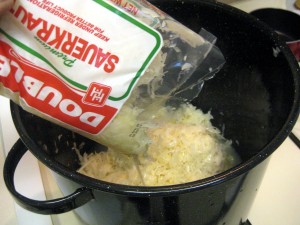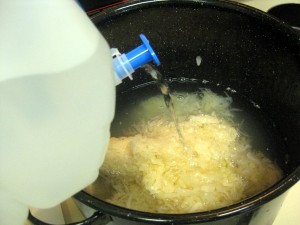 Let's start cooking. Take a large pot (I used a 16L stock pot for each of the two batches), and add your sauerkraut (including the juice) and the water (voda). You don't have to be too specific with the water, you can always add more later. You simply want to add enough to at least cover the cabbage (kapusta).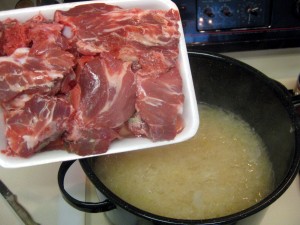 Wait for the soup to come to boil. With a large quantity of water like this, this may take a while. Once the water is boiling, add the pork neck meat (krkovička).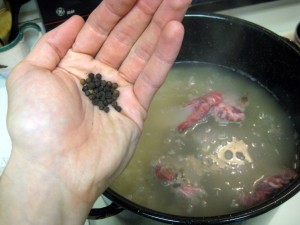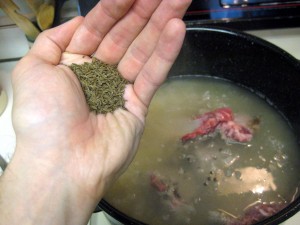 Add peppercorns (čierne korenie), caraway (rasca)…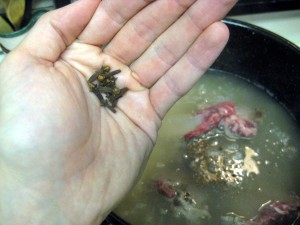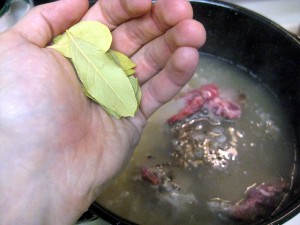 …cloves (klinčeky), bay leaves (bobkové listy),…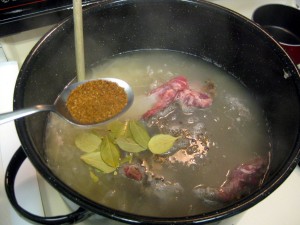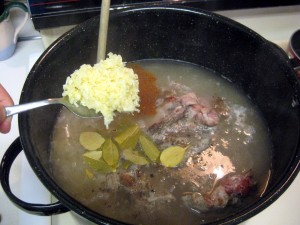 …nutmeg (muškátový oriešok), shredded garlic (postrúhaný cesnak),…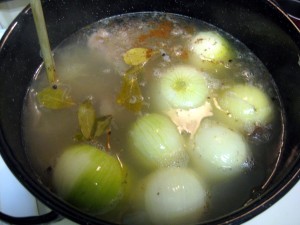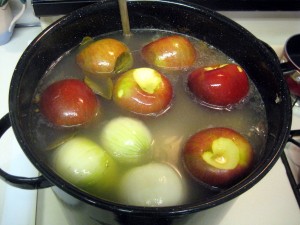 …whole onions (celé cibule), with the outer skin removed and ends chopped off, and whole apples (celé jablká) with stems removed.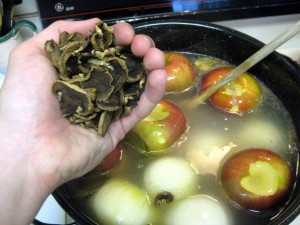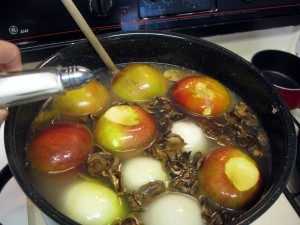 Add a handful of dried mushrooms (sušené hríby, more the better!) and some salt (soľ).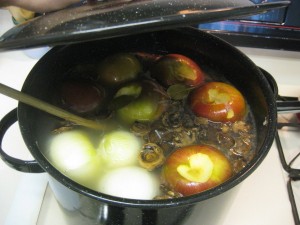 Cover, and let cook for a while. I cook it until the apples start cracking open on the outside. For a big batch like this, this will take at least an hour.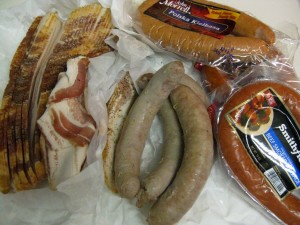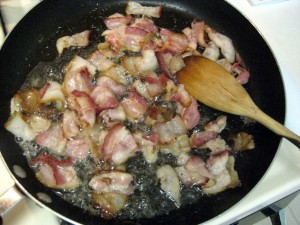 Then, take your favorite sausages (klobása) and bacon (slanina). There is a Polish sausage store in Rockville, MD, which supposedly sells the smoked, dried up and shriveled up Slovak sausage that should go in here. But it was bit out of my way so I used various typical grocery-stocked smoked sausages. I obtained the bacon (two kinds, regular and peppered) from Laurel meat market. This is also where I obtained the homemade sausage, which I cooked the previous day.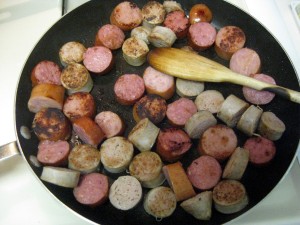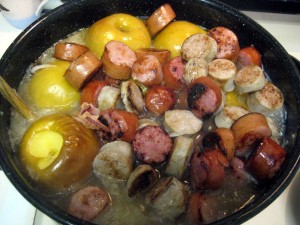 Slice the bacon and sausage into pieces and fry. I like to fry the sausage for a bit because I think it improved its taste. Add to the pot. Strain the fat from bacon before adding it.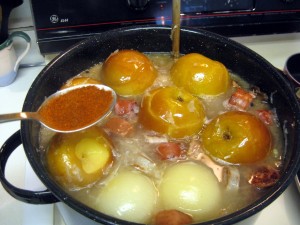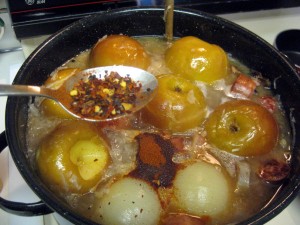 Also add paprika (sladká červená paprika) and red pepper (štiplavá červená paprika). I used 3 spoons of whole red pepper and 1 spoon of powder.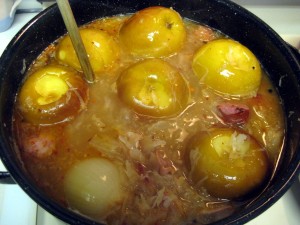 Add more water if you need to. Roughly speaking, the soup should be half liquid, half "stuff". Cover and cook for additional 30 minutes.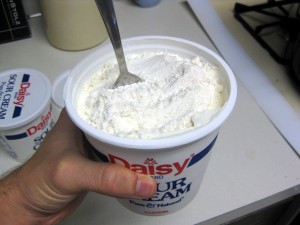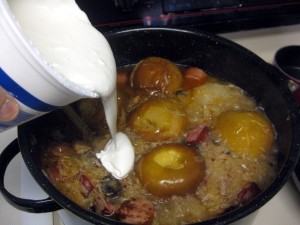 Finally, take the sour cream (kyslá smotana) and mix in few tablespoons of flour (múka). Add in small batches, stirring in between and letting the cream dissolve.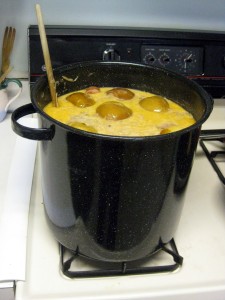 Finally, boil for another minute or two. Also scoop out as many bones as possible. Manually pull off whatever meat didn't fall off.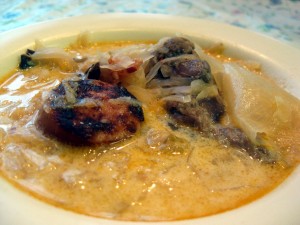 And there you have it, the traditional Slovak sauerkraut soup, kapustnica. Besides the soup, I also prepared whiskey "rum" balls. Dobrú chuť a Veselé Vianoce (Bon apetit and Merry Christmas)!
Here are just few other pictures I wanted to share. The day when I was making this soup was the first time it had snowed here in Washington, D.C., this winter. And it was quite the snowfall! The snow created a beautiful backdrop for preparing this traditional winter soup. Here is a photo taken out the backdoor in my kitchen. Cooking is also a great time to let your friends try your creation. Here is my friend Nicole tasting (and testing) the soup. I think she approved. And finally, me serving the soup at the Slovak Embassy.
Subscribe to the newsletter.