Slovak Picnic in Fairfax, VA
Slovak American Society of Washington, in conjunction with SlovakCooking.com and Washington Slovak Meetup.com, would like to invite you to its annual picnic, to be held Sunday, June 27th at the home of Jim and Millie Schoepe-Evans in Fairfax, VA. Come sample traditional Slovak dishes, taste cold Slovak beer, listen to Slovak music and play a game of volleyball. All this for just $10 a person!
So what will we have? Food will include sausages, fašírka with potato salad, cabbage halušky and the Slovak-American favorite: holubky (stuffed cabbage). We will also have freshly made Slovak rolls with bryndza spread, home-baked kolache and fresh fruit and veggie summer salads.
And for kids: poppy seed noodles and palacinky!
We will also play traditional Slovak music as well as hits from 80s, 90s and today.
What: Slovak Picnic
Date: Sunday, June 27th
Times: 1:00 – 4:30 pm
Where: 12910 Westbrook Drive, Fairfax, VA 22030 (map)
Cost: $10 dollars for SASW members ($12 otherwise) for all this food plus 1 free Golden Pheasant beer (21+)
What do you have to do? Just let us know you are coming using the form below and we'll take care of the rest. The house capacity is limited so RSVP early.
Update June 30th, 2010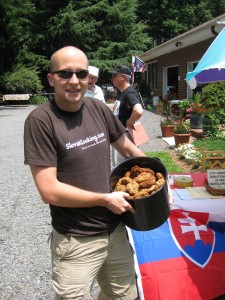 The picnic ended up being great success! We had about 60 people come, with some folks coming from 4 hours away! Even the Slovak ambassador showed up. There was plenty of food, including sausages, cucumber salads, fasirka (I made a kettle's worth), and many many kinds of cakes and cookies, including ones made by Danka that were beautifully decorated with the shield of Slovakia. Make sure to sign up for the Washington D.C. Slovak Meetup if you live in the area to find out about our future activities. See ya!