Homemade Sausages (Domáce Klobásy)
Ingredients: 4 lbs pork, black pepper, 2 cloves garlic, paprika (sweet red pepper), red pepper, salt, pork intestines or sausage casings
Prep Time: about 2 hours
In this recipe, I show you how to prepare home-made sausage (klobása), the way my grandma makes them. I may be little biased, but there is nothing better than a real Slovak sausage! They are even better smoked (údené). Slovak sausages are pretty similar to the Hungarian variety. When I lived in Lancaster, California, I was lucky to be close to a real treasure: a little shack in the middle of the Mojave desert called "The Valley Hungarian". That shop had an amazing selection of smoked sausages, very similar to the ones my grandma makes. Unfortunately, sausages like that are very hard to find.
Slovak sausages are somewhat similar to the German bratwurst, but are less juicy and whole lot more peppery. Spices used in making of a Slovak sausage are garlic, sweet and spicy red pepper, and caraway. You will also need ground pork, sausage casings and a way to feed the sausages. The recipe below shows you the traditional way of making sausages as done during zabíjačka. It involves grinding pork in a meat grinder (mlynček na mäso). You may have hard time finding these in America. You may want to skip this step and start with store-bought ground meat. However, you will need some device to feed the meet into the casings, and the casings themselves. We used pig intestines (črevá).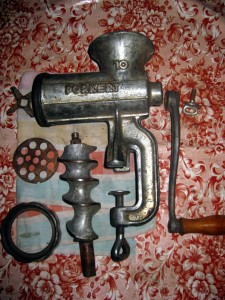 We used a "No. 10" Porkert meat grinder, dating all the way back to 1954! It consists of the housing, a feeding spiral, a four-blade knife, and an exit plate with circular holes through which the meat comes out.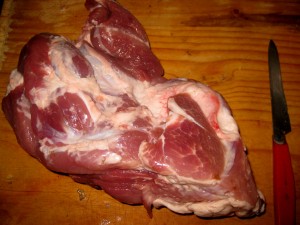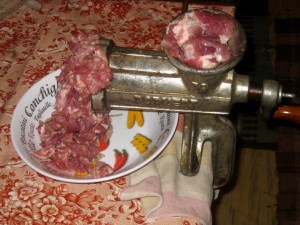 Cut the raw meat into pieces which will fit into the grinder. Grind the meat. You will probably need to disassemble and clean the grinder few times to remove the tendons that like to wrap around the blades.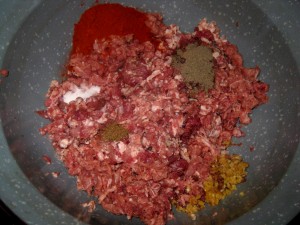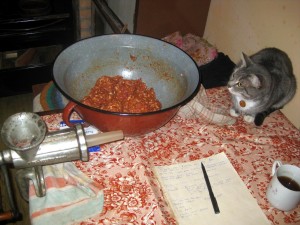 Then add about 2 cloves of crushed garlic (postrúhaný cesnak, too much garlic will make your burp!), two teaspoons of ground black pepper (mleté čierne korenie), about 1.5 teaspoons of salt (soľ), a small teaspoon of caraway (rasca), about 4 teaspoons of paprika (sladká paprika), and another teaspoon of crushed spicy red pepper (štipľavá paprika, if you like it hot). Mix together. Then remove the blades and the exit grid, and replace with a feeder tube. The sausage mix was really popular with the cat. She even managed to grab a good chunk of meat out of my hand as I was feeding the sausages!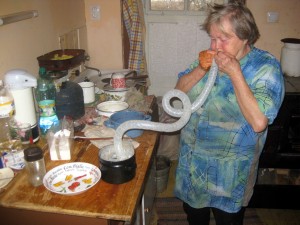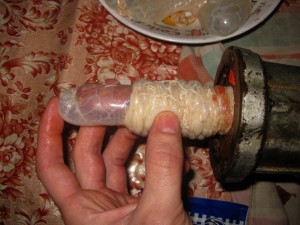 Next take the washed intestines (črevá). You need to make sure they don't have holes in them. This is done by blowing into the intestine and seeing if it inflates like a balloon. Then roll a 2-meter long intestine onto the feeder tube. Tie a knot at the open end. If you end up with an air bubble, take a sewing pin and puncture a hole or two.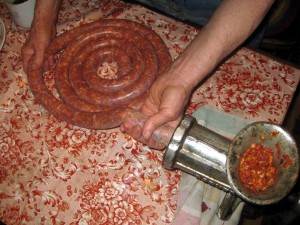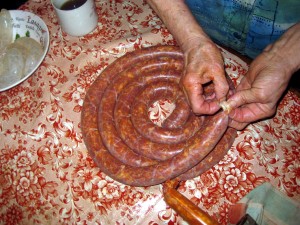 Next comes the fun part: making sausages. This is a two person operation, with one person feeding the meat into the grinder, and another adjusting the output. You want the meat to be packed quite stiff and especially uniform. This will take bit of practice. I helped with this step for a while, but my grandma was much better at it. So I mostly worked the grinder. Tie a knot at the other end as well.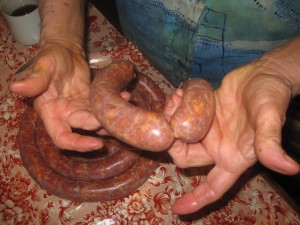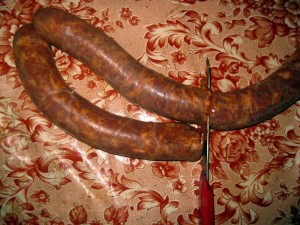 You now have one 2 meter long sausage – bit too much to eat in one sitting. To turn it into more manageable pieces, grab the sausage about 15 cm from one end. Pinch there and push the meat to the sides. Then twist the free end around two times. Fold over, and cut the other end off. Then push out some of the meat from the open end back into the grinder and twist the casing shut. This doesn't have to be too tight; the meat mixture is quite viscous and won't drip out.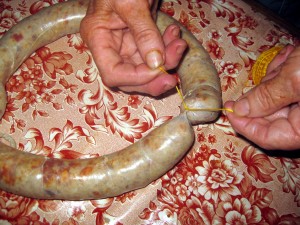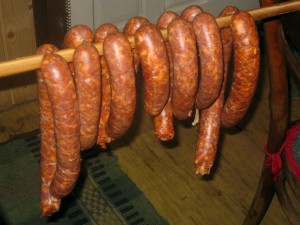 If you also decide to prepare hurky (rice sausage), follow the same steps, except that the open ends must be tied shut with a string. It's probably best to clean the grinder before making hurky, otherwise you may end up with pieces of sausage in your hurka (the red chunks). Typically, the wider beef intestines are used for hurky, and the thinner pork intestines are used for sausages. Place sausages on a wooden stick and then off with them to the smokehouse.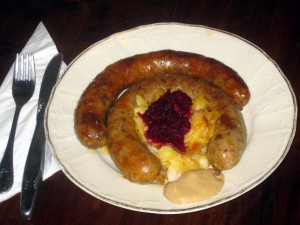 Or if you don't have a smokehouse, just bake them, grill them or fry them fresh. These turned out delicious! The photo shows the typical zabíjačka platter: baked sausage and hurka, with a side of mustard, baked potatoes and beets. Dobrú chuť!
Subscribe to the newsletter.