About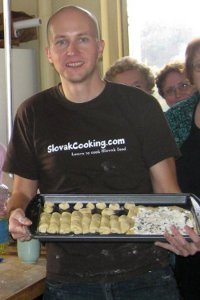 Hi there, so who are you and why did you create this site?
My name is Luboš Brieda, and I am a regular guy born in Slovakia. I grew up in a great city located smack in the middle of the country called Banská Bystrica. I moved to the US with my mom shortly after turning 14, and slowly and surely, began to miss the tasty Slovak home cooking. So I figured I'll try to learn few of the recipes, and perhaps along the way find out more about the culture and history of my country.
What else do you do?
I currently live in Falls Church, VA (near Washington, D.C.) with my Colombian wifey Sandra, and have recently completed my PhD in Aerospace Engineering at the George Washington University. I currently split my time between working at NASA Goddard as a contamination engineer and running my own company dedicated to scientific computing and plasma physics, Particle In Cell Consulting. On weekends I like to get out and spend the time outdoors, hiking, running, biking and so on. You can find out a lot of my various hobbies (including the main one, climbing US highpoints) on my personal site.
I have never heard of Slovak food before…
You are not alone! Slovak food is not exactly well known around the world. I am hoping this website will change that. It's a huge shame – Slovak food is absolutely delicious. And best of all, it's very easy to prepare. Historically, Slovaks were peasants who spent their days in the fields or herding sheep. As such, the food had to be cooked up fast, but also had to be filling. Many dishes can be prepared using a single pot. But, that doesn't mean we don't like the finer things in life. Part of Slovak cuisine are amazing sweets: kolache, buchty, and various Christmas cookies. You will find recipes for many of these on this site.
Where is the recipe for holubky?
Since getting involved with Slovak cooking, I came to realize that the dish most Slovak-Americans associate with traditional Slovak cooking is stuffed cabbage. This dish is referred to as "holubky" or "halupky". So where is the recipe, since this is a site dedicated to Slovak cooking? Well the funny thing, the first time I had this dish was in the United States! After more digging, I discovered stuffed cabbage is quite popular in Eastern Slovakia, region heavily influenced by both Ukrainian and also Orthodox customs. Many immigrants came originally from this region, so it makes sense that their American descendants learned to cook this dish.
Update 11/4/2011: I finally made this dish, and the holubky recipe is now online!
Where can I try Slovak food?
Well, this is bit harder. There aren't that many Slovak restaurants around, unless you are lucky enough to live in New York City or Chicago. Perhaps through this site we can change this? I would very much like to see some Slovak staples (such as the steamed dumpling) to become a regular menu item in American restaurants. Do you own a restaurant and would you like to add something from this site to the menu? Please feel free to do so, just give the site credit when possible. And of course, when you get a chance, hop on a plane and head to Slovakia. It's a beautiful country full of ancient castles, hot thermal springs, crystal clear mountain lakes and best of all, extremely friendly people.
I love Slovak food! What should I do next?
Great! First, leave me a comment or two. Then become a fan on Facebook and Twitter, and also subscribe to the news feed. Then, let your friends know. Much of site's traffic comes from personal recommendations so these help a lot. Finally, if you enjoy this site, please consider making a donation. The site is completely supported with your financial gifts – there are no ads and no corporate sponsors funding it so your donations are very important.
Can I add my own recipes?
Although vast majority of the recipes on the site were cooked by me, I'll gladly upload your illustrated recipe for your favorite Slovak dish. You can read more about this on the contribute page.
I want to promote Slovak cooking! Do you have any articles I can publish?
Yup, please see the Press page. You may also republish articles from this site, as long as you credit slovakcooking.com and shoot me an email letting me know about it.
Do you have a cookbook for sale?
I get this question quite a lot and the answer is that unfortunately not yet. I've been meaning to organize the recipes from this site into a collection of my favorite 50 or so recipes, however, I just have not had the time yet. However, I'll be soon offering kitchen recipe calendars for purchase. Stay tuned!
How do I get in touch with you?
Shoot me email (in English, Slovak or Czech) at lubos@slovakcooking.com or leave a comment.
Ďakujem a dobrú chuť (Thanks and bon apetit).
Images and information posted here can be used freely for both commercial and non-commercial purpose as long as you give this site credit. However, information may not be used verbatim (i.e. scraped from this site). By scraping the website content you are violating the copyright law, and will be reported to your hosting provider and to Google if running a "made for AdSense" site.
If you are planning to use anything from this site in a book or on your website, please let me know so I can share the news with my readers. To view the privacy policy (regarding the data collection by the ad service), click here