Red Cabbage Soup (Červená Kapustová Polievka)
Here is a recipe for a simple delicious and healthy soup made from cabbage (kapusta) and tomato paste (paradajkový pretlak). My mom used to make this soup when I was a kid and I really loved it. And I completely forgot about it. I was heading somewhere with my mom last week – probably the grocery store – when she mentioned this soup. At first, I had no idea what she was talking about. But the taste quickly came back. It's funny how stuff like that comes back to you. She no longer remembered the recipe but it wasn't too difficult to find it in a cookbook. So here you go, here is a recipe for red cabbage soup (or cabbage soup with tomato paste, kapustová polievka s paradajkovým pretlakom).
Ingredients: half a fresh green cabbage (~1.7 lb), oil, 1tsp caraway, 1tsp nutmeg, 2/3 cups flour, 10 cups water, 6oz can of tomato paste, 5 tbsp salt, 3 tbsp sugar, 3 tbsp vinegar
Prep Time: about one hour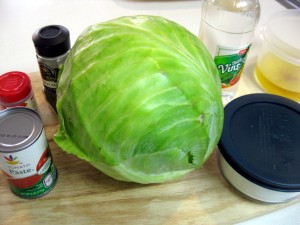 Here are the ingredients you'll need: cabbage (I used half of it),tomato paste (not sauce, sauce has spices and such), vinegar, sugar, caraway, nutmeg, and butter or oil.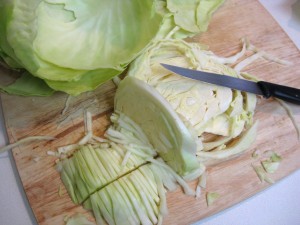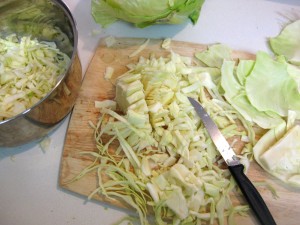 Remove the inner hard core from the cabbage, and also remove the outer green leaves. You can save them for later to make the popular stuffed cabbage (holubky). Cut the cabbage into thin "noodles". At least that's how I started. Soon I lost patience and I cut the rest into all sorts of random shapes.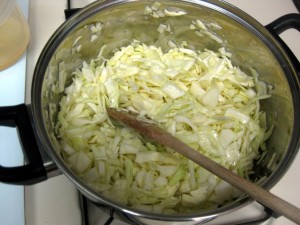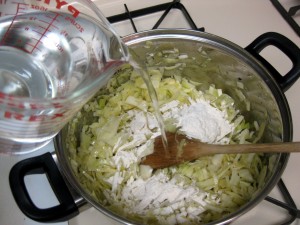 Place the cabbage strips into a pot along with oil (I used half a cup). Fry the cabbage for 5 minutes while continuously stirring. Then add caraway (rasca) and nutmeg (muškátový oriešok). They both should be ground, but I didn't have ground caraway, so I used it whole. Top this with flour and pour in a cup of water.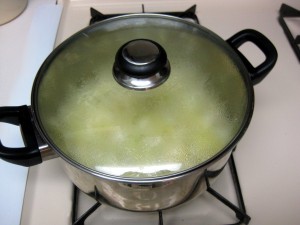 Stir and cover with the lid. Steam covered on low heat for about 30 minutes until the cabbage is almost fully cooked (soft). But keep an eye on it and stir every few minutes to make sure it doesn't burn. Also add more water as needed.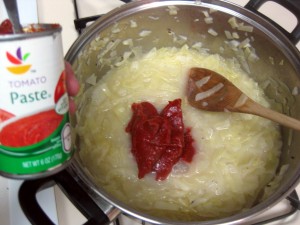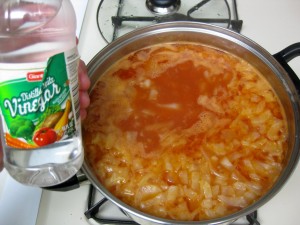 Pour in the rest of the water and also a small 6oz can of tomato paste. Then finish seasoning with salt, sugar, and vinegar. I used 5 tablespoons of salt, 3 of sugar, and another 3 of vinegar. Feel free to adjust these to your taste.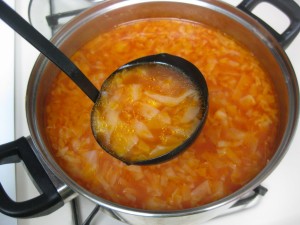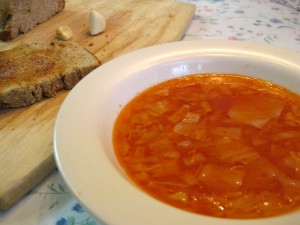 And that's it. By the way, I don't think there is any food in the world more delicious than soup (any kind) with a slice of toasted home-baked bread with garlic scraped on top. Yum!
Of course, there is another kind of cabbage soup which is even more famous: the famous Christmas sauerkraut kapustnica.
Subscribe to the newsletter.