Garlic Soup (Cesnaková Polievka)
The French have their onion soup, and we Slovaks have our garlic soup (cesnaková polievka or cesnačka). There are basically two kinds of this soup, the creamy garlic soup and the clear one shown in this recipe. This clear variety is much more common throughout Slovakia. I was eating it almost daily on my travels this past summer. Some restaurants make it really garlicky, sometimes to the point of not being edible. The way I made it, the soup had only a slight garlic taste. If you really like the taste of garlic, use a few more cloves of garlic.
Ingredients: 10 cloves of garlic, butter, 4 potatoes, 8 cups of water, 2 tsp paprika, 1 tsp caraway, salt, toast, cheese
Prep Time: Fast, 20 minutes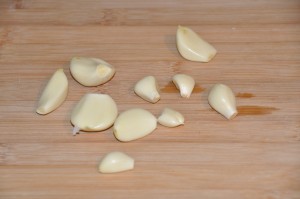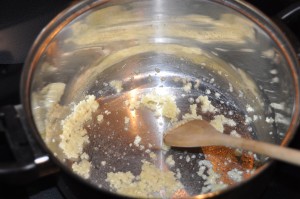 Peel the cloves of garlic (cesnak) and crush them using a garlic press. Alternatively you can chop them using a grater, or just slice them fine with a knife (this is what I did). Melt two tablespoons of butter (maslo) in a pot and add the garlic. Fry for few seconds.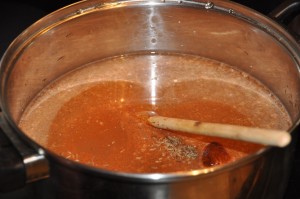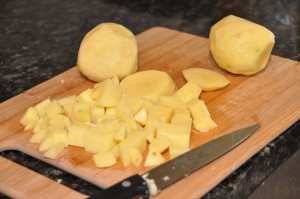 Next add some eight cups of water (voda), 2 heaping teaspoons of paprika (mletá červená paprika), another teaspoon of caraway (rasca), and salt (soľ) to taste. Then peel the potatoes, cut them into small cubes, and add to the pot.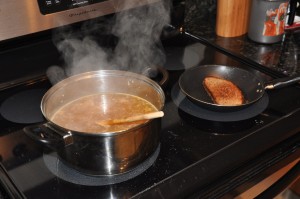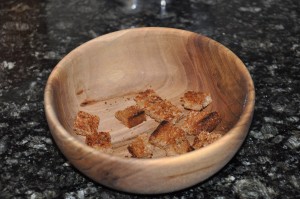 Boil for about 15 minutes until the potatoes get soft. In the meantime, toast a slice of bread (chlieb). I toasted mine on butter in a frying pan but you could just use a toaster. Cut the toast into squares and put them in a bowl. Then scoop the finished soup over the bread.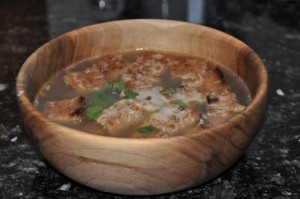 Finally, grate some cheese into the soup (I used Swiss) and also decorate with some garnish, such as parsley (petržlenová vnať). Enjoy!
Subscribe to the newsletter.