Creamy Garlic Soup (Krémová Cesnaková Polievka)
Ingredients: one large potato, 1.5L (6 cups) water, 3 cloves of garlic, quarter stick of butter, 40g (1/3 cup) of flour, handful of parsley, one yolk
Prep Time: About 2 hours
French have their onion soup, but we Slovaks have a garlic soup. Actually, we have quite a few different types of garlic soup. In my dad's restaurant, you can order something very similar to the French variety, with the exception that the onion has been replaced by garlic. I decided to prepare this soup out of an old cookbook called "Grandmother's Recipes" by M. Martišová. That book lists two types, one called "garlic soup" and the other called "gentle garlic soup". The difference between the two was that the second recipe used half the potatoes of the first, but included parsley and a yolk. Well, I got creative and combined the two: I used the potato amount from the first recipe, but embellished the soup with the egg and the parsley. The results was, well, interesting. The main ingredients for this soup are basically garlic and mashed potatoes. The result tasted (not surprisingly!) as watery garlic mashed potatoes. I am not sure if I am sold on this soup just yet. You should try it for yourself and make up your own mind. But on the upside, the soup was gone right away, and my tasters (my friends and roommates) seemed to enjoy it. For other strange (but tasty!) Slovak soups, check out the recipes for iceberg lettuce soup and sauerkraut soup (kapustnica). The sauerkraut soup is typically eaten on Christmas and is probably my favorite Slovak dish.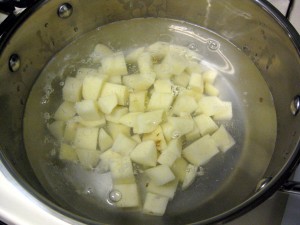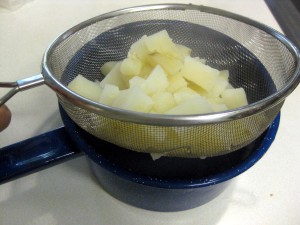 Peel and dice a large potato. Boil in 1.5L of salted water until the potatoes get soft. Strain potatoes, saving the water.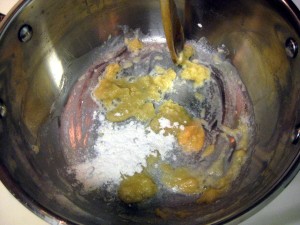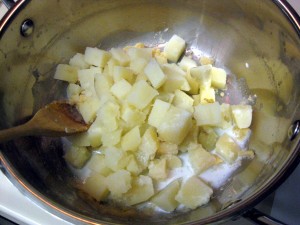 Melt about a quarter-stick of butter and brown a slightly larger amount of flour. Turn off heat, add potatoes and little bit of milk.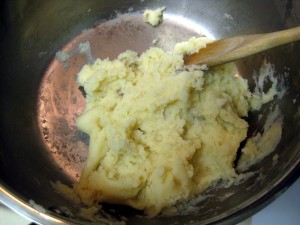 Mash well to make mashed potatoes.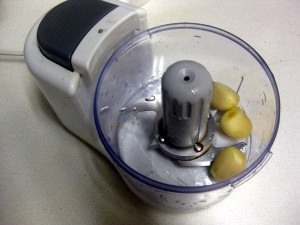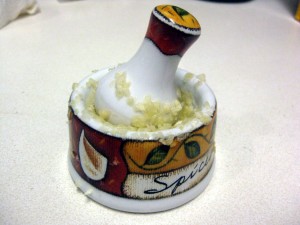 Take 3 cloves of garlic (cesnak) and turn them into paste. I used a food processor, followed by a mortar and a pestle. However, later, as I was making potato pancakes, I discovered a much simpler solution: a food grater.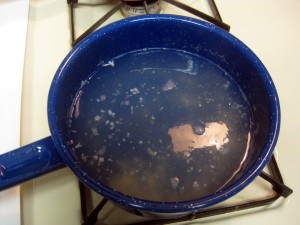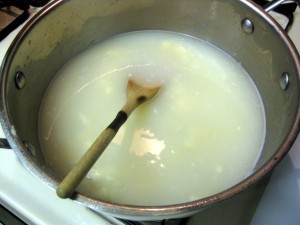 Add the garlic paste to the water in which you boiled the potatoes and bring everything to boil. Stir in mashed potatoes, or pour into the pot with mashed potatoes if that happens to be larger pot. Let everything boil for some 30 minutes until you get a smooth texture. It also helps if you keep stirring and whisking.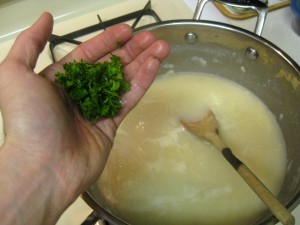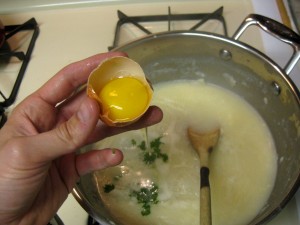 Finally chop up bit of parsley and add it along with one yolk.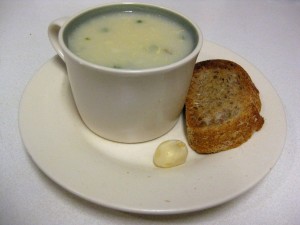 And there it is, Slovak garlic soup. Not garlicky enough? Serve with a Slovak toast. It also goes well with potato pancakes.
Subscribe to the newsletter.