Chicken on Mushrooms (Kura na Šampiňónoch)
Here is a recipe for a very easy chicken dish. It's chicken (kura) in a mushroom (šampiňóny) sauce. It really is easy and quick – you can in fact make this dish while getting ready in the morning. Well, that is assuming that you are like me and it takes you two hours to get ready…
Ingredients: one small chicken cut into pieces (I used three fairly large thighs), one large onion, 3 tablespoons oil, 150g (about half a container) of sliced button mushrooms, salt, pepper, flour, noodles, garnish
Prep Time: about 20 minutes to get stuff ready, and then one hour for stewing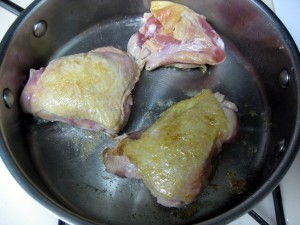 Start by dicing the onion (cibuľa) into small pieces. Heat up the oil (olej) in a pan or a large pot for which you have a lid. Add the chicken (kura) and brown on both sides. Shake the pan after you add the chicken to prevent it from sticking.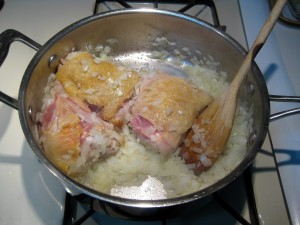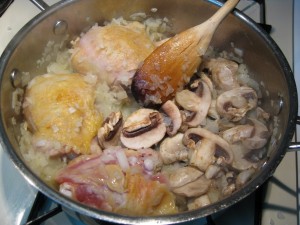 Then add the onions and sizzle them until they turn golden and glass-like. Then add the mushrooms and also a cup of hot water (horúca voda). Cover, reduce the heat, and let simmer for about 40 minutes. You can check if the chicken is done by sticking in a meat thermometer. It should register 180F.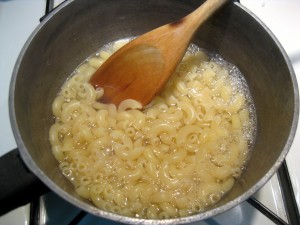 In the mean time, add macaroni (makaróny) into salted boiling water and cook till done. Then rinse them off in hot water, and drain.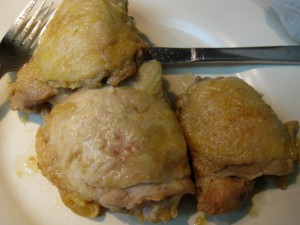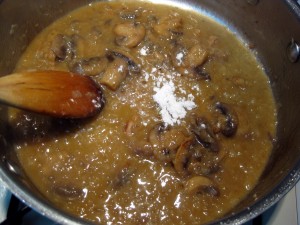 Take the chicken out once it's done and set aside. Dust the sauce with flour, I used about a tablespoon worth. Stir in on high flame to let the flavors sizzle.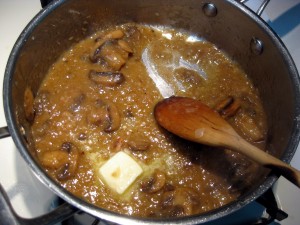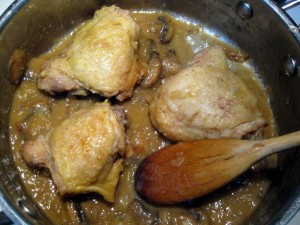 Also stir in a tablespoon worth of butter (maslo), and a pinch of salt (soľ) and ground black pepper (mleté čierne korenie). Add in bit of hot water to thin the sauce. I added about 5 tablespoons, but this will depend on how much water you started with, and how much has evaporated during cooking. Make sure everything tastes good and add the chicken back in.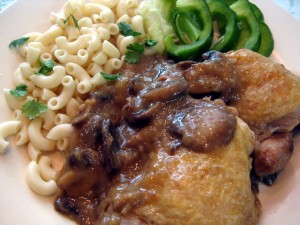 Serve with noodles and a garnish of vegetables. Dobrú chuť!
And for few other similar tasty recipes, checkout rabbit on mushrooms and chicken on salt.
Subscribe to the newsletter.