It's Sweepstakes Time!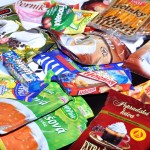 It's sweepstakes time, again! On my last trip to Slovakia I picked up a large assortment of Slovak goodies, such as those shown on the left. These include powder goulash soup (delicious, I was eating these while backpacking), and also many wafers (keksy), candy, and Slovak coffee. Some of these guys got little banged up during the transatlantic voyage, but they still taste great.
So how does this work? Simple, just enter your contact info using the form below. No purchase necessary and no strings attached. Five winners will be selected on November 17th, and contacted through email. I will then mail the packages the following day, just in time for Thanksgiving. Please note, you don't have to live in the US in order to enter. However, you will need to provide a mailing address in the US (could be a friend, or a relative) since it's too expensive to ship internationally.
By the way, why am I doing this, you may ask? Good question! First, I want to give you folks in the US a chance to try Slovak products, since they are not available here. But secondly, this sweepstakes is my annual fundraising effort. As you may have noticed, this website does not contain any advertisement, nor is it funded by any commercial entity. Instead, it is fully supported by readers like you. Your donations help cover the costs associated with web hosting and site maintenance, and also allow me to purchase the photo equipment needed to take nice pictures. It's simple to donate, just use the link below. You can also mail in a check – email me first for my mailing address since I don't like to post it here publicly. By the way, don't feel that you have to donate if you don't want to. A donation will not increase your chances of winning.
Thank you for visiting and good luck!
Update 11/18/2011:
This sweepstakes is now over. The five winners selected by random (more specifically by SELECT * FROM 'entries2011' ORDER BY RAND() LIMIT 1,5) from 753 entries were Henry N., Dwight H., Ashley P., Stephen C., and Sara M. Congrats all and thanks to everyone for entering.
Tweet
On Twitter or Facebook? Connect with us. Prefer email? Subscribe to the newsletter.