34th Slovak Heritage Festival in New Jersey
Do you live driving distance from Holmdel, New Jersey and got no plans for this Sunday? Then make sure to come to the 34th Slovak Heritage Festival. This is the largest Slovak festival in the country and is attended by thousands of people. The president of Slovakia also makes a regular attendance (no idea if he will be attending this year).
And best of all, this year's festival will include a hands-on cooking demonstration by me, Lubos from slovakcooking.com. So make sure to come.
The official announcement is below:
The 34th annual Slovak Heritage Festival will be held Sunday, September 25, 2011 at

The PNC Bank Arts Center
Exit 116, of the Garden State Parkway
Holmdel, New Jersey
(map)

The festival will begin at 10:00A.M. with a full program of events.

Bishop Peter Rusnak of Bratislava will celebrate the Byzantine Catholic Mass in Slovak at 11:00A.M.

The cultural program begins at 2:ooP.M. with a a Parade of Fashions. The featured dance group is PAS from Pittsburgh, along with three children's groups.

Special programs include: "Slovak Cooking" by Lubos Brieda (see ), who will present several sessions on Slovak cooking. Tom Peters will also be there to help with questions
concerning Slovak genealogy.

There will also be a soccer tournament throughout the day.

Vendors will be selling Slovak crystal, ceramics etc., and there will be
a lot of delicious Slovak food and baked goods.

Entrance and parking are free, with plenty of room for buses.

For more information, please call Steve Zluky at 908-534-2710.
Here is my program, subject to change:
Session 1: 10am-11pm
10 am: Slovak picnic favorite: kettle goulash

Session 2: 1pm-2pm
1pm: Halusky session 1. Learn to make the Slovak national dish
1:30pm: Working with leavened dough: nut and poppy rolls, bobalky, and buchty (these won't get baked unless we can find some electric plug in oven)

Session 3: 3pm-4pm:
3pm: Halusky session 2
3:30pm: Free goulash tasting
See you there!
Update: Pictures!
Here are few photos from the festival. I ended up doing 3 sessions, the first one was goulash, the second one was halusky, and the third one was working with leavened dough.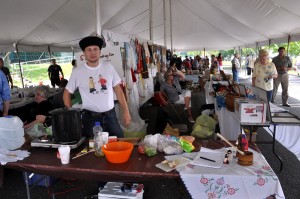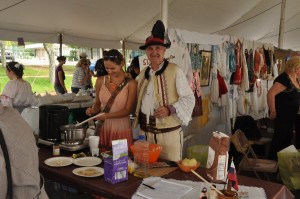 Goulash cooking: add meet, onions, spices a je to! Second picture has Steve Zluky, he is the main organizer of this NJ Slovak Heritage Festival. This is from the halušky making session.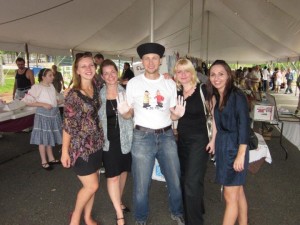 And here is a picture with Michaela Loren who runs a social group for Czechs and Slovaks living near New Jersey. This was after the final dough making session so my hands are covered in flour.
Subscribe to the newsletter.