Merry Christmas (Veselé Vianoce)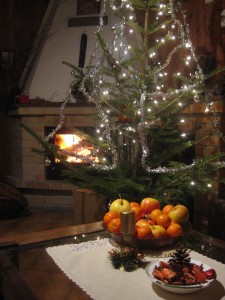 Merry Christmas (Veselé Vianoce) everyone! I hope all of you are having a wonderful day spent with delicious food and your family. How do you celebrate Christmas in your family? Last year, I wrote a short article about Christmas in Slovakia. Of course, many of the folks traditions (especially those dealing with witches) are no longer followed. But what still remains is the plenty of delicious food. This year, I'll be celebrating Christmas with my girlfriend and my mom in the US. My mom cooked a pot of the traditional sauerkraut soup and also made a potato salad. I am about to get the fish ready. But this year, we won't have any traditional Slovak Christmas cookies. As some of you know, I am in the final stages of my PhD program (on multiscale modeling of Hall thrusters). This basically left no time for much cooking. I am hoping Santa will bring me a dissertation for Christmas! 🙂
Unlike in the US, the big Christmas celebration in Slovakia (and also Colombia where my girlfriend is from) is the Christmas Eve. The Christmas day is spent by relaxing. We open presents on the Christmas Eve, right after the dinner. I wonder why in the US people get presents the next morning. Perhaps Santa starts his delivery service in Europe and it takes him until the next morning to get all the way to the USA…
We'll start the dinner by eating garlic, honey and oblátky (by the way, you can find similar wafers in Hispanic stores, they are called obleas in Spanish). Many families also make bobalky (or opekance). These were not common in my family when I was growing up but we'll have them tonight – they taste so good! We'll also make some lokše, little potato tortillas. Next will be the sauerkraut soup followed by the potato salad and the fried fish. And then the presents. We'll probably finish the evening by watching a movie. When I was younger we would also walk to the church for the midnight mass but I don't think we'll be doing that tonight.
Anyway, Veselé Vianoce everyone. Below are also few photos from my trip to Slovakia in the winter of 2009-2010.
Slovak Christmas Celebration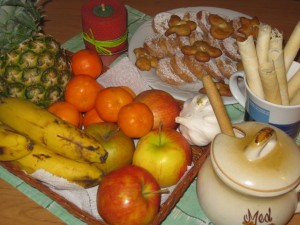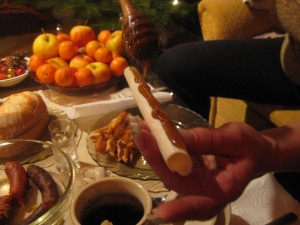 Here is how we decorated the table at my dad's place for Christmas two years ago. We started with the traditional med (honey) and oblátky.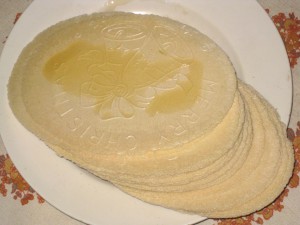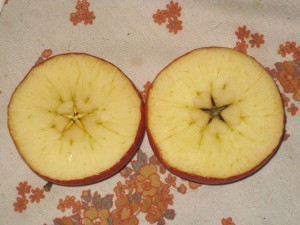 Oblátky come in two forms: the rolled ones called trubičky and the traditional flat ones. There also special kúpelné oblátky (spa wafers, you can buy them here). These are basically two pieces joined together by a delicious sweet filling. The traditional one is made from almonds. One Christmas tradition calls for the head of the household to slice an apple. If the cut is nice like this, good luck will come to the family.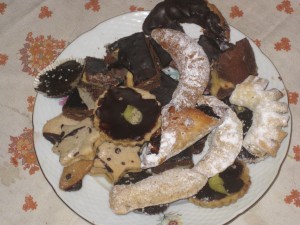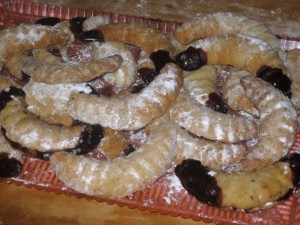 And here are few Christmas cookies my grandma made. You can find recipes for all these and more here.
Preparing the Christmas Carp
The main course on a Slovak Christmas table is a fried fish. A week or two before Christmas, families would go to the Christmas market to buy not just the tree but also a live carp. This carp would then be kept alive, in a bucket or in a bathtub (as I remember quite vividly from my childhood) until the Christmas Eve. It would then be killed and prepared for dinner. Below are pictures of my dad getting the fish ready. Hopefully you don't find these images disturbing. But I think it's important to realize that meat comes from living animals. It makes us appreciate what we eat more and be less wasteful with it.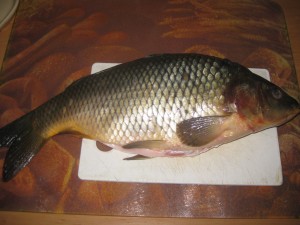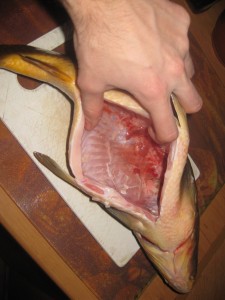 Start off by washing the fish. You next gut it and clean it from the inside.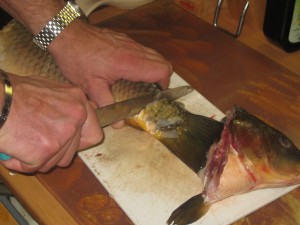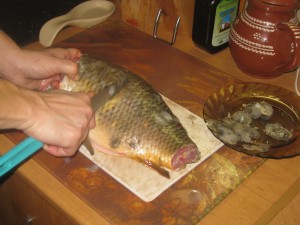 You then cut off the head and the tail. The final important piece is removing of the scales (šupiny). These hold a special meaning in our tradition. They represent money. Everybody is supposed to keep few of the scales from the Christmas carp in his wallet all year long to bring him or her wealth.
Slovakia in Winter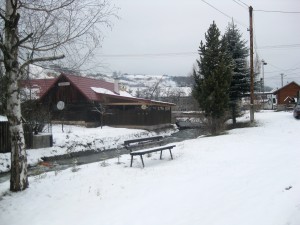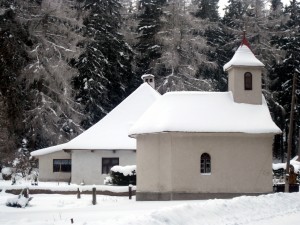 Finally, here are few pictures of Slovakia in winter. These two come from the area around my hometown of Banská Bystrica.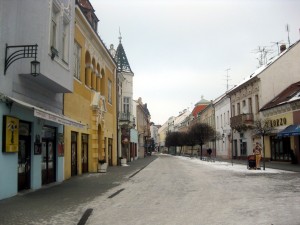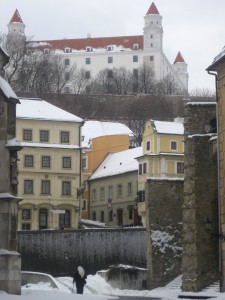 Here are Pieštany and Bratislava in winter. We traveled to Pieštany to attend a 90th birthday party for Helene Cincebeaux's mom.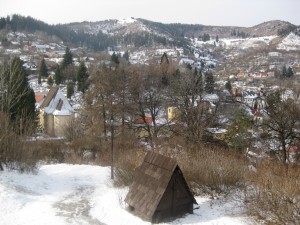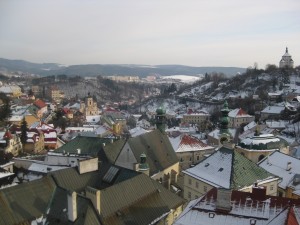 Both of these photos are from Banská Štiavnica, one of the several Slovak UNESCO World Heritage Sites.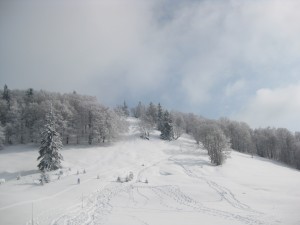 Winter is also an excellent time for a hike. Everything is so pretty and pristine covered in fresh snow. This is right above the ski resort of Donovaly. Can you spot the alpine soldier on training?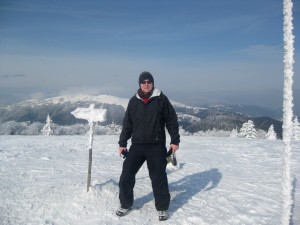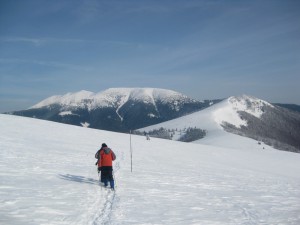 These two photos are little ways up. The ridge in the second one is Kozí Chrbát (goat's back). This is by the way the same route Alex and I took this summer on our through hike of the Low Tatras.
Subscribe to the newsletter.