Through-Hiking the Low Tatras – Part 2
This is the second part of our through-hike of the Low Tatras in Slovakia in the summer of 2011. Please check out the first part if you haven't done so yet.
Day 3, August 18th, 2011
We got a great sleep last night. It's amazing what a bit of privacy and a nice bed can do. We woke up to another beautiful, but cold, day. It's surprisingly chilli here in the mountains, especially when the sun goes behind clouds. The air is much drier so you get less of that residual heat you see on the humid east coast of the United States. Today was marked by a descent down to Čertovica and then gaining much of that elevation back on the other side. Čertovica (which has something to do with čert, a demon or the devil) is the name of a mountain pass and also a popular motorest, a road-side restaurant. The descend was devilishly steep, perhaps that's where the name comes from. We had bryndzové halušky. I wasn't too impressed with them. They tasted basically like flour balls, not sure if there were any potatoes in them at all. It seems that most restaurants nowadays serve pre-made halušky instead of making their own. These factory made dumplings seem to be primarily made of flour. The real home-made halušky consist of a mixture of flour and potato, with the potato making up a good half of the dough. We washed these down with a Kofola, a popular cola drink. The weather was beautiful – a sunny and a warm day. Sandals and the Jocks were there too, but they were eating their own food. Coming from the US, Slovakia is unbelievably cheap. A 0.5L (1 pint) beer will cost you only 1 euro! And typical lunch menu (soup and the main course) is only about 3 euros. So for 4 euros (6 dollars) you can get a two course meal plus a large beer. In many US pubs, just the beer alone will set you back that much. But, the lower prices are also a direct reflection of the lower incomes people make here so it's not so easy for the locals to splurge (but beer is still relatively cheaper than in the US).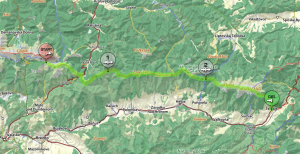 Click on the image for the bigger version of our hiking map for days 3-5. The markers indicate the end points for each day. Brezno in the lower left corner is the town I was born in. Map from freemap.sk.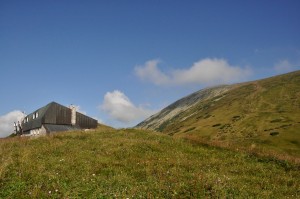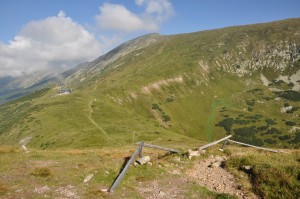 The first picture shows the hut of MR Štefánik, the place where we spent the second night. The hut is located just below Ďumbier, the highest peak in the Low Tatras. It is that dimple on the ridge near the middle of the second picture. You can see the hut in this picture as well. Slovak Partisans fighting the Nazi used this hut as one of their bases. It was never seized by the Nazis, the only direct attack was a grenade that landed in the kitchen.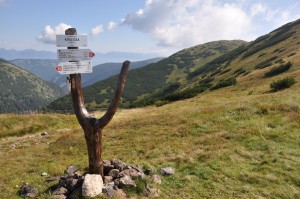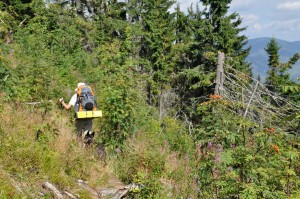 The trail junction at Králičká (1682m or 5518 ft). The second picture shows the overgrown trail past Čertovica.
After lunch we continued to Ramža, the shelter (útuľna) where we would spend the third night. The hike to Ramža took much longer than advertised. The whole day today was supposed to be only 4.5 hours according to the time segments on our map but really took 7. Part of it had to do with the trail past Čertovica being in a really bad shape. A storm blew through this area several years ago and downed many trees. Besides the downed trees, the trail was much overgrown and hard to follow in some sections. It was quite obvious that this is the least traveled part of this through hike. Hiking from Donovaly to Čertovica is a good weekend backpack and many people do that section. It is also popular with day hikers. Then, the opposite end offers another easy access and great views. This middle section was not as rich in vistas and didn't offer any good day hikes – and as such the only people who trekked this way were the through hikers.
Soon after we left the motorest a medium sized black dog started following us. Alex wanted to keep him, take him back to the US, and call him Tatra. But before that plan could be solidified, the dog decided to take off into the woods not to be seen again. Ramža is a shelter with a door and bunks on both ends. Alex ended up sleeping in his hammock. I slept in the bivy. It was super hot that night. Before we went to bed we all sat by the fire and socialized. The list of folks on this hike is: Sandals (a Czech couple), Lost & Found (another Czech couple), Glacier Goggles + Cig (yet another Czech couple), The Hungarians (four Hungarian guys living abroad reunited for the hike), the Jocks (2 Czech guys), and the Hippies (a group of six Czechs). We called Lost & Found that because they first found the pair of Alex's flip-flops he accidentally dropped on the trail the first day. I overheard them talking about finding flip-flops here at Ramža and they turned out to be Alex'. Then later on they found my bandana that also fell off somewhere.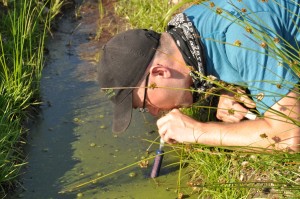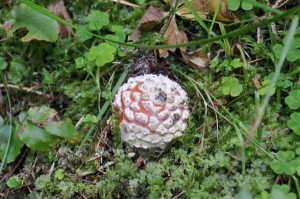 Alex brought with him this emergency drinking straw that is supposed to make water safe to drink. We came by this frog pond so I figured it's time to try it. The water tasted quite foul so I am not sure it was actually working. But I didn't get sick. The second picture is of a baby fly agaric or muchotrávka červená. It is probably the most famous toadstool and shows up in many fairy tales.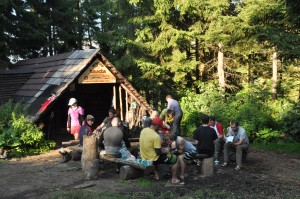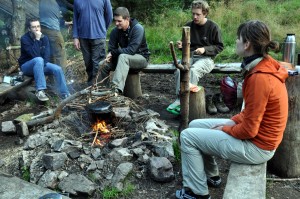 This is Ramža, our home for the third night. We ate our dinner by the fire. The hippies made goulash using various wild herbs and mushrooms they collected along the way.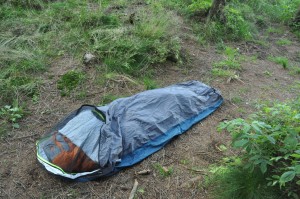 Here is my bivy. This was the first time I ever slept in one and it was actually quite nice, except that I got too hot. Unfortunately I lost the bivy few days later so I am again bivy-less.
Day 4, August 19th, 2011
Well yesterday we complained about the steep descent down to Čertovica. That was before we got to Priehiby. This was the steepest trail Alex and I have ever seen. Basically imagine some 45 degree straight-shot down. To make it worse, cover it with lose scree and gravel. We were going down really slow when all of a sudden the Jocks blew by wearing just sandals! Unbelievable! It definitely made us feel quite ridiculous. The path today was very hard to follow. Because of the storm and probably the ensuing clean up, the forest was criss-crossed by forest roads and often it was not clear which of them was the trail. It seems that this section had the trail markers in all the wrong places. We would see blazes every few feet inside a forest where there was no doubt where to go. But once we got to a junction with multiple trails / roads, the markers would all disappear.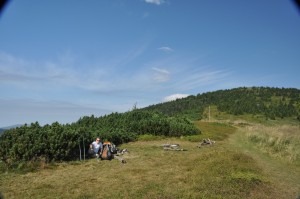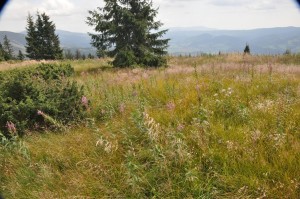 Here is another shot of the typical scenery on the Low Tatras ridge. Much of these peaks are covered in kosodrevina, or dwarf pines. The rest is covered in beautiful tall grasses.
We had lunch at Priehiby, which is another valley with a road, but this is one is much smaller than the one that goes through Čertovica. We filled up water from some creek, without filtering, because the Hungarians told us it was safe to drink. Well, later they were like "Can't believe you drank water from that creek, there were oil puddles near by!" But we didn't see any and the water seemed fine – and nobody got sick. Water from these mountain creeks is so refreshing. We got bit of a rain on the way up to Veľká Vápenica (the Big Lime Peak). It didn't rain much, we probably spent more time putting on our rain gear.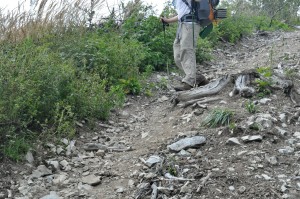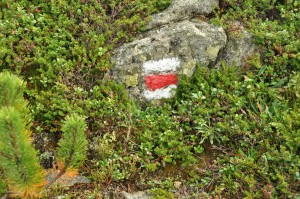 The ridiculously steep descent to Priehiby. This is one of those "you had to be there" situations where the picture doesn't do the trail justice. And some other scenic trail marker.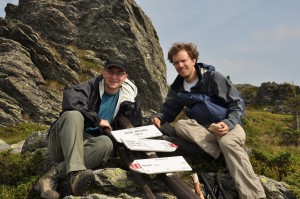 Here we are on top of Veľká Vápenica. The hut is not far away from here.
Andrejcová is on a hilly meadow. As soon as we got there we saw some guy washing himself next to the spring – totally nude and in plain sight! Andrejcová is another unmanned shelter just like Ramža. This hut is a little bigger than the first and has two floors for sleeping. Before going to bed we all again hang out by the fire and the hippies sang bunch of folk songs such as Pane Prezidente, Anička Dušička, and Macejko Macejko. Surprisingly they did not know that there was a song about Kráľova Hoľa, a prominent and the final peak we'll be climbing tomorrow.
In front of the hut is a meadow with tall grass and this is where I set up my bivy. The hippies also camped here and so did a group of 4 Slovaks. They were the first – and only – Slovak through-hikers we saw on this trip. They were going the opposite direction and told us it was really windy and cold on Kráľova Hoľa. They didn't seem very interested in socializing with us. Instead they kept boozing and smoking by their tents. One guy got so boozed up he couldn't even walk and had to be helped to his tent. We saw some flashes on the horizon before going to bed. I figured I'll just crawl into the hut if the storms comes by. But it only got windy. I ended up sleeping really well. This was probably the best sleep I got on the entire hike. Alex had a different experience. He stayed in the hut. One of the windows was broken and had a plastic bag over it to keep the cold air out. This bag kept flapping all night long keeping everybody up.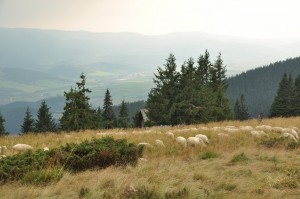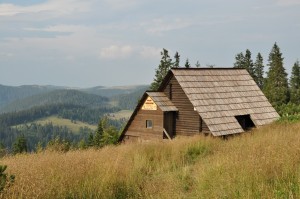 Just before we got to the shelter we came up on a group of sheep grazing on the tall grasses. Nearby was a salaš, or the hut where the shepherds live. The second picture shows the Andrejcová shelter where we spent the fourth night. I camped in front in the meadow.
Day 5, August 20th, 2011
Today was probably my favorite day of the entire hike. The trail to Kráľova Hoľa is unbelievably smooth. It was like walking on a carpet made of moss. And the views – unbelievable! The High Tatras finally peaked over the horizon. For a good part of the morning a long skinny cloud hovered near their base making them look as if they were floating in air on a soft white carpet.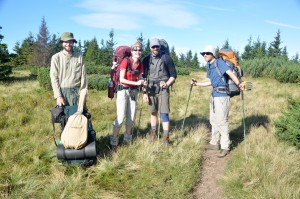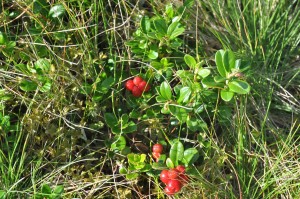 A little group shot shortly after leaving the hut. Here is one of the hippies, plus GG/C, and Alex. The hippies were out here collecting brusnice (cranberries). We later came up on a large group of gypsies rummaging the forest to probably sell them at a market. Great thing about hiking in Slovakia is the abundance of various forest berries. On this hike we were constantly snacking on cranberries, blueberries (čučoriedky), raspberries (maliny), and blackberries černice).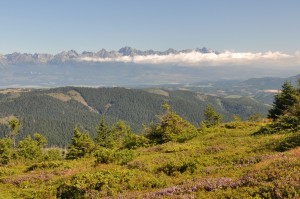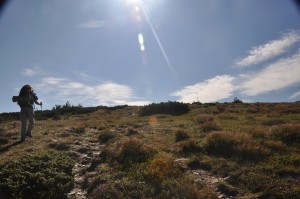 Our first look at the High Tatras. What an amazing sight!
The signs in this section were again off. The trail markers in Slovakia indicate the time, not the distance, to the next junction. This would be OK if the signs were actually correct. Sometimes we would hit the next marker right on schedule. But many other times, the markers were off – way off, sometimes by almost an hour. They were also not consistent. The marker on Orlová indicated that it was 1 hour to Stredná Hoľa, while the marker on Stredná Hoľa had only 20 minutes going the opposite way. The elevation difference between these two peaks was negligible – and it took us only about 20 minutes to do this section instead of the advertised 1 hour. We had lunch on one of the peaks with GG/C. Alex had his usual rice cracker with peanut butter. The other guys thought this was so weird – people don't really eat peanut butter in Slovakia or the Czech Republic.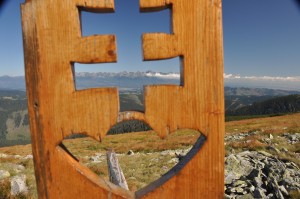 The Slovak national symbol carved from wood on top of Bartková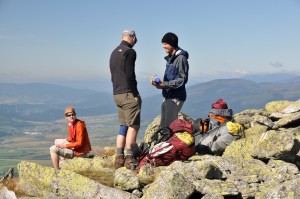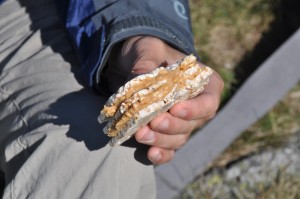 Our lunch on Orlová with Alex talking with GG/C about the merits of peanut butter.
We got to Kráľova Hoľa shortly after lunch. The Slovaks yesterday said it was really windy on top but we had much better luck. The weather was amazing. And to make things even more fitting, there was actually some choir on top singing Slovak folks songs! It was like a special welcome reception for our hiking party. The peak was full of people, at least 100 folks of all ages. After we took a short break, we descended from this madness. It is such a strange feeling after spending several days in a forest, and in relative solitude, to come upon so many people and kids running around in one place. The descend to Telgárt was long and steep. Lost & Found caught up with us at the bottom of the trail. We walked to the town together.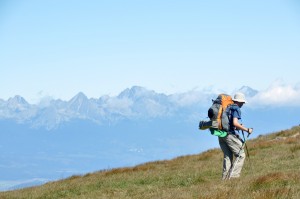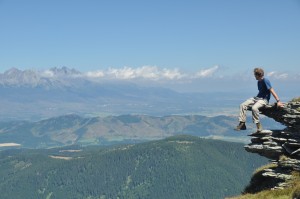 Few more scenery shots with the High Tatras in the background.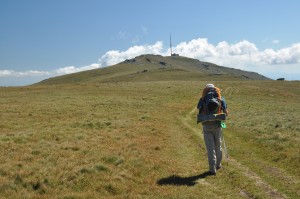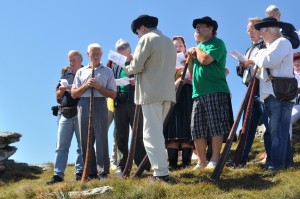 And there she is – Kráľova Hoľa (meaning king's hoľa, I think hoľa is an old word for a peak). The folk song sings about a green tree that stands on its summit. Well these days the only thing that stands on top is a TV antenna. As we started getting closer we started to hear this folk choir perform various folk songs.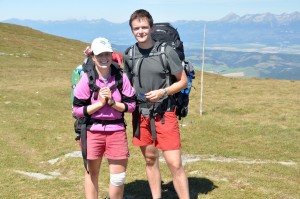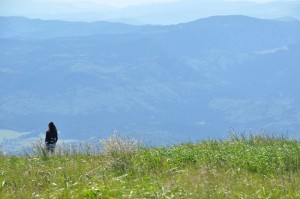 Here is Sandals. They took off shortly after not to be seen again. And yet another scenery shot. I particularly like this one; to me it really nicely symbolizes the relaxed feel of the Slovak countryside.
Alex and I originally planned to spend the night here and then head to the Slovak Paradise National Park the next day, but we couldn't find any accommodations. There are few small hotels and penzions in Telgárt but they were all full because of the folk festival. Turns out, the singing on top was a part of a much larger event. We saw many different people dressed in the old traditional folk costumes, kroje. Not knowing what to do, we took the bus to Poprad with everyone else. There in Poprad we got us a room in Tatra Hotel right by the bus/train station. We got a nice big room for 40 euro for both of us. Rates like this (~20 eur per person) are quite common in Slovakia. Some penzions are even cheaper and charge only about 10 eur per person. Hotels always charge per person, not per room the way it works in the US.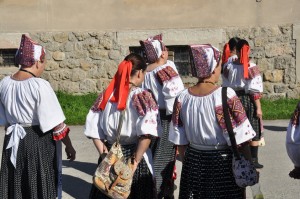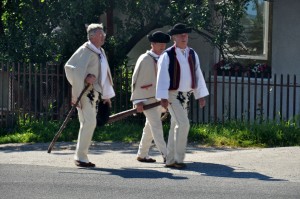 Few folks in the old traditional outfits (kroje) we ran into down in Telgárt
We then walked back to Reštaurácia Orol (Restaurant the Egle), where the other guys were hanging out and having beers. They were catching a midnight train back to Prague so had few hours to kill. We had great dinner there – make sure to stop by if you are in town. I had diabolská zmes (devil's mixture) while Alex had the black-mountain schnitzel. It was similar to what my grandma calls a shepherd's steak. Out here I realized I left my hiking stick on the bus. Well, actually my dad's hiking stick. And to make things even worse, it's possible I also left the bivy on the bus as well. I only realized the bivy was gone three days later when we were checking out of the hotel. This was bit of a bummer, since I just got it and started really getting into it. Hopefully it found a good new home.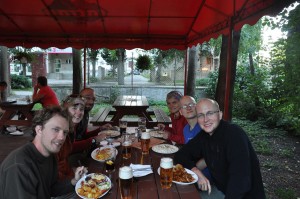 And our last dinner together in Restaurant Orol near Poprad's bus station. On the left you got Alex, GG & C, and then on right is me, and Lost & Found
Did you like this article? Continue on onto the High Tatras. Also, please share the link with your friends to let them know about the beautiful Slovak country side.
Subscribe to the newsletter.