Detva's Temper (Detvianska Nátura)
Detva is a city of some 15,000 inhabitants, straddling the Poľana mountain range located just south of my hometown of Banská Bystrica. The region around Detva is called Podpoľanie, which means "Below Poľana". It is one of the most famous of all tourist regions in Slovakia. And for good reasons. It is famous for folklore music, fujara, baggy traditional outfits (kroje) with bare stomachs, and many folklore festivals. This region is also known for hardy men, men who don't shy away from adding little spice to their dishes. It is part of their temper (nátura). And here is the recipe for the famous dish from this region, Detvianska nátura, which is also sometimes referred to as Diabolská zmes, the Devil's mixture. The recipe comes from here.
Ingredients 2 beef pork round steaks (about 0.6lbs), half an onion, hot peppes, salt, black pepper, 50g mushrooms, lečo (or one bell pepper and one tomato), 1 teaspoon mustard, 1 teaspoon ketchup
Prep Time: 30 minutes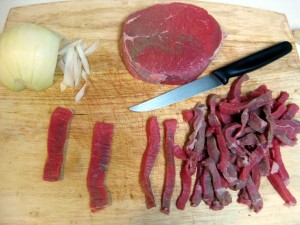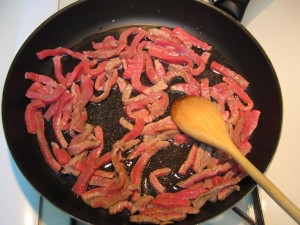 Start by cutting the meat into thin noodle strips. Do the same with the onion. Then sear it on hot oil from both sides for a minute or two.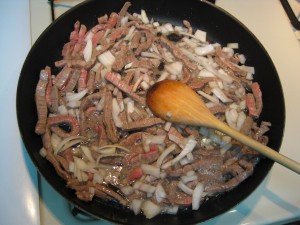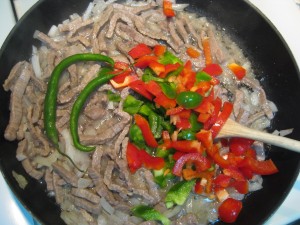 Add the onions and cook until they start turning golden (another few minutes). Then add the remaining veggies: hot peppers, mushrooms, and lečo. If you don't have lečo handy, you can substitute diced bell peppers and tomato.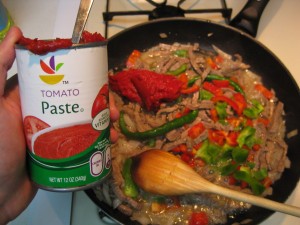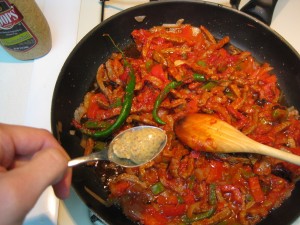 But not having that either (the tomato, that is), I put in some four tablespoons of tomato paste. And to give it more color, I used half of a green pepper and half of a red one. Also mix in one teaspoon of mustard (I used the horseradish, chreň, kind), and the same amount of ketchup.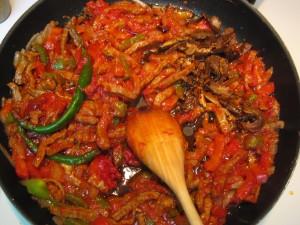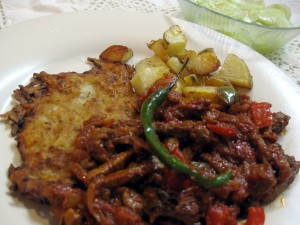 Season to taste with salt and pepper and continue braising until the veggies soften. I added about a cup of water to thin the tomato paste. Also, the peppers were not hot at all. So I added about a teaspoon of ground cayenne pepper. I chose those peppers as they looked very much like the kind that's used in Slovakia, called ram's horn, baraní roh. If I remember right, they are much hotter overseas. Serve with rice, potatoes, or potato pancakes. Or, even IN a potato pancake… Dobrú chuť.
Subscribe to the newsletter.