Christmas Cookies Part 3: Rings (Venčeky)
And here is the final recipe from my pre-Christmas cookie baking with my mom this past weekend. If you haven't checked out the previous two, they are heart-shaped jam-filled shortbread cookies, and two colored zebra cookies.
Both of those are really delicious. But nowhere as delicious as these little sugar rings or wreaths (venčeky). These are my favorites!
We ended up using half the amount listed below. The recipe comes from the same Czech collection we used in making the zebra cookies.
Ingredients: 250g flour, 250g margarine, 100g ground hazelnuts or almonds, bit of salt, half a spoon of cinnamon, 1 teaspoon of orange zest and juice, 1 egg, 5 spoons of white wine
Prep Time: about 2 hours plus 15 minutes for baking.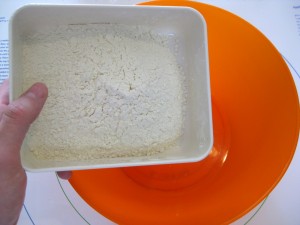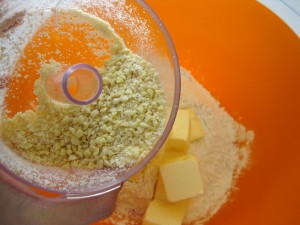 Start by adding the flour. Then add the margarine and the ground nuts. I used almonds instead of hazelnuts. I don't know if there is a mistake in the original recipe, or if the margarine was too melted, but the recommended amount of margarine resulted in the dough being too sticky to work with. We had to add more flour. So when you are making these cookies, use less margarine to begin with and add more as needed.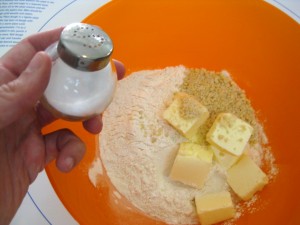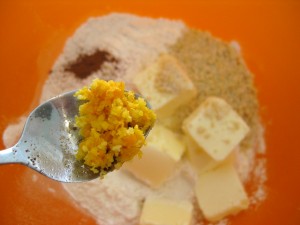 Then add a hint of salt and the grated orange zest.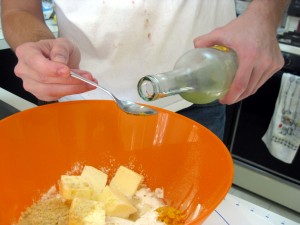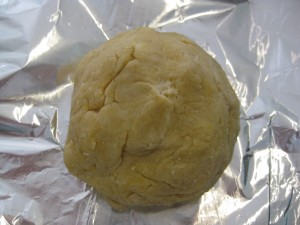 And a little wine (víno) for good taste. Form into a ball, wrap in foil, and let cool in the fridge for 30 minutes.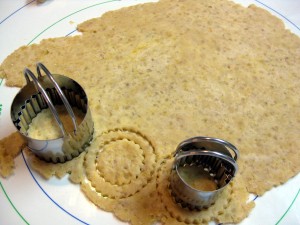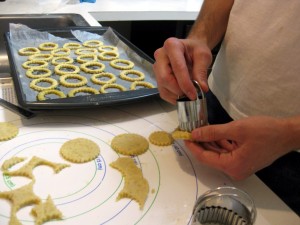 Then roll the dough out, and use grooved cookie cutters to cut out the rings. My mom picked up this set of 5 cutters in Williams & Sonoma for 16 dollars. Cut out the big circle, lift off the the dough from the mat (use a knife if stuck), and then cut out the middle section. Bake on baking paper for about 15 minutes at 350F, until they brown and the margarine stops sizzling.
Coating in sugar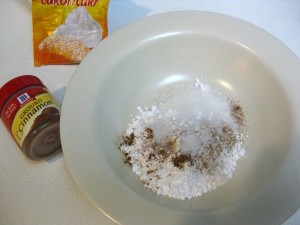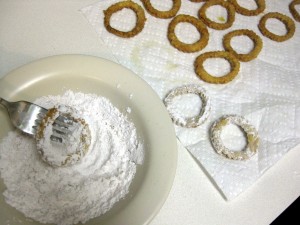 While the cookies are baking, mix the powdered sugar with vanilla sugar and ground cinnamon. Coat the cookies in this mixture while they are still hot. I also had some left over chocolate from the making the marble cookies, so I dipped few in chocolate as well.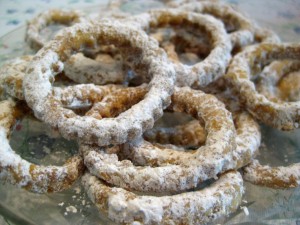 And that's it, super easy! Enjoy.
Recipe #100!
By the way, this is recipe #100. This site started about year and a half ago with me knowing how to make only a handful of Slovak dishes. It's been a great journey since!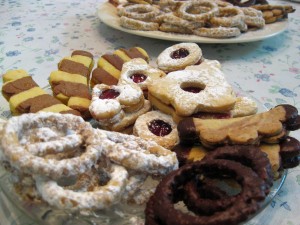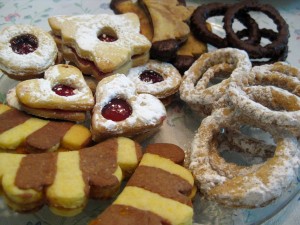 And just few more photos of the cookies we baked to tease you. They were delicious! Veselé Vianoce (Merry Christmas).
Don't forget to check out Parts 1 and 2, jam-filled hearts and two-color cookie "combs".
Subscribe to the newsletter.