Bryndza Pierogi (Bryndzové Pirohy)
Ingredients: about 2 potatoes, some 2 cups flour, one egg, salt, bacon, bryndza
Prep Time: 30 minutes
Pirohy (pierogi) are not as common in Slovakia as in, let's say Poland. There they are stuffed with all kinds of fillings. There are pierogi filled with meat, mashed potatoes, curd cheese, onions, or even sweet jams. But one kind you will surely find on your travels in Slovakia are bryndzové pirohy, pierogi filled with the special Slovak sheep cheese, bryndza. This cheese is also used to make the Slovak national dish, bryndzové halušky.
My family did not use to make pirohy. But lucky for me, a lady named Helka helps out in my dad's restaurant and she makes amazing pirohy. So I had her show me how they are made. Below is the recipe for the authentic Slovak pierogi. All the cooking was done by eye, so the above ingredients are only my best estimates.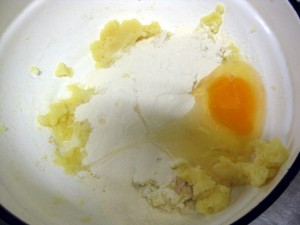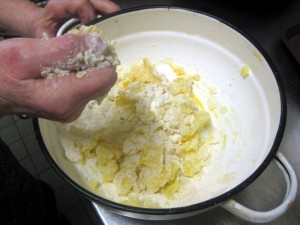 Start by cooking few potatoes (zemiaky). Cook them until they are quite soft and mash them by hand. Add about a cup of flour (múka), one egg (vajce) and about a tablespoon of salt (soľ). Mix everything together by hand. Then add more flour until you get a fairly stiff mixture. Also place a large pot full of salted water onto the stove.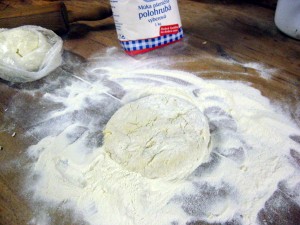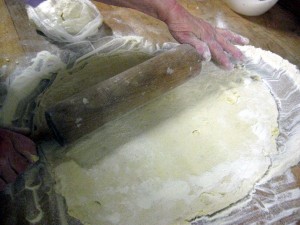 Form the dough into a loaf and place it onto a dusted board. Dust top with flour to prevent the pin from sticking. Roll out to an about 3 millimeters thick pancake.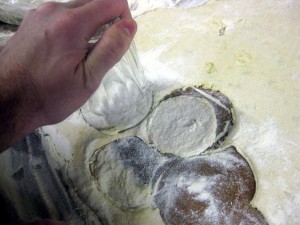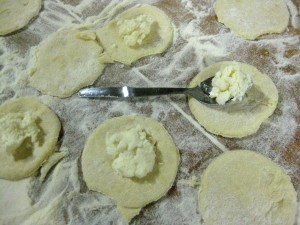 Then take a drinking glass and cut out circles. Do this by pushing down with the glass and twisting your wrist left and right few times. The dough will come out with the glass. Top each circle with a teaspoon worth of bryndza. If you don't have bryndza, you can imitate it by mixing feta with sour cream.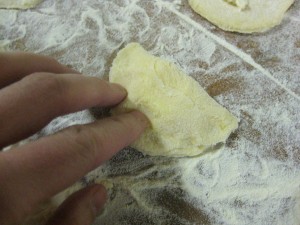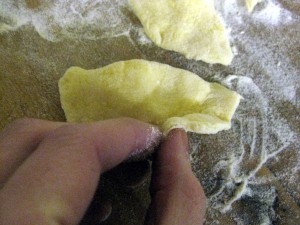 Fold the circle over and pinch the seal closed with the tip of your fingers. Then, to make the pirohy look prettier, grab the seal between your fingers and twist about 60 degrees. Do this at few spots.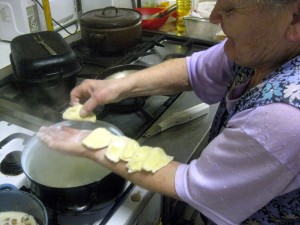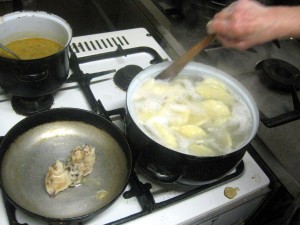 Place pierogi into the pot of boiling water. I found it really neat that Helka uses the same technique for transporting dumplings as my grandma – by placing them onto the back side of her arm. Right after placing them in water, scoop them up with a wooden spoon to keep them from sticking to the bottom. Pierogi are ready when they float to the top. Scoop them out using a large strainer.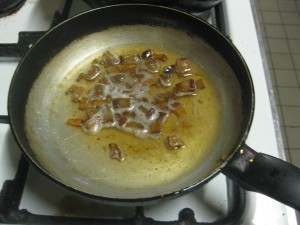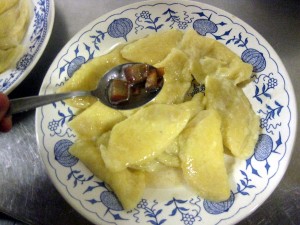 Bryndzové pirohy are topped with škvarky, fried bacon bits. Prepare these by cutting good thick smoked bacon into pieces about inch long and frying them until the white fat part dissolves away. Top pierogi with few spoonfuls of grease and then with the bacon bits. Finally top with sour cream (kyslá smotana).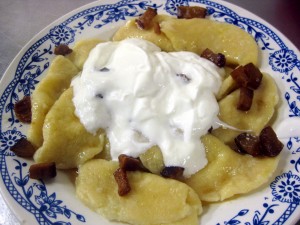 And there you have them, delicious Slovak homemade bryndzové pirohy. Serve with a glass of žinčica, sour sheep milk which is bit similar to kefir.
Subscribe to the newsletter.