Punch Cake (Punčové Rezy)
It's been almost three months since my last recipe (the baked trout posted on January 18th). No worries, I did not forget about this site! As some of you may know, over the past four years I've been working on my Ph.D. in Aerospace Engineering at the George Washington University in Washington, D.C. Well, the time has come for me to graduate. The deadline to defend and submit my dissertation was April 1st and it was definitely a huge push to get everything done in time (just ask my gf, I think she was more excited about me finishing than me). But finally, it's done! I am still waiting on my status to officially change to "degree awarded" but once that happens, I'll be done with school, for ever (I hope).
To celebrate being done, I decided to bake one of my favorite Slovak pastry-shop cakes called punčové rezy. This translates to punch slices. Now, I don't claim to be a great cook, but I am definitely a better cook than a baker. One of my goals for this this year is to get better at baking so you will see a lot of cakes coming up. Sometimes they will turn out better than other times. This one is in the so-so category. I blame too many eggs. The recipe I followed did not specify the size of the eggs, and I, without even thinking about it, used large eggs. The resulting cake has bit of a consistency of a quiche, not the crumbly, melt-in-your-mouth texture I anticipated. Hence, when you do this cake, either use small eggs, fewer eggs, or more flour. I weighed all my ingredients on a kitchen scale but also included volumetric measurements. These come from online convertors, so I don't guarantee their accuracy. Also, you may want to divided the dough ingredients into two groups: one containing 2/3 of the total amount, and the other containing the remaining 1/3. This is because you will be baking 3 layers, one of which is red. I did this "by eye".
Dough: 15 small/medium eggs, 300g (1.5 cups) crystal sugar, 300g (2.4 cups) all purpose flour, 1 tablespoon baking powder, jam, red food coloring
Syrup: 400g (2 cups) crystal sugar, 1.5 cups water, rum
Icing: 200g (1.8 cups) powdered sugar, 4 tbsp hot water, red food coloring, lemon juice
Prep Time: 2 hours, plus overnight in the fridge, and another few hours for the icing to set
Layers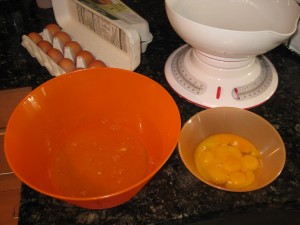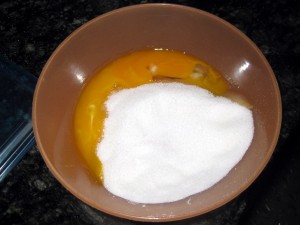 Start by separating the yolks from the whites. Add 200g (1 cup) sugar to the yolks.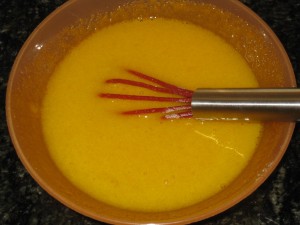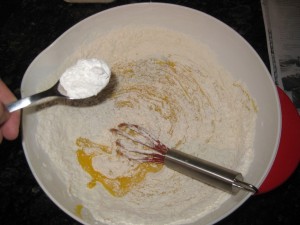 Whisk the yolks (this is delicious!) and gradually mix in the flour mixed with the baking powder. You will end up with a "Nilla wafer" dough, piškótové cesto.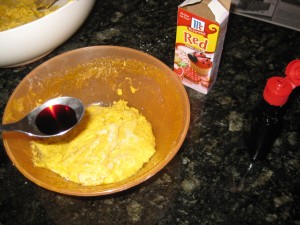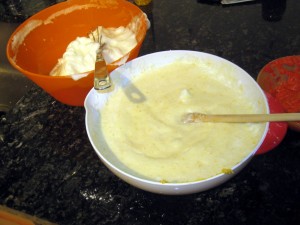 Next, separate (approximately) one third of the dough into a separate container. Mix in few drops of red food coloring. You can also alternatively separate the yolks prior to adding flour and mix in the color. Whisk the remaining sugar with the egg whites until you get stiff peaks.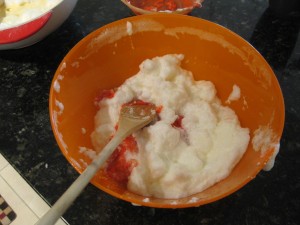 Gradually mix in two-thirds into the yellow dough and the other one-third into the red dough. You will end up with a liquid dough.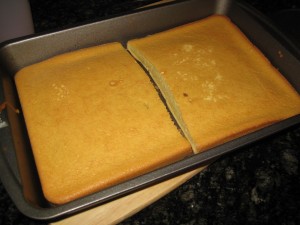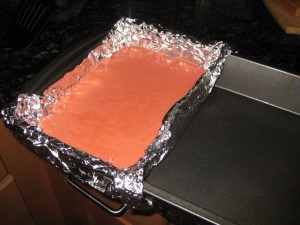 Next line a deep baking pan with parchment paper or grease well with oil. Use a pan bigger than 11x7x2 which is unfortunately all I had available. This gave me a cake that was too tall. Bake the yellow dough first. The recipe I followed did not specify the time or temperature so I baked at 350F for about 30 minutes, until the inside was done. Cut the yellow dough into two halves. Next bake the red dough. I constructed a "half-pan" that matched in size one of the yellow layers.
Punch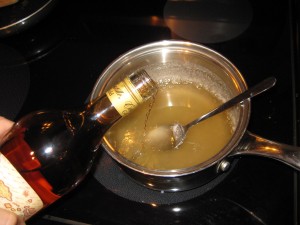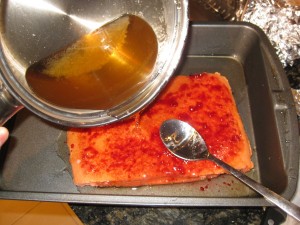 While the dough is cooling, prepare the punch syrup. Mix the sugar with water and cook until the mixture becomes liquid. Let cool (be careful this liquid is very hot even when not bubbling!) and mix in enough rum to make it tasty and liquid. I used about one cup. Then soak the red layer in this punch.
Assemble the Cake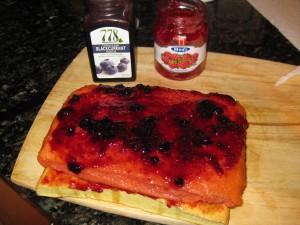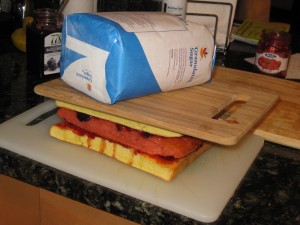 Join the individual layers with a jam of your choice. I used a mixture of raspberry and black currant. Drip the remaining syrup over the top yellow layer. Cover, weigh down, and let sit for at least 12 hours in a cool place.
Icing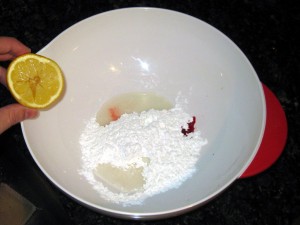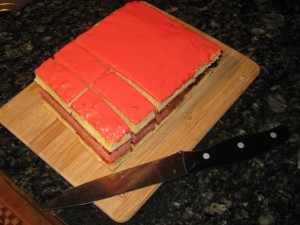 Prepare the icing once the cake sets (the next day). Blend the icing sugar with the hot water, few drops of red food coloring, and one half of a squeezed lemon. Spread the icing on top and again let set. Finally cut with a wet knife. Enjoy!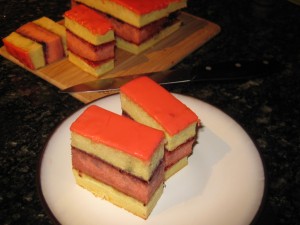 My cake ended up quite dry and thick, sort of like Nilla wafers. I suspect this was due to not enough flour / too much egg. Hopefully you'll have more luck with yours. Have fun!
Subscribe to the newsletter.