Potato Knedla (Zemiaková Knedľa)
If you are familiar with Slovak or Czech cuisine, you surely know that one of the most unique features of our cuisine is knedľa, large bread-like dumpling that is served with main dishes. It goes really well with stews – such as segedin goulash or goulash with dumplings.
The regular type of knedľa is made from flour, yeast and egg, and is cooked in hot steam. However, there is also another kind, the kind shown in this recipe. This one is made from potato flour, and if I am not mistaken, this kind is more popular in the Czech Republic. Here is the recipe:
Ingredients: 2 medium sized potatoes (400g), 1 cup (125g) flour, 1 egg, salt, extra flour
Prep Time: about an hour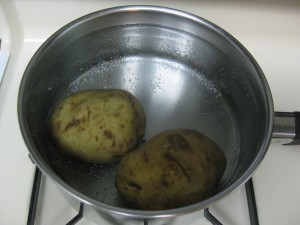 Cook the potatoes (zemiaky) with their skin still on in salted water until they are soft. This will take about 30 minutes. Also put a big pot of salted water onto the stove once the potatoes are done. Bring to boil while making the dumplings.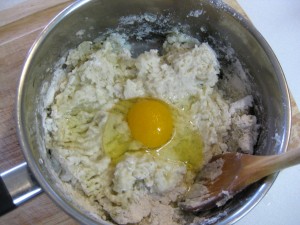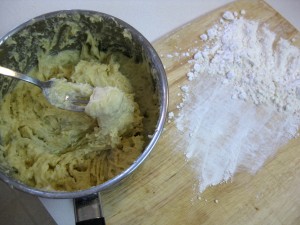 Let the potatoes cool off by pouring out the hot water and replacing it with cold one. Let sit for about 10 minutes. Then peel off the skin (this will come off easily by hand, you don't need a potato peeler). Then grate the potatoes or mash them. I recommend you grate them, it's easier than mashing. Add one cup flour (múka), one egg, a dash of salt (soľ, to taste), and just a tiny amount of lukewarm water, if needed. Mix everything together to get smooth dough of medium consistency. As my grandma said, neither soft nor hard…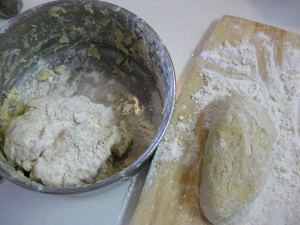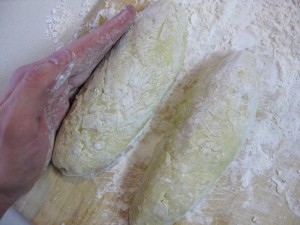 Next dust a rolling board with flour and also use some flour to coat the dough so you can handle it. Divide the dough into two section. Roll each into a long cylindrical dumpling.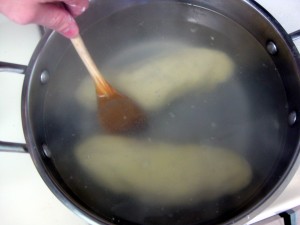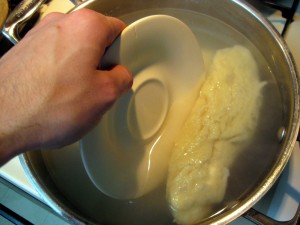 Carefully move the dumplings into the boiling water from step 1. They'll probably stick to the bottom, so use a wooden spoon or a spatula to unstick them. Cover the pot and cook for about 12 minutes. Then to remove them, what I found to work great is two coffee cup plates. Hold one on each side of the dumpling and lift it up. Just be careful when doing this as some of the hot water will remain on the plate. Place the dumplings onto a plate. Let them dry for few minutes and then rotate both dumplings upside down so the bottom side gets dry as well. To serve, cut out slices quarter to half-inch thick with a knife or using a thread.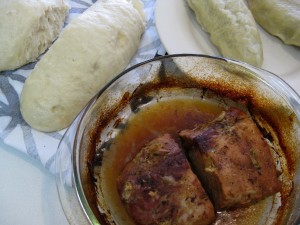 And here is how the dumplings look: regular knedľa on the left and the potato one on the right.
Tweet
On Twitter or Facebook? Connect with us. Prefer email? Subscribe to the newsletter.