Home-Made Noodles (Domáce Rezance)
Ingredients: 1lb of all-purpose flour, 1 egg, dash of salt, water
Prep Time: 30 minutes
My grandma makes the best ever chicken noodle soup. I think her secret is in that she makes her own noodles. In this recipe, I show you how you too can make your own pasta. Turns out, it's quite easy!
Make the Dough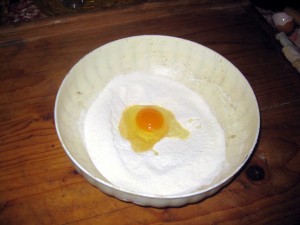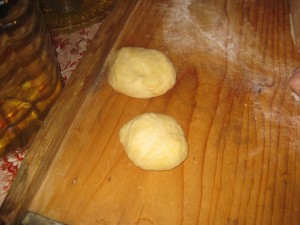 Start by combing flour (múka), salt (soľ) and the egg (vajce). Add about a small cup's worth of water (voda). It's better to start with less water and add more as needed. Knead well in the container and also on a floured surface until you end up with a smooth, silky dough. It should not be watery. Roll into a tube few inches in diameter and cut into three sections.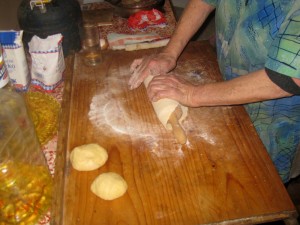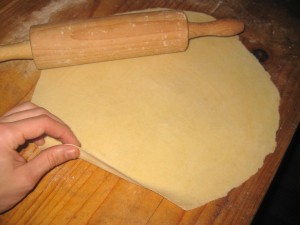 Then take one of the pieces and place it onto a floured section of your working board. First flatten it with your hand. Then roll it few times with the rolling pin using short back-and-forth motion. Turn the dough over and keep rolling. Repeat. You want both sides to be nicely covered in flour, otherwise the dough will stick either to the board or to the rolling pin. So add flour as needed. Keep rolling, dusting with flour, and flipping over until you have a thin pancake no more than a millimeter thick.
Dry it
Place the dough onto a cloth and set aside for some 5-10 minutes. In the mean time, work on the other pieces. You are letting the dough dry a bit so it becomes easier to cut. Don't dry it too long otherwise it hardens and becomes too brittle.
Cut Noodles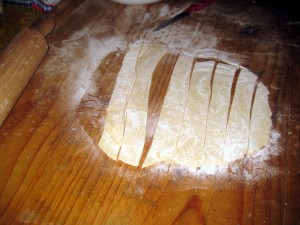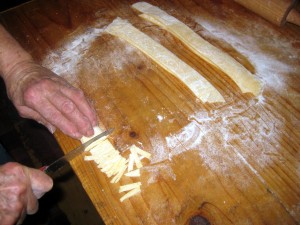 And now the fun part: cutting noodles. Dust the top surface with flour and slice the circle into rectangular sections about 1.5 inches wide. The width of these rectangles determines the length of your final homemade noodles. Stack few strips on top of each other (the flour you just added will prevent them from sticking) and with a sharp knife, cut the noodles.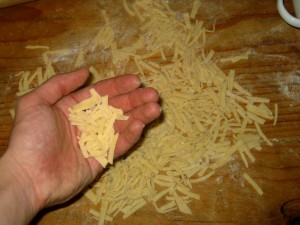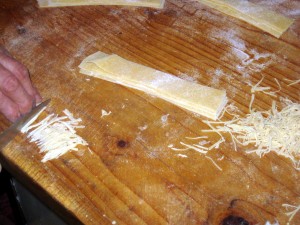 Make them pretty wide for poppy seed noodles (rezance s makom), and much thinner for the chicken noodle soup.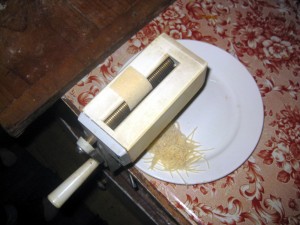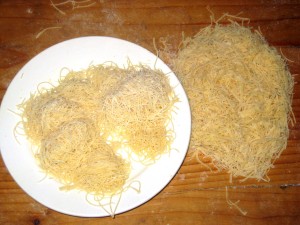 Turns out, there is also a gadget that will do the cutting for you – a little mill for noodles (mlynček na rezance). To use this device, you cut the rectangles into smaller pieces. Now the length of the rectangle will determine the length of the resulting pasta. Noodles from this mill look quite similar to the ones my grandma cut by hand but were round in cross-section.
Cooking Noodles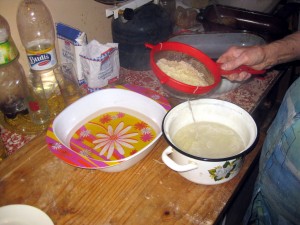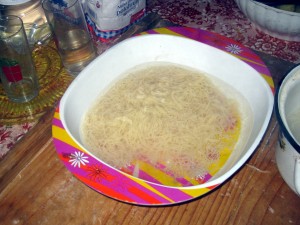 When it comes to cooking noodles for a clear soup, it's important to cook the noodles separately. Otherwise, the flour will make the soup milky. When pasta is ready (cooking time will depend on the size), strain and place the noodles into another bowl containing cold water.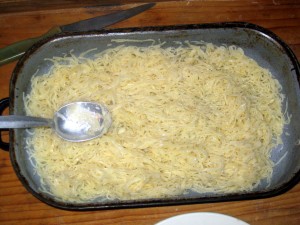 Let sit for few minutes and then strain again into another container. Add a spoonful of oil to make the noodles even more delicious. You can refrigerate them like this, or use them right away in the chicken noodle soup.
Subscribe to the newsletter.