Hungarian Goulash (Maďarský Guláš)
Ingredients: 2lbs beef chuck (cubed), 1 green and 1 red large bell pepper, 3 tomatoes, scallions (or leeks or onions), 4 cloves of garlic, 1 tablespoon of tomato paste, paprika, red pepper, ground black pepper, salt, caraway (ground is better), marjoram
Prep Time: Only about 20 minutes to get everything going, but some 3 hours for stewing
I love Hungarian goulash! Goulash, the traditional dish of Hungary, refers to a beef stew cooked with the sweet powdered red pepper. At least, that's how it's now known. This spice, paprika, did not enter Hungarian cuisine until the 16th century. Goulash, on the other hand, was prepared by Hungarian shepherds as far back as the 9th century (these facts come from foodtimeline.org). Goulash is a great dish to prepare while going about other business, such as herding sheep – or mowing the lawn. It takes only some 20 minutes to get the brew going. It can then be left on its own to stew for hours.
Goulash can be either soupy or saucy. In Slovakia, the word guláš or gulášová polievka refers to the goulash soup made with potatoes and eaten with a spoon. Hungarian goulash (maďarský guláš), on the other hand, is the name for a thick stew eaten as the main course with a fork and knife, and served with a helping of the steamed dumpling. What a great combination! You cut off little pieces of this dumpling and use them to soak up the sauce – and "lick-clean" the plate.
Hungarian goulash is a spicy dish. In fact, it is one of only two spicy dishes common in Slovakia I can think off, with the other one being something called Detvianska nátura (recipe to be added later). It is often prepared with canned pepper and tomato combo called lečo. However, this is done just out of convenience, and you can just as easily prepare it using fresh veggies. In making this dish, I followed a recipe posted on a Slovak website. This resulted in a very authentic taste. But there are many variations on this recipe. For few others options, check out Sandy's recipe, recipe from Hungary Guide or another one from Budapest Tourist Guide. With all this said, let's get cooking!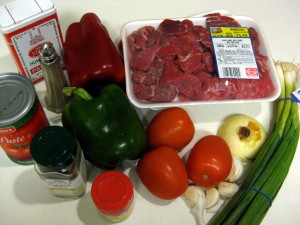 Here is what you'll need, but once again, I forgot a crucial item: cayenne pepper. Hungarian goulash is a spicy dish and this is a must!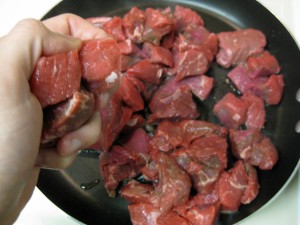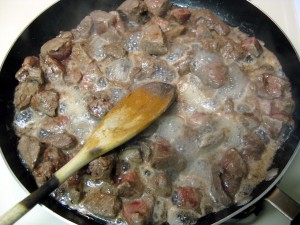 Heat up oil (olej) in a large frying pan. Then slowly add the meat (mäso). The oil may splatter so be careful. Brown on all sides. This will take 5 to 10 minutes. Meat is browned before cooking to create a hard shell to keep the juices in. I am not sure why meat is also browned before stewing. Perhaps it helps keep the chunks together.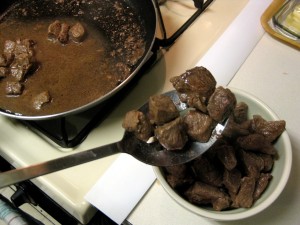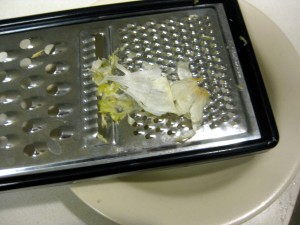 Next remove the meat, leaving behind the brewing sauce. In the next step, you will add various seasonings, including garlic (cesnak). One trick I learned from my grandma is that there is no need to peel garlic. Simply take an unpeeled clove, and mince it using a food grater. The hard shell will stay behind!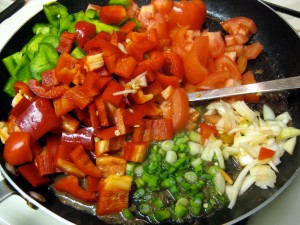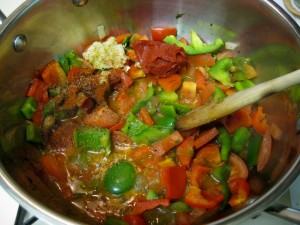 Now add your chopped up veggies (zelenina) and brown them for a bit. Don't forget to add the spices: minced garlic, caraway (rasca, ground is better, but I used whole), salt (soľ), ground black pepper (mleté čierne korenie), paprika (Hungarian dish without paprika? Impossible!) and a spoonful of tomato paste (paradajkový pretlak).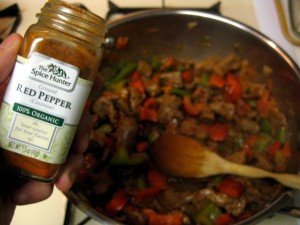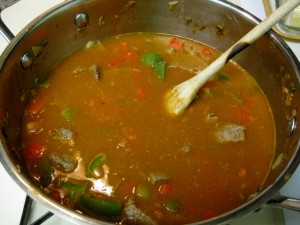 Then the final spice: hot pepper (štiplavá paprika). When adding red pepper, remember that the concentration will increase as the water content evaporates. Put the meat back in and add enough water (voda) to cover it. Feel free to move everything to a bigger pot if you need to, as I did. Reduce the heat once the water starts to boil.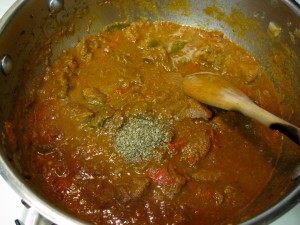 Cover and wait. And wait. It will take about 3 hours for the meat to soften. I spent this time watching Julie & Julia. Great movie, just to bad Julia Powell decided to write her follow up book outlining (in gory detail according to reviews on Amazon) her various affairs and infidelities. Quite a different image of her marriage than the movie portrayed. In the last hour or so, I moved the lid slightly to a side to allow the steam escape. This helped thicken the sauce. The resulting sauce should be pretty thick – about one second gap thick. This means that if you run a wooden spoon through it, it will take at least a second for the gap to close up. Just as the sauce is starting to get ready and the meat is nice and tender, add some marjoram (majorám).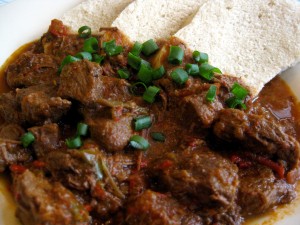 Serve on a dinner plate with 3 or 4 slices of the steamed dumpling (knedla). It was delicious! I offered a plate to my roommate and he pretty much licked the plate clean. This dish is almost always topped with a dried cayenne pepper, known in Slovak as baraní roh, meaning ram's horn. Not having any, I chopped up some onions. Note, this photo was taken the following day (the first batch was eaten at 1am) and the sauce thickened overnight. So I added water to thin it, but slightly too much. Hence the slightly watery look to the sauce. Enjoy and dobrú chuť!
Subscribe to the newsletter.