Slovak Cooking Lesson at Chicago Folklore Festival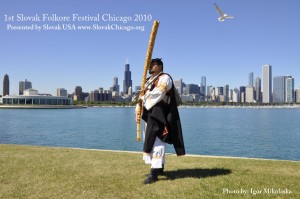 The second Saturday of September 2010 marked the first presentation of Slovak Folklore Festival Chicago. The festival was put together by my friend Igor Mikoláška with financial support from the Office for Slovaks Living Abroad, USZZ. Igor organizes events for Chicago area Slovaks through Slovak USA Chicago. The festival featured bunch of talented folklore groups, live music, dancing, food, and… the drum roll please … a Slovak cooking lesson by me.
Train to Chicago
This was my first visit to Chicago in over 15 years. I got there Friday morning, in time for little sightseeing, and in a somewhat unusual way: by taking the train. I had always wanted to take Amtrak somewhere, but there just never came a good opportunity – until now. Unlike in my native Slovakia, trains are not the most convenient way to travel in the USA. There are only few routes available, the trains run just once a day, and just about every where you want to go requires you passing through Chicago. Which in this case, worked out great. The train is also painfully slow with the trip from D.C. to Chicago taking 17 hours. That's only 40 mph on average! But it has one thing going for it; that it's the best way to actually experience the journey. I love taking trains! Few years back, my friend and I traveled from Munich to Ulan Baatar almost completely by train. It was an amazing experience!
The ride was very enjoyable, and I spent most of the time in the sunny observation car. Unlike in Slovakia, where you can buy a single bed on an overnight train, Amtrak requires you to reserve the whole compartment. This only makes financial sense if you are traveling with company. Those not traveling in a compartment sleep in the coach section, which is similar to airplane seating, except that the rows are spaced much further apart. The seats recline back, and the bottom of the seat has a foot rest which can be extended. Blankets are not provided, so do bring your own. It would also help to bring some eye shades and earplugs as there was commotion all night long with people going to the bathroom. The train had a restaurant car, which served surprisingly tasty food, and a bar selling coffee, tea, beers and little snacks. If you want to find out more about taking train in the USA, check out seat61.com. It's an amazing site with a ton of great info.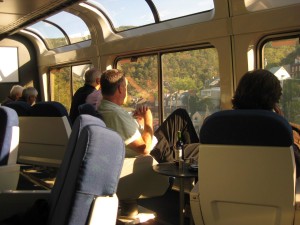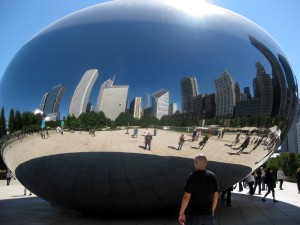 In the observation car just as we were passing Harpers Ferry, WV, and also a shot by Chicago's famous "bean" in the Millennium Park.
In the Windy City
I stayed with Igor. Drahoš Daloš, famous Slovak musician and instrument maker, and Marek "Markuss" Adamec, DJ on Slovakia's Radio G3, also stayed with him. I had never met either of these guys before, but they were a great bunch. Drahoš brought along several of his handmade instruments, including píštaľka (whistle), koncovka (a longer version), and fujara, the traditional Slovak long shepherds pipe. You can see photos of his handiwork at fujaradd.sk. Drahoš also brought along gajdy (bagpipes) and drumbľa (mouth harp), and played for us while we sat on the porch sipping wine.
The next morning, the festival activities kicked into full swing. Drahoš and Igor left early to prepare the festival hall, while I went about shopping for ingredients for the cooking lesson. As I knew I wouldn't have access to a full kitchen, I settled on dishes that could be prepared easily without much equipment, outside of boiling water. I also wanted to showcase the diversity of Slovak food by offering an appetizer, main dish, and sweet after meal treat.
The festival started at 4pm. Marek moderated the event, and after a short introductory remark by Igor, introduced the first performers to the stage, Limbora folk group from New York. Next came Omladina, Moravian dance group from Chicago. They were followed by dancers from Chicago's Veselica folklore ensemble, and their children's group, Veselička. Drahoš then took the stage and played the fujara, traditional shepherds long pipe. This instrument requires several years to make, as it takes at least 2 years for the wood to dry up. Drahoš was followed by Siumni Polish Dancers and Balkanske Igre, also from Chicago. Limbora and Veselica took another turn, and closed the event. After a short break, Pajtáši took the stage and provided music to dance to.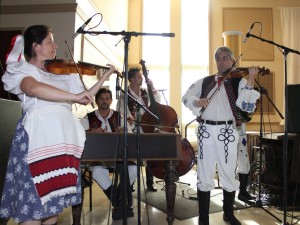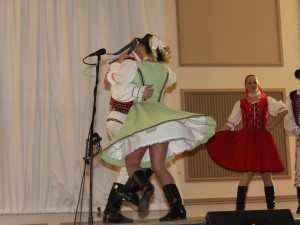 Pajtáši and folk dancers. Photos by Jerry Gusty.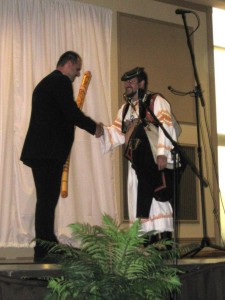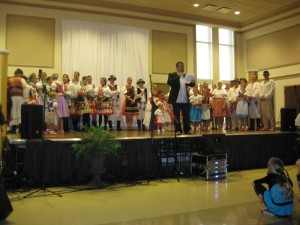 Igor receiving the traditional Slovak fujara instrument hand crafted by Drahoš Daloš. Also Marek "Markuss" Adamec introducing the performers.
Videos of Folklore Performances
Below you'll find several videos I took at the festival. These were recorded with my Canon PowerShot point-and-shoot camera.

Slovak folk dancers

Dance performance and a group closing performance of "Oči Oči Čierne Oči" (roughly Black Black Eyes), popular folk song.
Other Participants
While all this was taking place, I started preparing the cooking lesson. My booth was located right next to one of Toni Brendel, famous author of Slovak-American Touches. On the other side of me were the Gapas, founders of the Internet radio for Slovaks and Czechs living abroad RadioSlovakiaUSA, which will broadcast January 2011. Many people stopped by, including the winner of Miss Czech Slovak US Pageant, Stefania Vocasek.
Attending were also few groups dedicated to genealogy, as well as Paľo Dzačko and Rišo Stilicha from Canada.sk and Slovak House Toronto. These two organizations are dedicated to providing cultural and social activities for Slovaks in Canada. One of their latest events was Miss Czech & Slovak Canada. The winner Adriána Kamenická and Sarah Banks, one of the runner ups, also came along.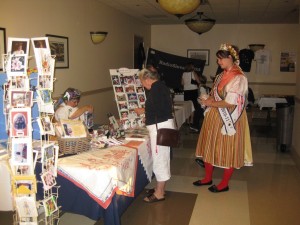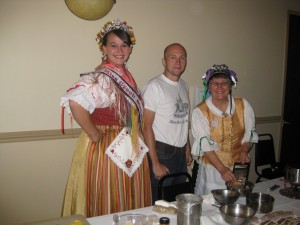 Toni Brendel's booth with Radio Slovakia USA's table in the background. Photo with Ms. Brendel and Stefanie Vocasek.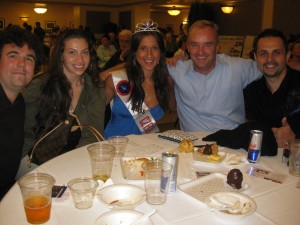 Paľo and Rišo, founders of Canada.sk, along with the contestants in Miss Slovakia Canada, Sarah and Adriána.
Slovak Cooking Lesson
The cooking lesson started as soon as the folk performers finished their routines. I originally planned on doing all the cooking myself, with whoever wanting to watch just observing from across the table. But my good friends Mike and Allie came down from Wisconsin. Having them here presented itself as a great opportunity to teach somebody new how to make Slovak food. Neither Mike nor Allie have ever been to Slovakia, but Mike traces his roots back there. They also brought down the camping stove which saved the day, as the kitchen providing the catering did not have a burner which could be moved to the exhibition hall.
We started the lesson by preparing bryndza spread, or as known in my hometown of Banská Bystrica, šmirkáš. Chicagoans are lucky in that their city is dotted with Polish grocery stores which carry real Slovak bryndza. However, I wanted to show the folks that you can get the right flavor even if you don't have such a specialty gourmet store in your neighborhood. We ended up using the Israeli-Feta from Trader Joe's, which I very much like as a substitute.
Next came bryndzové halušky, the National dish of Slovakia. Mike and Allie took their turns tossing the dumplings, and they both did a great job. They received compliments from several festival attendees saying that these were some of the best halušky they've had in a long time! We finished the cooking lesson with the sweet, no baking required rum balls. These were quite popular with the kids!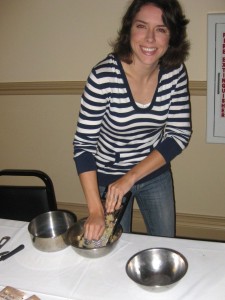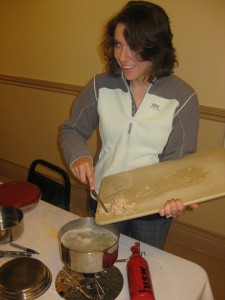 The cooking lesson started with Allie learning a crucial process in Slovak cooking: grating potatoes. I next showed her how to toss halušky.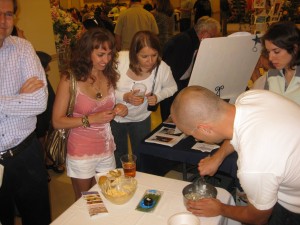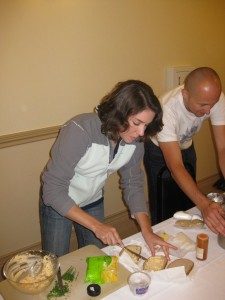 The halušky turned out great, and Allie and Mike received several compliments from people attending the festival. We also made šmirkáš and rum balls.
Next Slovak cooking lesson
What if you missed this festival? No big deal, I'll be at the 20th Heritage Festival at University of Pittsburgh on November 7th to give a talk and a hands-on cooking lesson. See you there!
Ready to start cooking Slovak food? Get your free 10 recipe cookbook today!
Subscribe to the newsletter.