Slovak Cooking Classes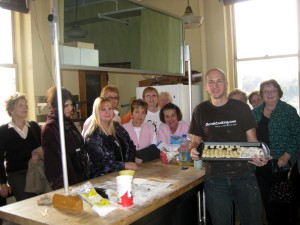 Do you live in Washington, D.C., Maryland, or Virginia? Would you like to learn to cook Slovak food from a hands on lesson in the comfort of your own kitchen? Or are you looking for a new theme for an office retreat or your cooking club? Invite few friends, and make it a party!
I now offer Slovak (and Czech, of course) cooking classes, which can be completely customized to your needs. The typical class runs between 4 and 5 hours, and includes the following:
Intro to Slovak cooking: Feast like at grandma's!
Of course, these lessons can be customized to your needs. Classes are offered typically on Saturdays, but can be scheduled for other days as well. Contact me to check availability.
Cost: Cost per class is $250, plus groceries. To sign up, use the PayPal interface below. Feel free to invite as many people as you like, however, having more than 6 people makes it difficult for everyone to participate and fit comfortably in the kitchen. This rate is for locations within two hour drive from Washington, D.C. Classes in more remote areas can be scheduled with advance notice, if you can cover my transportation expenses. This cost includes phone consultation before the lesson where we put together a menu that works for you.
Have any questions? Contact me at lubos@slovakcooking.com or 661-202-9812. Thank you!