Plasma Medicine Conference 2016
Family visits bring me to Slovakia once every year or two, but this September was my first time ever traveling there for business. I was attending the 6th International Conference on Plasma Medicine, ICPM6, organized by researchers from Faculty of Mathematics, Physics and Informatics at the Comenius University in Bratislava. The conference was attended by almost 400 people with the largest group of about 70 coming from Japan. The organizers, including Zdenko Machala and Karol Hensel, did an amazing job. Not only was the quality of presentations superb, they also put together a wonderful program to highlight Slovakia. This included various excursions. I settled for the walking tour of Bratislava. At the conclusion, we were brought to the Flagship restaurant. I figured the free tour will end here. Instead, the waiters started bringing out beer and wine for everyone. These were then followed by family style portions of baked meat, halusky, and pierogi. At the banquet we were treated to traditional singing and dancing – including a dance lesson for the attendees to partake in.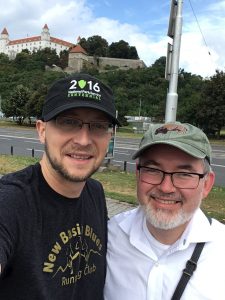 I took the opportunity to also spend some time with my family. My mom has been living in Prague for the past few years and came to visit for a day. I did not realize prior to this visit that she had never before been to Bratislava! I think she left with a great impression. I am starting to very much like this town. The center is pretty, but not as packed with tourists as Prague.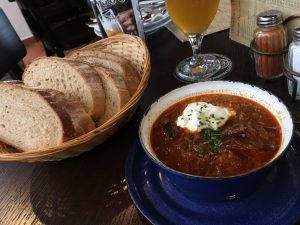 I also managed to find some nice running trails. Bratislava is so close to Vienna that on a 6 mile trip around town I was able to stop by Austria. How often can you say you visited a different country on your morning run?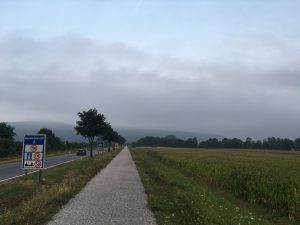 As mentioned above, I am starting to very much like Bratislava. It's the right size city – not too small and not too big. The public transport is great, and prices are very reasonable, especially if coming from the US. A small glass of Slovak wine at Trunk Wine Gallery will cost you only one euro. Slovak wine is surprisingly good. That machiato and pastry were only about 2 euro total. There is also a tremendous amount of growth, with cranes dotting the skyline. Just next to my sister's condo is rising a new 23-story apartment building.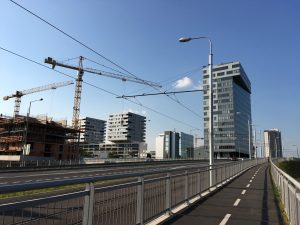 Banska Bystrica
After the conference ended I took a train to my hometown of Banska Bystrica, to spend some time with dad. Among other things, we visited the grave of my grandmothers, both of whom passed away in the recent years. As you know, my grandmas Pavka and Terka were a great inspiration behind this cooking site.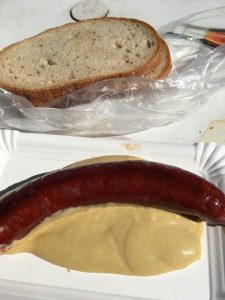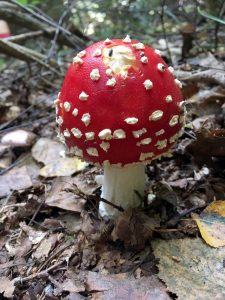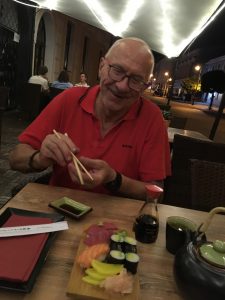 Finally, here are few more photos of delicious home cooking. That cake looked quite easy to make so look forward to that as one of the future recipes.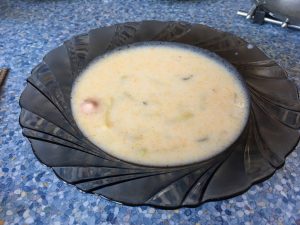 Subscribe to the newsletter.