Caramel Nut Wafers (Griláž)
Griláž, or grilážky, are a favorite treat of mine. I am always looking forward to visiting my grandma Pavka as she makes these often. They are wafer sticks filled with a sweet nut caramel filling. Sandra and I made these last Christmas for our annual Christmas cookie gift baskets.
To make griláž, you will need a waffle iron. Our first experience was with an iron I got from my mom for Christmas few years ago, and it turned out to be a disaster. That iron, a small red thing from Bella Cucina, got too hot to handle, and the waffles came out burned on one side and not done on another. At one time, the lids got stuck, and we had to yank the power plug from the wall before the iron almost caught on fire. This second time we used the Chef's Choice Waffle Cone Express with much more success. Highly recommended!
Ingredients for "Gourmet Waffle Cone": 1 whole egg, 1 egg white, 1/4 teaspoon salt, 1/4 cup granulated sugar, 2/3 cups sifted all purpose flour, 2 tablespoons of melted butter
Ingredients for griláž filling: 1.5 cups granulated sugar (I used brown sugar), 2 cups chopped (not ground) nuts, 1 can (14 oz) of condensed milk (Lechera), 2 sticks margarine
Prep Time: About 20 minutes to make waffles, 30 minutes for the filling, another 20 minutes for filling, and overnight in fridge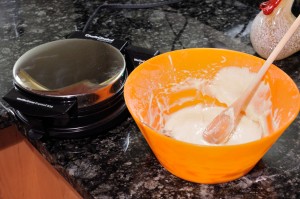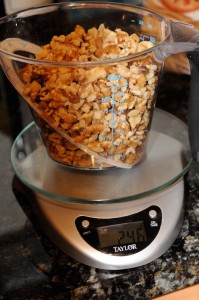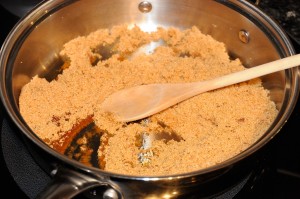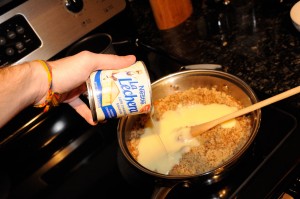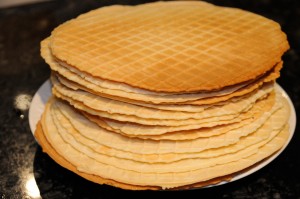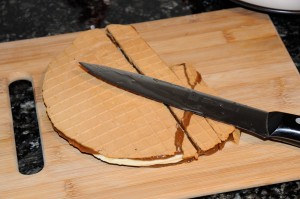 Subscribe to the newsletter.