Loaded Schnitzels (Plnené Rezne)
I've had two fat pork chops going to waste in my fridge so few days ago I cooked them before they got a chance to go bad. But I didn't just make pork chops, instead I got creative – in the style of my favorite TV show, Man vs. Food. For those of you who don't know MvsF, it revolves around this guy Adam Richman who travels around USA stopping in various manly food establishments, where he eats ridiculous quantities of super spicy, fried, greasy or otherwise not exactly healthy meals. Definitely my kinda guy (although I don't eat nearly as much).
Breaded and fried pork cuts, like these, are very popular in Slovakia. You will find every one of the variants below in a restaurant or a Slovak cookbook under various names, often related to Slovak towns or villages. I am guessing these names are picked by the chef depending on where he had a schnitzel like that for the first time. I didn't even bother trying to figure out what to name each, so here you have a dinner (or four) full of assorted delicious fried meats.
Ingredients: thinly sliced pork chops, cheese, ham, hard boiled egg, canned peas, flour, milk, egg, potatoes for baking and mashing, oil, salt, pepper, mustard, ketchup
Prep Time: One hour
Baked Potatoes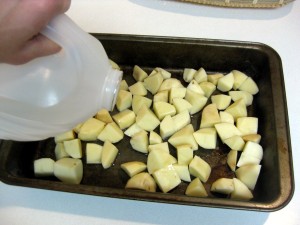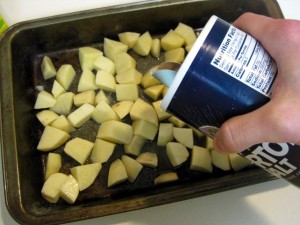 Before we get to the meat, let's make some baked potatoes. Peel 2 or 3 medium sized baking or all purpose potatoes, slice them into larger wedges, place in a baking pan, coat well with oil and salt, and bake in the oven until they get brown on the outside. This will take between 30 minutes and an hour.
Onto the meats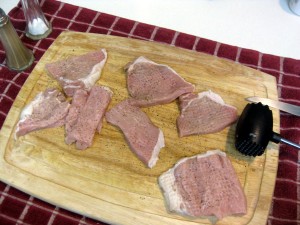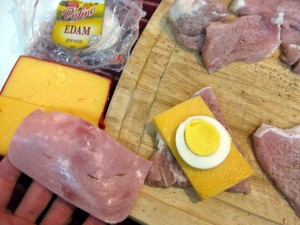 Carefully slice the pork chops in half so they are about quarter inch thick (here is a video on this butterflying technique). Tenderize the meat by beating it on both sides with the tenderizing mallet. Salt and pepper from both sides. Then get creative. I started by making a meat sandwich. I topped one piece of pork with edam cheese (popular frying cheese in Slovakia), one slice of a hard boiled egg, ham, and topped with another pork cut.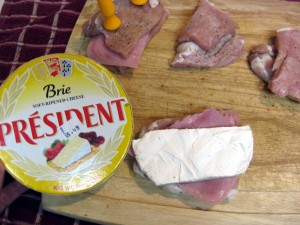 I made another piece by topping the pork with ham (šunka) and a slice of brie.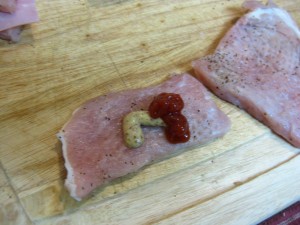 Or you can make meat rolls. I made two of these. First one I smeared with mustard and ketchup and rolled up. The second one didn't have any ketchup or mustard but I first topped it with a slice of ham.
Frying the meat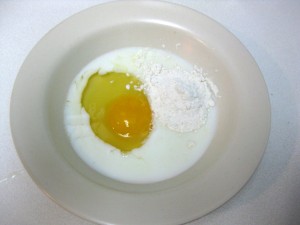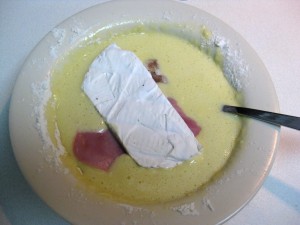 Now to turn these meat patties into delicious dinner, you've got to fry them. Here I used two types of coating: plain flour and "pancake" dough. Schnitzels coated in flour and fried in oil are said to be done "natural" (prírodne). The other kind, in dough made of flour, egg, and milk (or water) are "in dough" (v cestíčku).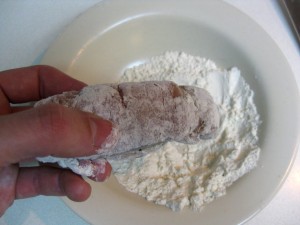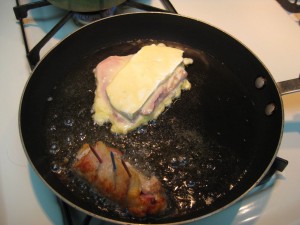 Fry them, using toothpicks to keep the rolls together. Fry on both sides for a minute or two, until they get brown. When it came to flipping the rolls over, I took the toothpicks out, flipped them over, and then place the toothpicks in again to keep the roll from opening up.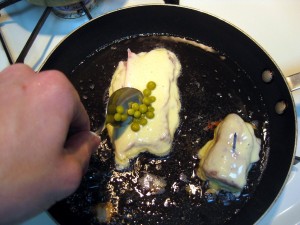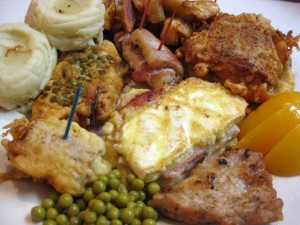 Another delicious topping (which I learned about from my father who runs a restaurant in Banská Bystrica) is peas (hrášok). Just spoon these into the dough. If you have extra dough, you can even fully cover them. And there you have it, a plate of assorted fried meats. Delicious with mashed potatoes, baked potatoes, and some peas and apricots on the side. What do you think, worthy of Man vs. Food?
Here are recipes for two classic schnitzel types: wiener schnitzel and shepherd's steak.
Subscribe to the newsletter.