Cheese Snacks (Syrové Tyčinky)
I am back from my trip to Slovakia. My girlfriend and I have also almost completely settled into our new apartment. Which means one thing: I am ready to start cooking again. And it's about time! The last recipe was posted almost 3 months ago.
While in Slovakia, Sandra and I visited my grandma Pavka. Pavka is my "city" grandma. My other grandma, Terka, has been living in a village all her life, raising animals, and cooking dishes the old traditional way. Pavka on the other hand has lived most of her life (the part I remember) in an apartment highrise. Their cooking styles are very different. But they share one thing in common: they are both great cooks.
When we stopped for the visit, Pavka treated us with little cheese bread sticks (tyčinky). I wrote down her recipe, carried it along all the way through Prague, Wiesbaden, Amsterdam, and London back to Virginia. I took it out to start cooking, realized I was missing cream cheese, ran to the store, came back – and could not find the darn recipe anywhere! So I finished making the snacks from what I remembered from the quick glance in the morning. How they say in Slovakia, od oka (by eye). I eventually did find the recipe, so the ingredients below are as given by grandma.
Ingredients: 1.5 cups flour, 3 tablespoons of cream cheese, 1 yolk, 3 tablespoons of margarine, salt, grated cheese
Prep Time: 40 minutes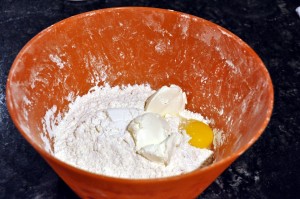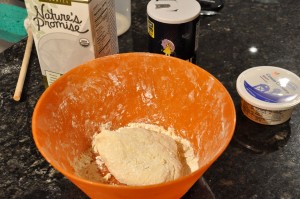 Combine all ingredients except for the grated cheese to form a fairly stiff dough. I used milk instead of margarine.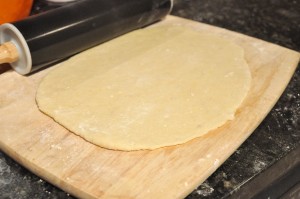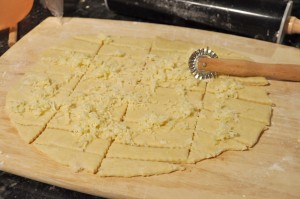 Using a rolling pin, roll the dough out on a board dusted with flour to thickness of about 5 mm. Next, using a dough cutting tool (or a knife), cut the dough into rectangles. You can put the cheese on now, but it's better to do it after you arrange the slices on a baking sheet.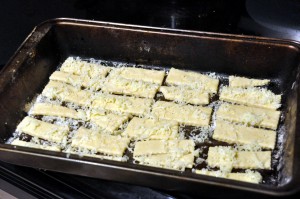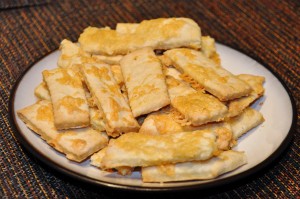 If you have a large baking pan or wax paper handy, just transfer the whole sliced dough as a single piece. I instead arranged the pieces one by one in my baking pan. Grease the pan with oil first. Sprinkle grated cheese over the dough. I used a block of Jack and a hand grater. Sprinkle bit more oil on top. Bake in an oven preheated to 400F for about 20 minutes, or until the cheese starts turning brown. That's it.
I actually did bit of Googling post baking and found a similar recipe on varecha.sk. Their version calls for sour cream and a bit of yeast.
Subscribe to the newsletter.