Apples in a Bathrobe (Jablká v Župane)
A young lady rings the bell to her neighbor's apartment. "Excuse me, may I offer you some apples in a bathrobe?"
"Of course", the voice from inside says, "but feel free to offer them even if you are not wearing anything at all."
That was an old joke I still remember from my childhood. It's a little play on words: apples in a bathrobe (jablká v župane) is a sweet Czech and Slovak treat. It's apples stuffed with a nut filling, wrapped in a puff pastry "bathrobe", and baked in the oven until soft. I've actually never had this snack prior to today, but I've been wanting to try it for a long time. So I baked a batch. I made it following an excellent video instructions posted on akosatorobi.sk ("how it's made".sk). Here is the recipe:
Ingredients: 9 small apples, 1 sheet of puff pastry dough, about half a cup of ground nuts, 2 tablespoons of powdered sugar, tablespoon of lemon zest, 2 vanilla sugars, 2 tablespoons cinnamon, 1 egg, quarter cup of water
Prep Time: at least 30 minutes to get everything ready, plus another 30 minutes for baking.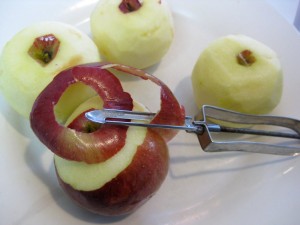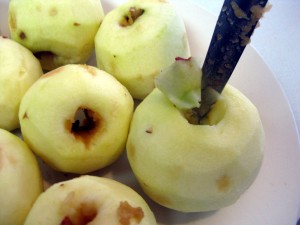 First, make sure you have a defrosted sheet of pastry dough ready to go. If not, take it out of the freezer now and let it thaw out. Take the apples (jablká) and peel them. Next remove the stem and the core. The lady in the video had a neat core-removing contraption, but I just used a knife. I started by cutting off a wedge from both ends. I then cut through and then "drilled" the core out by twisting the knife back and forth.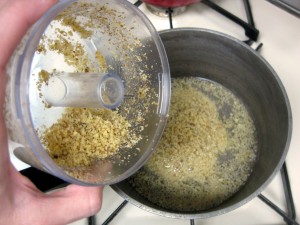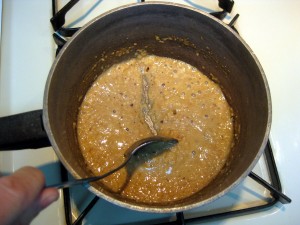 Next we make the filling. Grind up two handfuls of walnuts (orechy) in a food processor. Combine in a pot with quarter cup of water (voda, you could also use milk), two tablespoons of powdered sugar (práškový cukor), and a teaspoon of lemon zest (citrónová kôra). The original recipe also called for a bit of rum. I didn't do this since I didn't have any. Cook the paste together until it's like honey.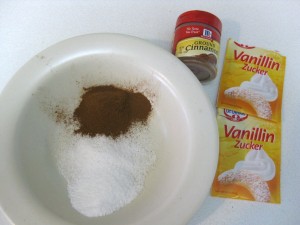 Also mix two packets of vanilla sugar (vanilkový cukor) with two tablespoons of cinnamon (škorica). At least that's what the recipe called for. I ran out and had to make more (using regular sugar). I think that for 9 apples you need at least twice this amount.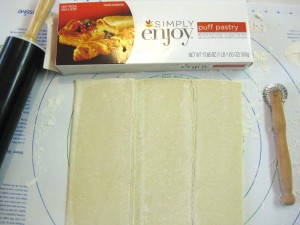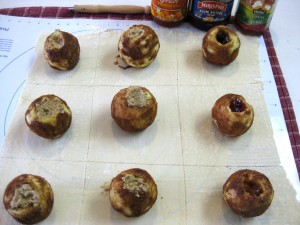 Roll out the defrosted sheet of puff pastry dough (lístkové cesto). Flip it over few times, dusting the surface with flour to keep the dough from sticking. I rolled it until it was thin enough for the markings on the mat to show through. Cut it into 9 squares. Place each apple, coated in the cinnamon sugar mixture, at the center of each square. Fill each apple with the nut filling. I didn't have enough for all the apples, so the last three apples got filled with currant, plum, and apricot jams.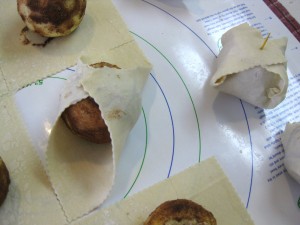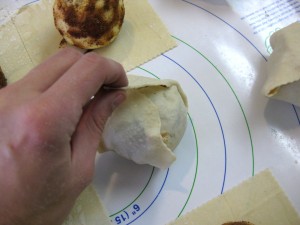 Alright, almost done! You just have to wrap the apples in their "bathrobe". Do this by folding two diagonal ends together, and then cover with the two remaining ends. When folding the second time, try to tuck in some of the dough that will stick out along the crease. Place a toothpick in the middle to keep the robe together.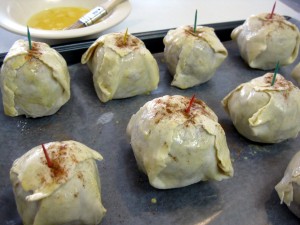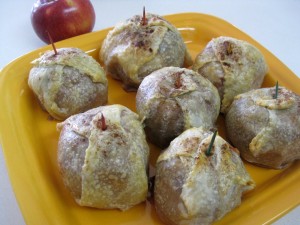 Move the apples onto a baking sheet lined with a wax paper. Sprinkle any remaining cinnamon mix over the apples, and brush each apple with a beaten egg (vajce). Bake on 330F for 30 minutes. Enjoy! It's so easy to get your apple a day, especially when baked and coated in cinnamon and sugar…
.
Subscribe to the newsletter.