Get free buchty!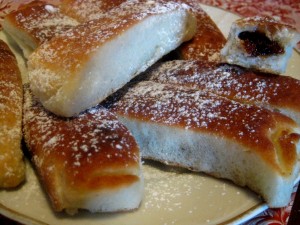 Recently, Trident gum has been running commercials in which folks get paid in gum. Well I got something better for you:
Get paid in buchty!
Buchty, fluffy baked buns of deliciousness, filled with a surprise of jam, cheese, nuts, or poppy seeds, are to me the quintessential Slovak treat. They are the Slovak cookies. Not that they taste anything like cookies, but just like this American staple, every family has its own secret recipe. And you can always count on there being a tray of freshly-baked buchty when visiting your grandparents.
And now you can experience this bliss, totally free.
So what's the catch? A-ha, you are right, there is a catch of sorts. In exchange for buchty, I want you to help me promote slovakcooking.com. How is up to you, but here are some examples.
Free batch of delicious buchty – well almost free…
My idea is that you write an article about slovakcooking.com for your blog or a local newspaper. So this giveaway will work best for bloggers, but even if you don't have a blog of your own, maybe you know someone who does – and you guys can share. You don't have to be nice: feel free to say that slovakcooking.com is the worst recipe site on the planet or that I (Lubos) have no idea how to cook. However, I ask that the article is published in a forum that in some way pertains to this site. In other words, an article on a site dealing with, let's say, cars or video games, won't cut it.
Here are few examples of what I had in mind:
You run a cooking site. You prepare some recipe from slovakcooking.com and talk about it and also leave a link to the original recipe.
Your site is dedicated to world travel. You mention in the article that folks wanting to learn more about Slovakia and Slovak culture (especially the culinary kind) can do so at slovakcooking.com.
You have a site dedicated to language learning and you link to the Slovak lessons on this site (I swear, I'll update them soon!).
You write newspaper articles about sustainable living. You can talk about the differences between modern and traditional cooking in places such as Slovakia, when people were much better at fully using up all pieces of food.
Your site is dedicated to world cuisines. You can write an article about the traditional foods of Slovakia. (feel free to send me an email if you have any questions).
etc…
After your article get's published, simply leave a comment here telling me where I can find it (This is also a good way to promote your own blog). Please use email address at which I can contact you off-site to get your mailing address. Depending on the turn out, I plan to bake the buchty about every two weeks. After that, I'll mail you a batch of six, totally free. USA only, sorry! International shipping is simply too expensive.
Fine print
Finally, fine print because you always need to have fine print. Buchty are made of flour, yeast, milk, and sugar, and will be filled with poppy seeds, nuts, or plum jam, in case you are allergic to any of the ingredients. My favorite kind is the one filled with farmer's cheese, but to prevent spoilage en-route, I won't be making any of those. This giveaway is open until March 1st. The whole article should be at least 2 paragraphs long and needs to contain a link to this site, if posted on a website. I (Lubos) reserve the final judgement on whether the entry is acceptable so if you have any doubts, shoot me an email. But as long as you adhere to spirit of the examples, you'll be fine. Each eligible participant will receive a batch of six buchty of assorted filling.
Subscribe to the newsletter.