Rice Sausage (Jaternica)
Ingredients: 2lbs rice (4.5 coffee mugs or 5.7 cups), 2 small onions, 9 coffee mugs water (~11.5 cups), 1lb pork liver, 2 pork hearts, 1lb pork meat (side cut or shoulder, should be about 50% fatty, you can also use pork skin)
Prep Time: about 2 hours
Jaternica (also known as hurka) is a special pork sausage prepared during zabíjačka, the traditional annual slaughter of a pig. It's made out of pork meat mixed with rice. Although it is commonly prepared in the sausage form, this is not necessary. Hurka, in my opinion, is even tastier when prepared as porridge (kaša). The porridge is fried for few minutes on a frying pan and then served with a side of baked potatoes and perhaps beets. In this recipe I show you how to prepare this specialty. You will need pork liver and hearts and some way to grind the meat. We used a "mill for meat", mlynček na mäso. These are not very common in America but you can probably find one online. Or perhaps you could use a food processor. But as a word of warning, I have never tried putting meat in a food processor.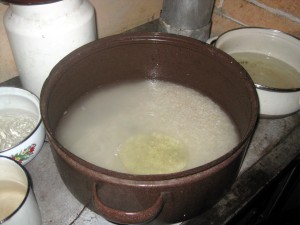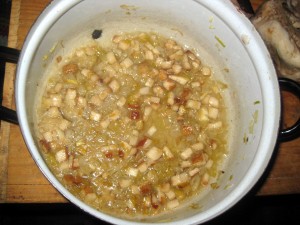 Start by washing and cooking 2lbs of rice. Cook the rice in twice the volume of water (voda). We used my grandma's coffee mugs for measuring. We had 4.5 mugs of rice and thus we used 9 mugs of water. Add about a tablespoon of salt (soľ) and a bit of oil (olej). Cook until all the water is gone. Then turn the heat off, but leave the rice on the stove covered. It will continue to cook in the steam. Also dice 2 small onions and fry them until golden colored. My grandma fried these along with few pieces of bacon (slanina).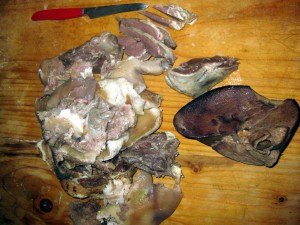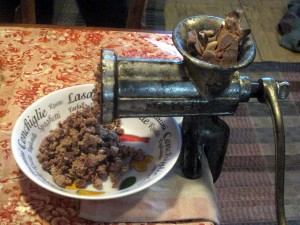 At the same time, cook the meat (mäso) in salted water. Cook it until it is soft, which will take about 45 minutes. Make sure you have enough water to cover all the meat. Then take the cooked meat, cut it into strips which will fit in your meat grinder, and get grinding. Save the broth if you want to prepare another zabíjačka specialty, tlačenka (pressed meat).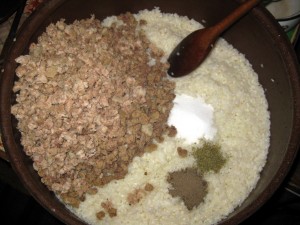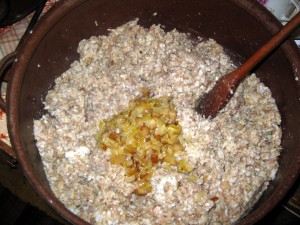 Combine with rice and also add 2 teaspoons of ground black pepper (čierne korenie), 2 table spoons of salt and another teaspoon of marjoram (majorán). You want to go light on the marjoram since it can spoil the meat. Also mix in the fried onion. Mix together.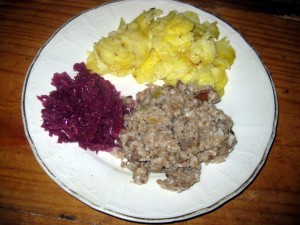 And that's it. To serve, fry the porridge in a frying pan for about 5 minutes. Serve with your choice of sides, but I highly recommend thinly sliced baked potatoes (with caraway) and beets.
Tweet
On Twitter or Facebook? Connect with us. Prefer email? Subscribe to the newsletter.