Potato Soup (Zemiaková Polievka)
Soup is an important part of Slovak cuisine. Just like every American meal starts with a salad, Slovak lunch starts with light soup. No wonder Slovak cookbooks are full of them. Slovenská Kuchárka (Slovak cookery), from which this recipe comes, has 36 pages of soup recipes! At nine recipes per every two pages, that's some 160 types! Included are even some quite unique variations: soup made out of strawberries, apples, or stinging nettle.
Nothing that wild here. Instead, below you will find recipe for one of my favorites: potato soup. Since potato soup is somewhat bland in taste, I flavored it with a handful of dried mushrooms and bacon. You can never go wrong with mushrooms and bacon!
Ingredients: 4 cooking potatoes, 6 dried mushrooms, one strip of bacon, pepper, one small onion, 2 tablespoons oil, 2 tablespoons flour, 4 chives, salt, marjoram
Prep Time: Very fast, under 30 minutes.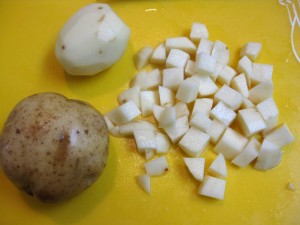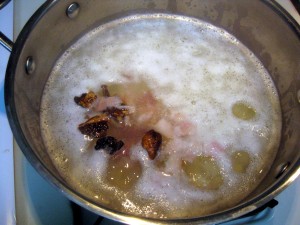 Start by peeling and cubing the potatoes (zemiaky). Add them to boiling salted water. Use approximately twice as much water as potatoes (in volume). Also add in the dried mushrooms (sušené hríby) and sliced bacon (nakrájaná slanina).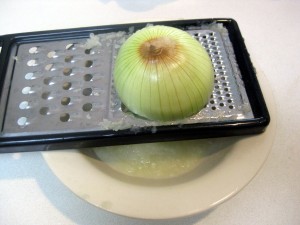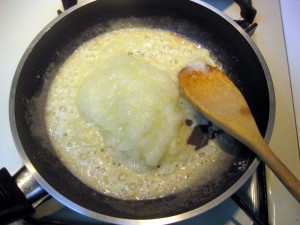 Then grate the onion (nastrúhaj cibuľu). Brown the flour on oil and add the onion. It will soon turn into solid mass. Brown on each side for a minute to let the onions caramelize.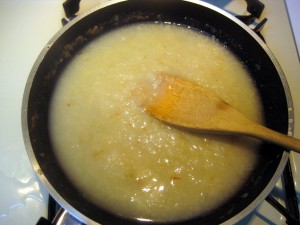 Take the skillet off the heat and add a cup of water to dissolve the onions. Add to the soup.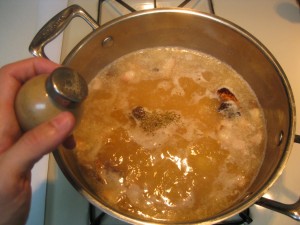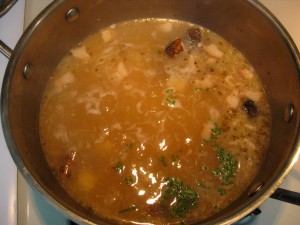 Then just season to taste with pepper, salt, and marjoram. Also add finely sliced chives or parsley. (note, the soup was not that red, it's my camera playing tricks on me)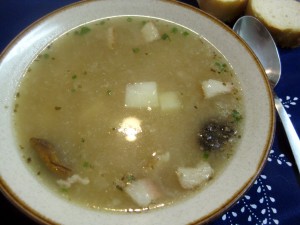 And that's it. Very simple. Enjoy!
For few other soup options, check out mushroom soup (which is quite similar to this one, but creamier), and soup out of green beans.
Subscribe to the newsletter.