Mushroom Soup (Hubová Polievka)
Ingredients: 1oz dried mushrooms (or 8oz fresh ones), 5 cups water, 3 large potatoes, 4 slices thick smoked bacon, 2 tablespoons flour, 2 tablespoons sour cream, salt
Prep Time: 30 minutes
My friends Chris and Patricia came for a weekend visit during my 2010 trip to Slovakia. They live in or near Munich. I took them on a short country tour: Bratislava (the capital), Bojnice (fairytale castle and a spa) and Banská Bystrica (my beautiful hometown). And of course, the tour involved much sampling of Slovak food. Chris very much enjoyed the Slovak cuisine, but Patricia was little less impressed. See, Patricia is vegetarian and as it appears, in Slovakia, bacon is considered to be a vegetable.
In keeping with this tradition, in this recipe I show you how to prepare a really easy, tasty and quick "vegetarian" soup. It's made of mushrooms, potatoes, and of course, bacon.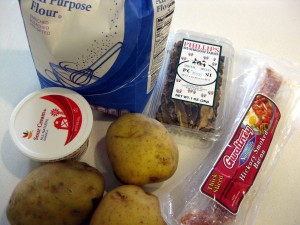 Ingredients for Slovak mushroom soup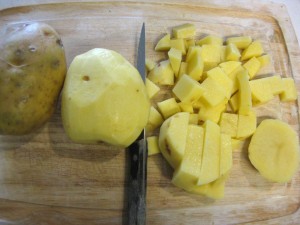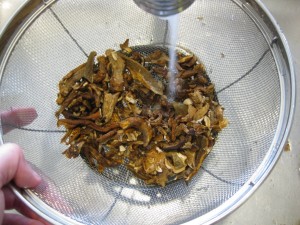 Start by putting salted water (in a pot, of course!) on the stove. Then peel potatoes (zemiaky), rinse them off and cut into cubes. Add these into the pot. Also, rinse off the dried mushrooms (sušené huby or hríby) and add to the pot. The rinse is just in case – I actually found a twig of sorts in the finished soup.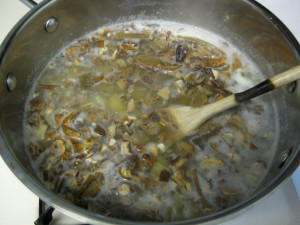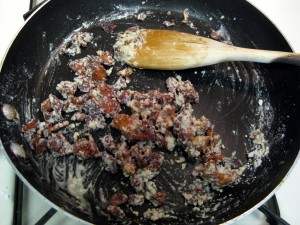 While the potatoes are cooking, start preparing bacon bits (škvarky). Cut the bacon (slanina) slices into small pieces and fry them. It helps to drain the fat, this seems to decrease the time needed for the fat to melt away. At the end, drain off most of the fat (tuk) and add about two spoonfuls of flour (múka). Brown this mixture and add to the pot once the potatoes and mushrooms are soft.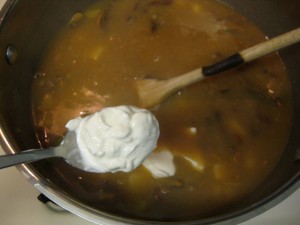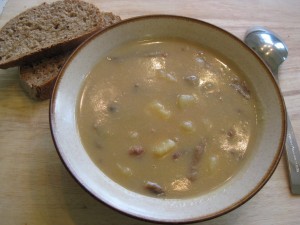 Then add two spoonfuls of sour cream (kyslá smotana). Let everything go through boil and you are done. Very easy! Serve with good bread. The bread in the photo is my home-baked rye bread.
Subscribe to the newsletter.