Parisian Salad (Parížsky Šalát)
Ingredients: 2/3 lb soft salami (Bologna, 300g), 1 onion, 1 larger can of sweet peas, 2-3 dill pickles, 8oz sour cream (200g), 3 tbsp mayo
Prep Time: 15 minutes
Something I always look for on my travels to Slovakia is stopping in a deli for freshly baked bread rolls (called rožky) and some Parisian salad, parížsky šalát. Whether this salad has anything to do with Paris is to me a mystery. At least my roommate who grew up in France has never seen something similar to this. Anyway, here is a recipe for this tasty and very simple side dish. Turns out, there are manz variations on this food. I ended up using the recipe posted here. It was the simplest of the bunch, and also resembled the most what I remember this salad being made of. Some of the other recipes called for ingredients like corn, eggs or ketchup, ingredients I don't believe belong in this salad. But, just in case you want to experiment, I posted these variants below.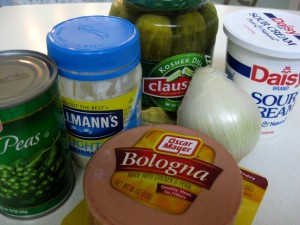 Here is what you will need. I used Bologna, since it has the closest consistency to the soft salami that is used in Slovakia.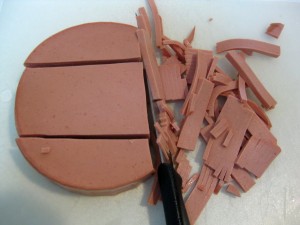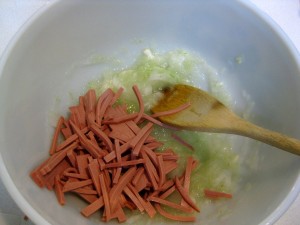 Cut the salami (saláma) into strips. Also, either finely dice the onion (cibuľa) or grate it using the fatter holes on a food grater. One benefit of using the knife is that (if the knife is sharp), it won't release as much of the juice which causes the eye irritation. The irritation is caused by an enzyme called alliinases which is released as the cells break. Fewer broken cells means fewer irritants being released.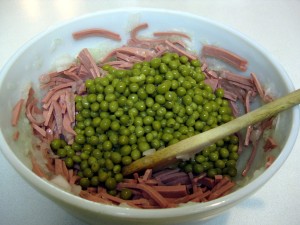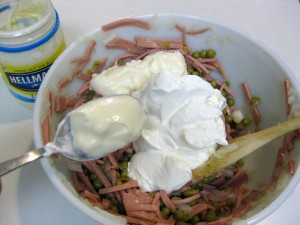 Strain the peas (hrášok) and also add half the 16oz sour cream (kyslá smotana) container and 3 tablespoons of mayonnaise (majonéza).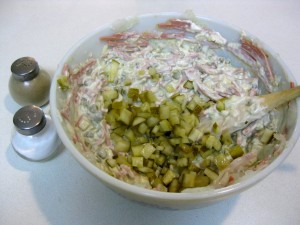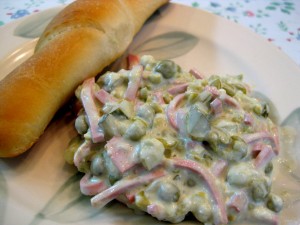 Finally, add cubed dill pickles (zavárané uhorky), about a teaspoon worth of salt (soľ) and pepper (mleté čierne korenie) and mix through. Place in the fridge for few hours to allow the flavor mix through. Serve with bread – home made is the best!
Few variants
This recipe is very similar, but includes 6 hard boiled eggs, only one pickle, one tablespoon of ketchup, 3 tablespoons of oil, 1 tub of tartar sauce (but Slovak tartar sauce is different from the American kind). Amount of meat, onion or peas is the same.
A whole lot more complicated version is found here. Ingredients include 300g of salami, 1 onion, 3 eggs, 3 pickles, 100ml of tartar sauce, 100ml of sour cream, 200g of canned corn, 200g of canned peas, 2 tablespoons of Worcestershire sauce, 2 tablespoons of oil, 2 tablespoons of ketchup, 2 teaspoons of mustard, 1 tablespoon of vinegar, salt and ground black pepper. WOW!!! The recipe starts with a quick boil of the Worcestershire sauce, oil, ketchup, mustard and vinegar. The mayo and sour cream is added once the mixture cools down. If you end up making this version, please leave a comment on how it turned out.
Yet another version is found here. This one uses 500g (1lb) of salami, 1 container of mayo, 1 soft butter, 2-3 spoons of mustard, pickles, 1 can of sweet peas, 1 can of corn, 5 hard boiled eggs, salt, black pepper, and 1 teaspoon of powdered sugar!
Subscribe to the newsletter.