Sweet Cabbage Buns (Kapustníky)
Ingredients: 600g flour (4.8 cups), 2 yolks, 80g butter (3/4 stick), 1 cup milk, 30g powdered sugar (1.5 cups), oil to grease the pan
Filling: 1 medium-sized cabbage, 60g oil (0.3 cups), 60g powdered sugar (3 cups), salt, cinnamon to taste
Prep Time: 3 hours
Here is a recipe for simple traditional Slovak food. It's for a treat called kapustníky (plural of kapustník), which means, roughly, made of cabbage (kapusta). So "sweet cabbage rolls".
These are quite similar to my arch-nemesis buchty. But instead of being filled with tvaroh (farmer's cheese) or plum jam, kapustníky are filled with sweet cabbage. Even if you don't make the buns, you gotta try the filling. It tastes great, and is like nothing found in American cuisine!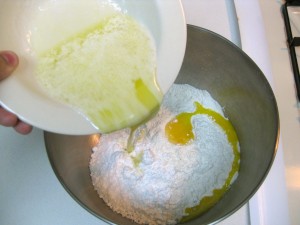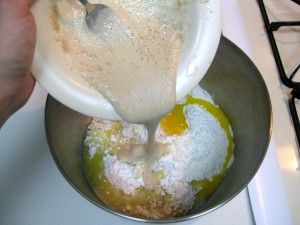 Combine the flour (múka), powdered sugar (práškový cukor), yolks (žĺtka), melted butter (roztopené maslo), and a pinch of salt (soľ). Dissolve yeast (droždie) in lukewarm milk (mlieko) sweetened with a teaspoon of sugar (cukor). Add to the bowl.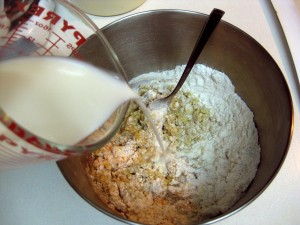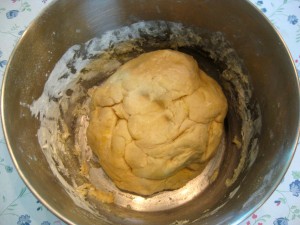 Finally add the remaining milk. Knead everything together till you get silky smooth dough (cesto). Cover and let rise for about 2 hours (till the dough doubles in size).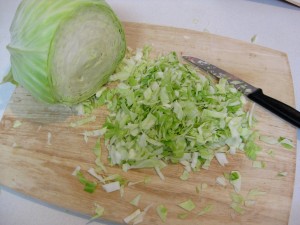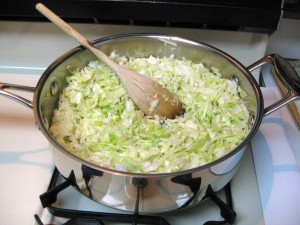 In the meantime, start preparing the filling (plnka). Remove the dark green outer layers of a medium sized cabbage (kapusta). Set those aside – you can use them in a salad or what not. Chop up the inside. Heat up oil (olej) in a stewing pot, and add the cabbage along with a pinch of salt. Cover and let simmer for 2 hours, stirring frequently.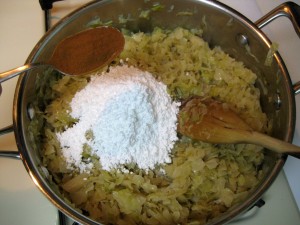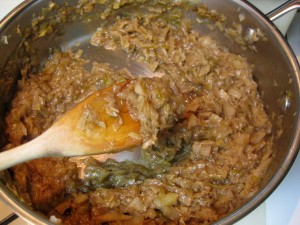 Add powdered sugar (práškový cukor) and cinnamon (škorica) once the cabbage gets tender and most of the water evaporates. Stir and let cool off.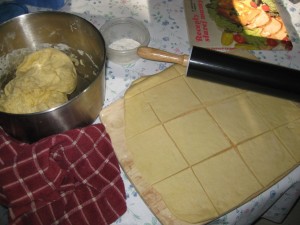 Move the dough onto a board dusted with flour and roll out to some 3mm thick. Cut the dough into squares about the size of a palm and place teaspoon worth of filling in the middle of each.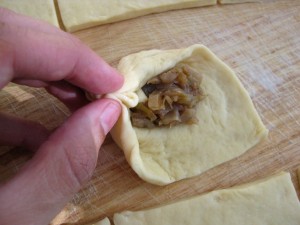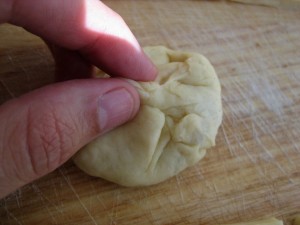 I made few different sizes and also tried few different ways to fill them. What I found to work the best was this "accordion" technique (same as when making sweet steamed dumplings). Start by pinching the side together and work your way around. Then pinch the folds together to shut the bun closed.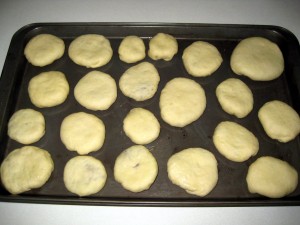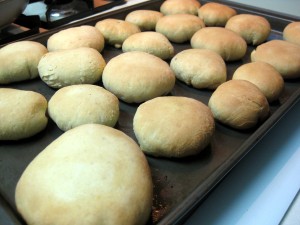 Form each bun into a donut shape, and flatten it slightly either with your palm or by rolling lightly with the pin. Place the buns onto a greased baking sheet. Bake at 375F for about 15 minutes until they get pinkish brown.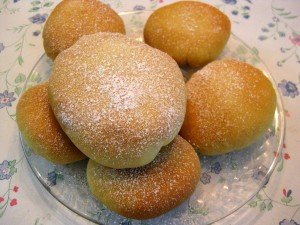 Dust with powdered sugar. Enjoy with coffee or tea. Dobrú chuť! (Bon appetit!)
Subscribe to the newsletter.