Baked Potatoes with Sauerkraut (Pečené Zemiaky s Kyslou Kapustou)
Ingredients: one potato, 0.8 lb sauerkraut, 1/6th cup of sour cream (optional), caraway, oil, bacon
Prep Time: 10 minutes plus some 30 minutes for baking
Today I came back from a four day conference (International Conference on Plasma Sciences in Norfolk, VA) to an empty fridge. An almost empty fridge. Besides one lonely yogurt, some cottage cheese and a stale nut roll, it contained one potato, about half a bag of sauerkraut, and fried bacon bits left over from making cabbage dumplings. In other words, just the right ingredients for making baked potatoes with sauerkraut, the dish from the times when money was scarcer and pantries less plentiful.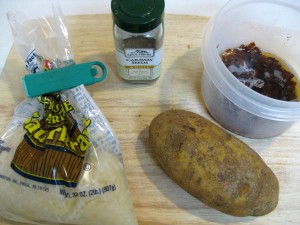 Ingredients for two plates: one potato and about 0.8 lb of sauerkraut. Also caraway seeds and some oil. I used bacon bits and the rendered fat. Feel free to throw in a sausage if you have some.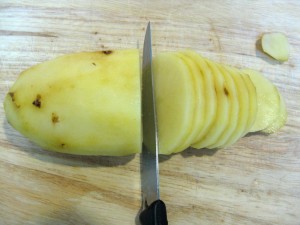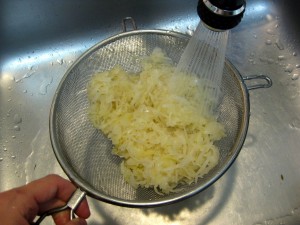 Peel and slice the potato and rinse the kraut.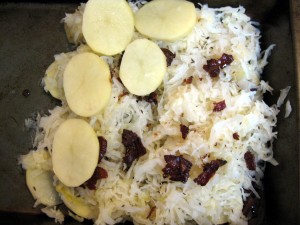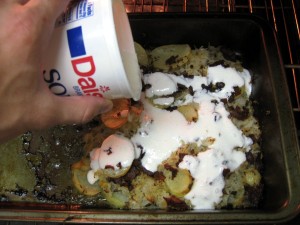 Grease the bottom of a baking pan – I used half of the melted bacon fat. Then take half of the potato slices and make a single layer out of them. Mix the drained sauerkraut with about a tablespoon of caraway seeds and add on top of the potatoes. Also throw in some bacon bits for a good measure. Then top off with the remaining potatoes, pour on the rest of the grease and bacon, and also salt lightly. Then stick the pan into a 375F oven (I bake pretty much everything at 375F) and leave for about 30 minutes. About 20 minutes into baking, the kraut started looking tad dry, so I added just half a small glass of water. Also, while the potatoes were baking, I remembered I had a tiny bit of sour cream left in the fridge, about 1/6 of a cup. Mix this with an equal amount of water, and whisk well. Then when the potatoes are almost ready, pour the sauce in and bake for few more minutes. This is not required, but the cream definitely gave the meal a very nice taste.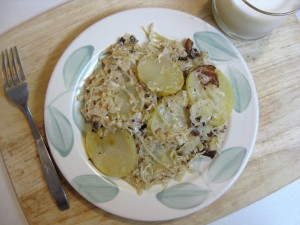 This dish goes great with a glass of milk or kefir. Enjoy!
For another cheap, yet filling potato recipe, check out bacon potatoes.
Tweet
On Twitter or Facebook? Connect with us. Prefer email? Subscribe to the newsletter.